Finally Chicago weather has started giving us summer vibes for a few weeks now. As much as I wish this weather would continue, I also know it's going to end pretty soon. So I am on a mission of relishing all the summer food items before the weather starts to get cold again. We are literally shoving all kinds of summer foods right from different mango items like aam panna, keri nu shaak, aamras, to cool refreshing drinks, yogurt based drinks like different flavored lassi and chaas. And one of my favorites of all these is Chaas aka Buttermilk.
Yes, masala chaas or spiced buttermilk is one of my favorites as well as most Gujaratis delightful drinks for summer afternoon meals. A glass of chilled chaas/buttermilk during lunch is kind of mandatory for all to drink in most gujarati homes (at least in my house it was). Chaas is definitely one yummy drink but I feel chaas became a favorite of gujaratis out of necessity. Yes, let me tell you the reason for it.
Now you may know how hot summer afternoons are in Gujarat. When I say hot they are actually hot like easily more than 100°F on a regular day. With that said, when I was a kid air conditioners were not a common thing either. We were left with ceiling fans which if there was no power then we don't know what to do. Haha. So people would resort to different things that are naturally cooling and easily dependable for keeping one's body temperature under control. Food was one of the most dependable things for fighting the heat. People would eat foods that are easy to digest and do not make you feel bloated but provide lots of minerals since the body loses them alot from sweat.
Chaas or buttermilk is one such drink which actually helps to digest food, makes you feel light and definitely helps to replenish that mineral stock of your body. It also helps to keep your body cool. So in all a win win situation. I remember my mom would make chaas everyday for summer lunch and then keri no baflo for afternoon snack time. Both these drinks have similar benefits of keeping the body cool, fight the heat and replenish minerals.
Chaas or buttermilk drunk in India is a little different from what it is conceived as here in the USA. Here buttermilk is more of a cultured drink made from milk and difficult to make at home. But I feel the chaas we make at home is also kind of a cultured milk drink. The only difference in how we make it in India vs. here is that we use yogurt to make chaas/buttermilk instead of making it directly from milk. And yogurt is a cultured milk product which makes buttermilk a cultured milk drink.
Making chaas at home in indian style is really the simplest thing ever. Literally, dilute yogurt with lots of water, add a little bit of salt and there you have chaas/buttermilk. Now you know I like to spice up my food so much. So why not with chaas/buttermilk? Yes, masala chaas is my way of drinking buttermilk. I don't say regular chaas is not fun, but masala chaas is definitely a level up on the taste complexity scale. Using the most basic spices you can change the entire flavor profile of buttermilk.
So here is my recipe for the masala chaas/buttermilk which is a perfect summer time drink. I cannot recommend it enough on trying it once. Do try it and let us know if you like it. Also let us know what is your favorite summer time drink?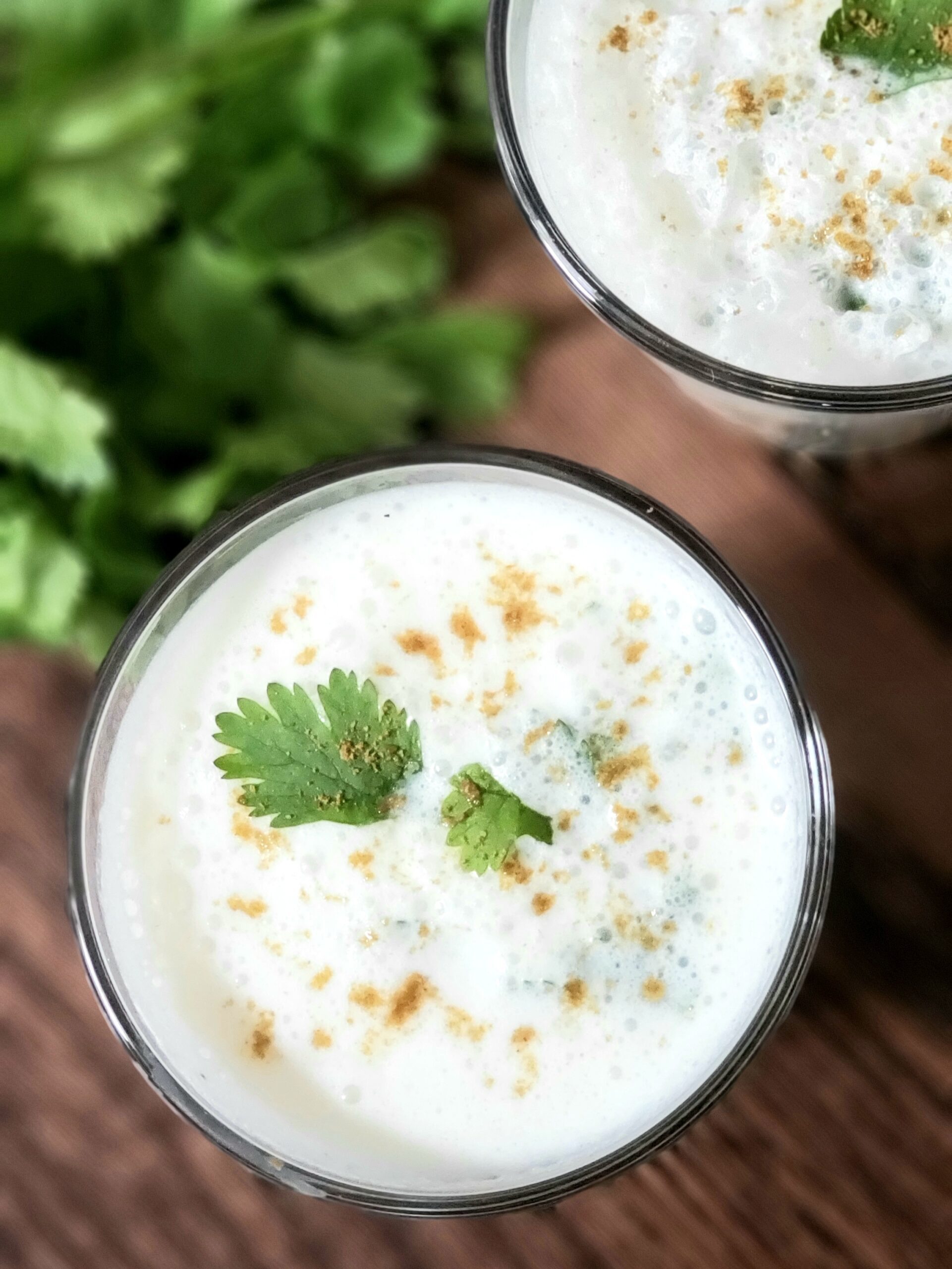 Serves 2 | Prep time: 2-3 minutes | Total Time: 3-4 minutes
Ingredients:
1 cup yogurt
2 cups water
1 small green chilli
1 tbsp roughly chopped cilantro
½ tsp roasted cumin powder
½ tsp sanchar(pink salt)
½ tsp sugar(optional)
1 tsp Salt or as per taste
Finely chopped cilantro and mint for garnish
Steps:
In a blender, add all the above ingredients and blend.
Masala chaas is ready. Garnish with cilantro and mint.
We are sorry that this post was not useful for you!
Let us improve this post!
Tell us how we can improve this post?