Orzo is a type of pasta made from white flour or any whole grain flour (I like to use wheat flour orzo) but similar to rice in terms of shape, size and texture. Although orzo is fairly high in calories compared to rice, it is generally considered one of the healthier options for kid's meals. This is especially true for the whole-wheat orzo since they contain more fibre and protein compared to normal orzo. Orzo is clearly one of my favorite dishes to make for my kiddo.
I make a masala version of orzo that is flavoured with spices (ofcourse small quantities) and loaded with veggies. Now I know feeding veggies to a child can be a bit challenging. But I have realized that proper seasoning and flavoring of veggies helps to make them tasty and kids would happily eat them. I use the same hack in my masala orzo. I flavor orzo and veggies with a few spices which not just make this dish flavorful but my child actually enjoys eating his veggies.
Now I use two veggies in this recipe but most times it really depends on what I have in the fridge. So you can add more or less veggies depending on what you have or what your child prefers. You can also change the spice quantities depending on your child's preference. Remember this is a versatile dish so you can modify it as per your convenience/preference.
So here I share my version of orzo- Masala orzo, one of my kid's favorite dishes to eat. It is easy to make, made with pantry staples and most importantly tastes "DELICIOUS". This orzo tastes so good that sometimes I make extra for myself! Do try this recipe for your child and let us know if they like it or not. I hope it helps you just the way it helps me in feeding veggies to my child.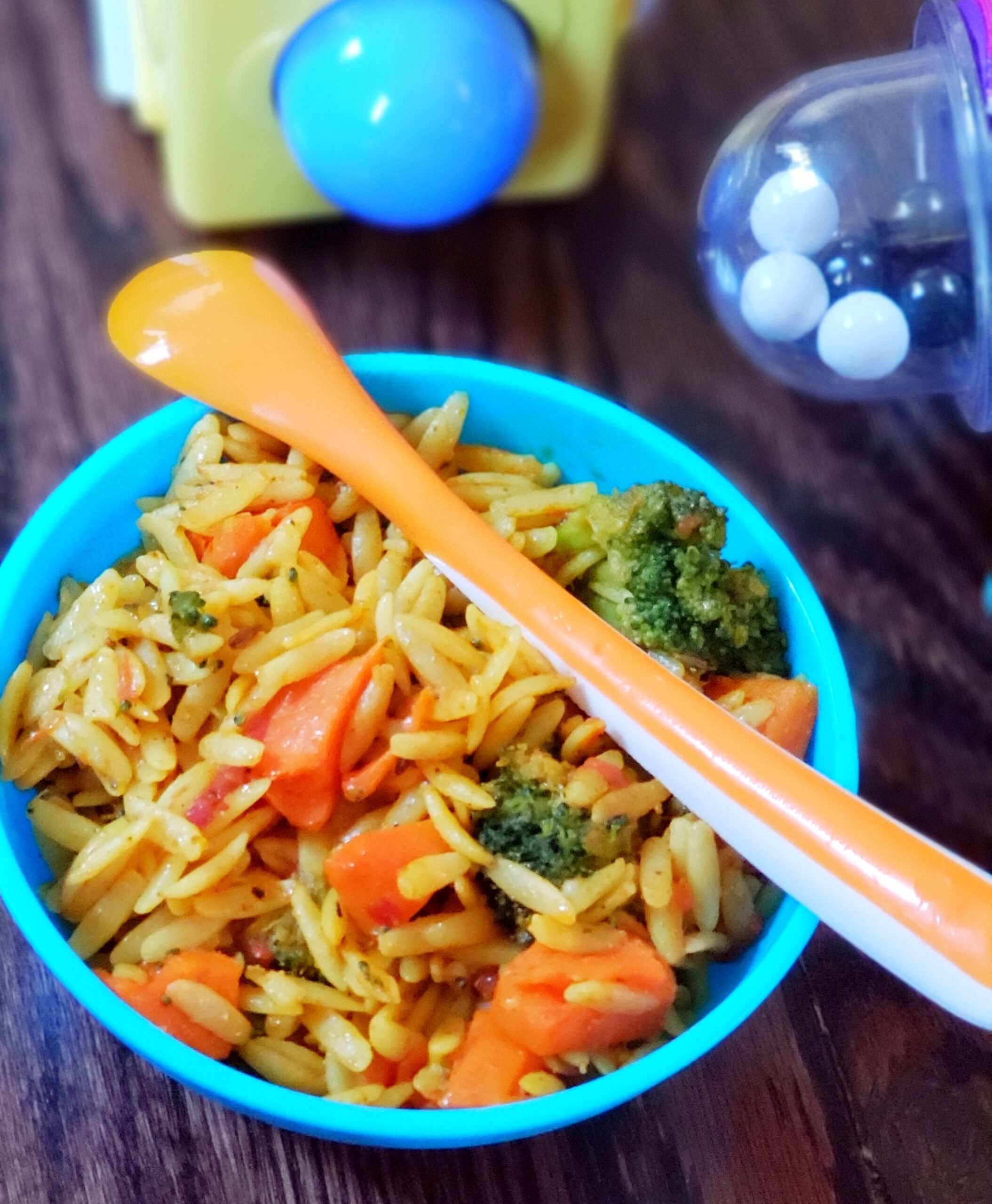 Serves 2 | Prep time: 5 minutes | Cooking Time: 5 minutes
Ingredients:
1 cup boiled/cooked wheat orzo
½ cup steamed broccoli (small florets)
½ cup steamed carrots (diced into small pieces)
2 tbsp marinara sauce
1 tbsp butter
¼ tsp cumin seeds (jeera)
¼ tsp cumin coriander powder
¼ tsp red chilli powder (optional)
¼ tsp turmeric powder
Salt as per taste
Pinch of garam masala
Steps:
In a saucepan, heat butter. Add cumin seeds (jeera) to it.
Once the cumin seeds start to crackle, add steamed broccoli and carrots (you can use any vegetables that your kid prefers).
Now add turmeric powder, cumin-coriander powder, chilli powder, garam masala and marinara sauce. Saute everything for 1-2 minutes.
Add cooked orzo and mix everything well. Add salt if required. Cook for 1-2 minutes and masala orzo is ready. Serve it warm.
We are sorry that this post was not useful for you!
Let us improve this post!
Tell us how we can improve this post?