If you know me, you know how much I love indian condiments aka chutneys. They are such an important part of the indian cuisine. They are great accompaniments, sides and sometimes integral part of the recipe itself (eg. all kinds of chaats). Not to mention we have all sorts of different chutneys. Every part of India has their own set of chutneys. Such great versatility!
Now speaking of Gujarat (my native state), we have this khajur-imli (dates-tamarind) chutney dear to almost every gujarati appetizer/snack/chaats and what not. This chutney is by no means specific to Gujarat because it is eaten in almost every corner of India. But it's just that Gujaratis do like to use it a little more than the rest of India (haha). It is definitely a part of every gujarati chaat but we also eat it with almost every appetizer that you know of. Right from samosa, dabeli, bhajiya, kachori, fafda, samosa sandwiches, vada pav and the list goes on.
From that list you can imagine how important this chutney is. So at least in my household it is customary to have a jar of khajur imli chutney ready all the time. I always have a jar of khajur imli chutney and cilantro (coriander) chutney stored in my refrigerator or freezer. Anytime I want to make any appetizer or in a mood to have chaat, I am all covered for the condiment part. I make a big batch of these chutneys and freeze half of it in the freezer and leave the other half in the normal compartment of the refrigerator. This chutney freezes very well and does not change texture, taste or smell after thawing it.
I'd be honest, I used to buy khajur imli chutney from the indian store until one day my sister told me how easy it was not just to make it at home but also store it. Her household is quite biggie on consuming this chutney, so for her making it at home was the best option in terms of everything like timing and money. Yes, making this chutney at home is very economical. Plus you always have it on hand without worrying to last that bottle of methi chutney until the next grocery haul. I realized making this chutney at home was a total WIN WIN situation.
I normally make it using raw tamarind which requires soaking it overnight and straining its pulp. I don't mind doing these steps since they don't take very long. Besides I need to soak dates and strain them anyway so doing so with tamarind is not taking much extra time. But if you are short on time or think it's too much work then you can use readymade tamarind pulp. It won't make any difference in the taste or texture. My sister uses Swad ready to use tamarind pulp sometimes when she is short on time. If using readymade pulp then all the steps remain the same except for soaking the tamarind and separating its pulp.
So here I am sharing my sister's khajur-imli chutney's recipe. In my experience this is one pretty good recipe. It is sweet, tangy, has a bit of that chili kick in it, just perfect for appetizers and chaats. I highly recommend you make it at home. It won't take too much effort or time or say money but once it's made, you are set for weeks. If you don't use this chutney much then as I said before freeze it in an ice cube tray (just like my cilantro chutney hack) or in a container. If you try this recipe then do let us know if you like it. Also share with us what is your favorite go to chutney. I love to know about new chutneys.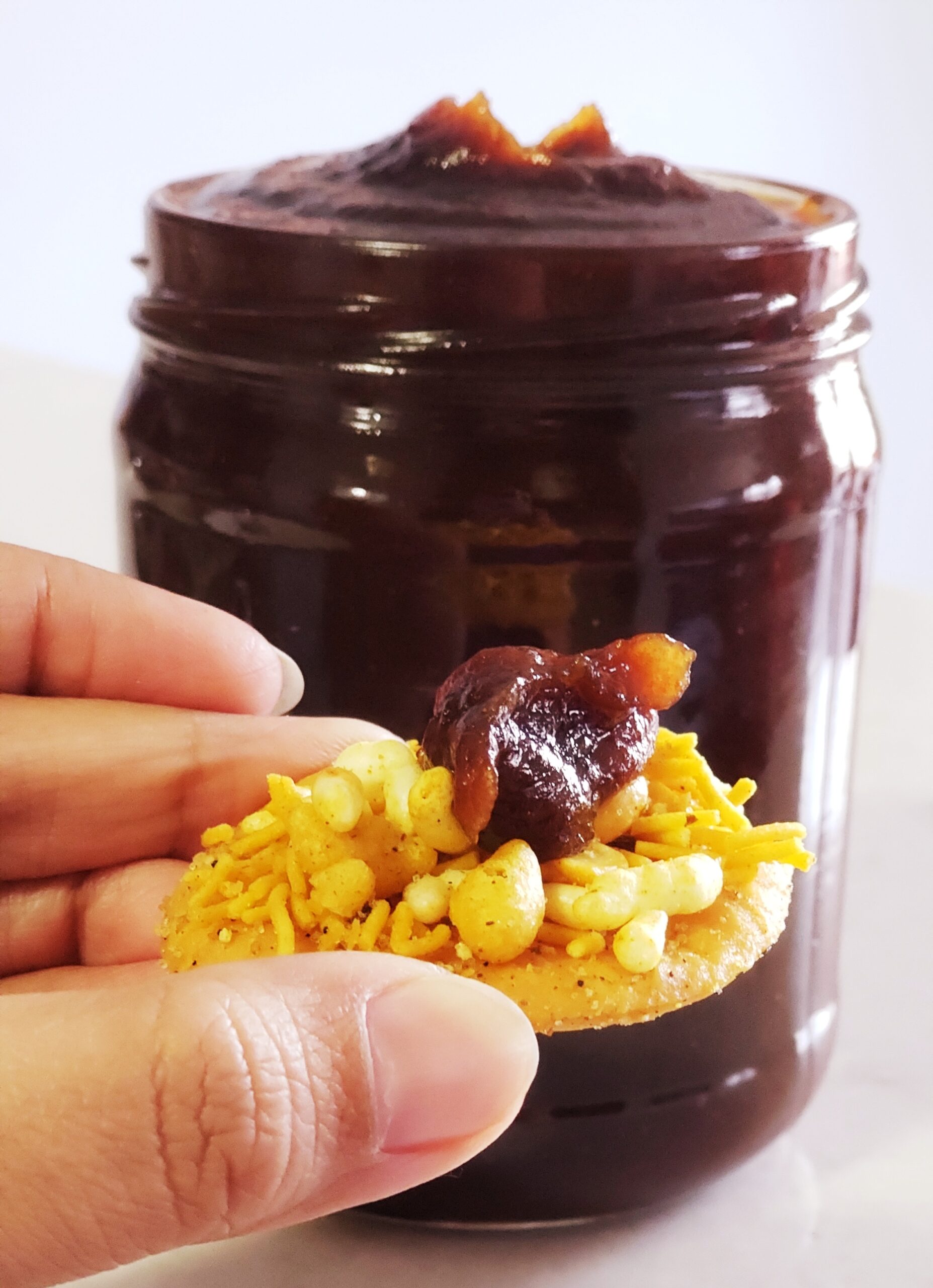 Makes : 4 serving | Prep Time : 15 minutes | Cooking Time: 5-7 minutes
Ingredients to make khajur imli chutney:
18-20 medjool pitted dates/khajur
40 gms imli/tamarind or 2.5 tbsp tamarind concentrate
1.5 cup water to soak dates
¾ cup water to soak imli/tamarind
⅓ cup jaggery
½ tsp amchur (dry mango powder)
½ tsp salt
½ cumin powder
½ red chili powder
Steps to make chutney:
Soak dates (khajur) and tamarind (imli) separately for atleast 5-6 hours. Preferably overnight.
Grind the soaked dates using a blender. You can use the leftover soaking water to grind dates.
Now separate the pulp of soaked imli (tamarind) using a wire mesh strainer.
Now strain the imli pulp one more time using a sieve to remove all the pits and extras. We need smooth imli pulp. Using the same sieve, strain date pulp also. Smooth paste/mixture of imli and khajur is ready to make chutney. If you are using readymade tamarind pulp then you don't need to soak and strain imli (tamarind).
Heat a sauce pan on medium heat. Add tamarind and date paste/mixture.
After a minute, add jaggery and let it melt on medium heat.
Once jaggery starts to melt, add other spices (amchur, salt, cumin powder and red chili powder). Mix everything.
Keep stirring the chutney until the jaggery has completely melted. You can adjust the consistency as per your liking by adding more water to it. You can also adjust the sweetness as per your preference by adding more jaggery.
Khajur/Imli chutney is ready. You can store it in the refrigerator for 1-2 weeks and in the freezer for 6 months.
We are sorry that this post was not useful for you!
Let us improve this post!
Tell us how we can improve this post?