Am I the only one who thinks chutneys (condiments) are like an essence to indian cuisine? But no seriously, think about it. Indian curries, appetizers, and most recipes already have spices in them and are already flavorful. Yet, when you add a chutney (condiment) to them, the flavors just brighten up instead of getting overwhelmed. Chutneys are really something! And talking about the types of different chutneys we have across India, oh well, we could have an entire encyclopedia on them. Haha, I know little exaggeration but I sure love chutneys.
And one such chutney is the dry garlic chutney that I am sharing today. I learned from my mom and absolutely love it. As you see in the picture it is this red hot color and coarse textured chutney. But don't be fooled by its color, it has just the right amount of heat. It has ofcourse a strong garlic flavor with heat from the chilli powder. But peanuts, sesame seeds, and daliya balance out this heat perfectly. They are like a perfect vessel to carry the heat from the garlic and chilli powder. Not to forget they along with coconut bring a lot of nutty flavor to the chutney.
Talking about the dry texture of this chutney. Well it is one unique factor. Unlike most other chutneys that are liquidy, this is dry and coarse textured which I actually love. But if you are not a fan of dry texture then I suggest adding oil per need base at the time of serving instead of to all of it. It will get a usual liquidy consistency.
Now it is delicious but that's not the main reason why it's on my top 3 chart. Its versatility is the BIGGEST reason why I always have a jar of this chutney in my refrigerator. Now this chutney is mainly used for vada pavs and dabeli but let me tell you, it won't disappoint you when it comes to gujarati snacks and appetizers. It is like a perfect match with dhokla, thepla, dhebra, rava dhoklas, pudlas, khichu and the list goes on. And did I mention I also like to add it to most gujarati shaks (dry vegetable curries). The simple routine curries really get a perfect kick because of this chutney.
I admit making this chutney calls for some efforts and time. For example, you have to roast some ingredients separately since they are of different sizes. If you roast them together then they might burn and it won't taste good. So this step will take some time. But here is the deal, this chutney can be an accompaniment to many other dishes so you are not making it for any particular dish. Secondly, it stays well for a good 1-2 months in the refrigerator. I usually make a big batch of it and I am all set for 2 months. When I have this in my fridge, I don't have to think of an accompaniment to go with snacks, appetizers basically gujju farsan. Spend time once and all set for a good chunk of time. Good deal, right?!
I highly recommend trying this recipe of garlic chutney. If you try it then do let us know how you feel about it? Also let us know if you are a chutney fan or not. I am always looking for new chutneys to try so don't forget to share about your favorite chutney. Lastly, if you like this recipe then please rate it.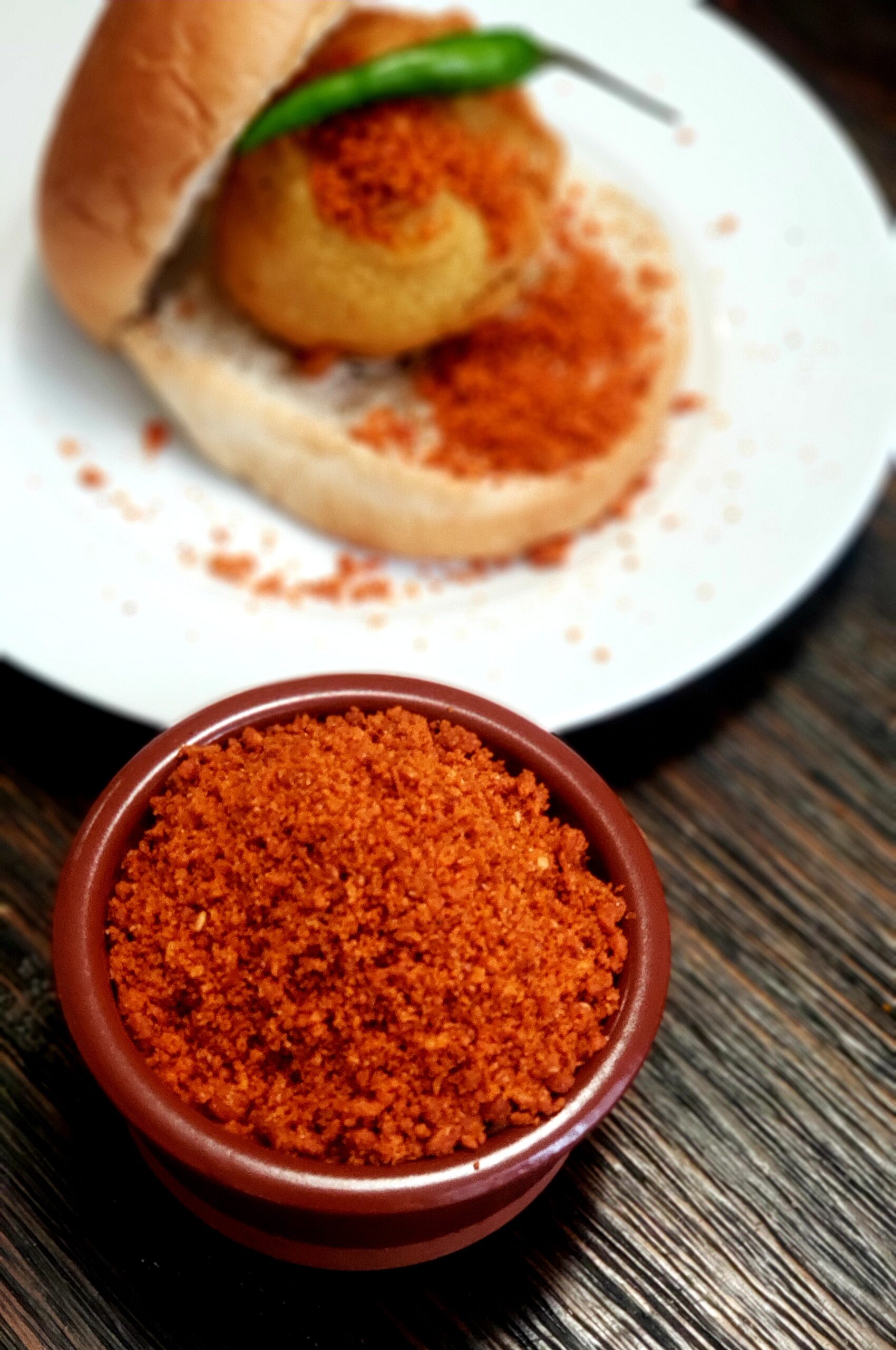 Makes : 4 serving | Prep Time : 10-15 minutes | Cooking Time: 10-15 minutes
Ingredients to make dry garlic chutney:
8-10 peeled garlic cloves
1 cup raw peanuts
½ cup sesame seeds
⅓ cup daliya (roasted split peas)
⅓ cup dry shredded coconut
½ tsp hing
2 tbsp methi masala(pickle masala)
½ tbsp kashmiri red chilli powder
1 tsp red chilli powder
½ tsp turmeric powder
2 tbsp oil
½ tsp powdered sugar (optional)
Salt as per taste
Steps to make dry garlic chutney:
Heat oil on low heat in a pan.
Once oil is heated, add garlic cloves and roast them on low heat. Roast them until you see a few brown spots. Make sure you don't brown the garlic, just a couple of brown spots is good enough.
Now carefully remove the garlic and add peanuts to the same pan. Again roast them until you see a couple of brown spots. Don't over brown them or the chutney will have burnt flavor.
Once peanuts are roasted, remove them and add sesame seeds. Again roast them for 1-2 minutes and add shredded coconut. Roast it for another minute.
Now turn off the heat. Make sure, you don't brown the coconut.
Let everything cool down.
Take a blender/spice grinder, add roasted garlic cloves, roasted peanuts, roasted sesame seeds, roasted coconut, daliya, hing, little oil and salt.
Blend everything well. You should get a crumbly texture.
Once it is blended well, take out the mixture in a bowl. Add methi masala, kashmiri red chilli powder, red chilli powder, turmeric powder, sugar and mix everything. Add salt if needed.
Dry garlic chutney is ready. It stays good for 1-2 months in the refrigerator.
We are sorry that this post was not useful for you!
Let us improve this post!
Tell us how we can improve this post?