Bhel kachori is one of the iconic street food specials in my hometown Vadodara. It is a combination of a crispy (khasta) kachori (fried pastry) filled with flavorful bhel. Now this sounds like yet another street food, but for me bhel kachori is very close to my heart. I have had countless memories of eating bhel kachori in the extremely busy streets of Vadodara with my mom and sister. Eating them after a long shopping day in the busy streets of Vadodara was like a ritual for us. While these goodies are such fan favorites in Vadodara, the street vendor famous for selling them has such a humble and small cabin in the heart of Vadodara. I doubt there is any local in Vadodara that would not have tasted this bhel kachoris.
The best part about these kachoris is its simplicity. Yes, you heard it right, these are not made from any fancy ingredients but very basic things. And yet they taste AMAZING! These kachoris are a perfect example of how basic ingredients when brought together can make some of the best foods. In my opinion, the best part of these bhel kachoris is the kachori (fried pastry) itself that makes the most simple bhel taste amazing. Now the ingredients are basic for making this kachori but it requires some work and practice. But once you nail it then making bhel kachori gets very easy.
So far you would have figured out how big of a fan I am for bhel kachori. When I moved to the USA, I missed eating them the most. I tried different Indian restaurants, but it wasn't the same taste. I realized it was the kachori that didn't taste the same. So I decided to make it at home. Since this is a local food item, I didn't expect a direct recipe for the kachoris. I tried different kachori recipes, did some research but those mostly failed until I found a trick to making them. Now I am not sure if the original recipe does this trick but it lended me a kachori that tastes just like the original one every single time.
The trick to making perfect kachoris is filling them with some besan (chickpea flour) filling. This may sound like raj kachori but it's not. In a raj kachori, filling is an important part of its flavor profile, but the filling in this kachori is mainly to give strength to the pastry layer which helps it to puff up. And so the amount of filling is also very little as compared to raj kachori. Now because we are filling the dough balls with dry besan (chickpea flour), making them requires patience and practice. You have to make sure that the filling is properly sealed, otherwise it can open up while frying the kachoris won't puff up. But trust me it's not as daunting as it sounds. With a little bit of practice and patience, you will get perfect kachoris everytime.
The second tip for making these kachoris is using fine semolina. Coarse semolina will not give you the same result. I have tried using coarse one and my kachoris would not seal properly. Coarse semolina is too big to form a smooth dough ball after filling them up and so they are more prone to breaking while frying. This is the same reason why gulab jamuns cannot be made using coarse semolina.
Third trick is to rest the dough for at least 30 minutes. Whenever working with semolina for making dough, it is important to let the dough rest. During the rest period, semolina absorbs water, makes the dough smooth and allows us to get an idea about its texture. After resting, dough usually gets stiffer as semolina absorbs water. So if the dough feels too dry or hard then add little water to adjust the texture.
Last trick is to have the right oil temperature. Normally we fry puris at a really high temperature because they need flash cooking. But these kachoris are thicker than normal puris, have filling which needs to be cooked and they are crispier than puris. So kachoris should not be fried at a very high temperature. However, we still want kachoris to puff up which cannot be achieved at low oil temperature. So oil temperature should not be as high as it is for puris but high enough to let them puff up. I fry them on medium high temperature.
Now for assembling the bhel kachori. It is extremely easy if you have chutneys on hand the way I have. I usually make a big batch of cilantro mint chutney (recipe here) and date tamarind chutney (recipe here) and then freeze them. For the red garlic chutney, you can either make it or use store bought or use my hack. My hack for red garlic chutney is using Sriracha sauce instead. I use this sauce in every chaat dish and trust me no one can find the difference in taste. It replaces red garlic chutney so well.
So here is my take on the very famous bhel kachoris from my hometown Vadodara. Whether you have had this chaat before or not, I highly recommend that you try it once. Making kachoris can be difficult at first, but trust me it's not so difficult. If I can make it, so can you. Try my recipe for the kachori and bhel kachori and if you like it then do let us know about your experience. Also let us know what was your favorite chaat growing up as a kid.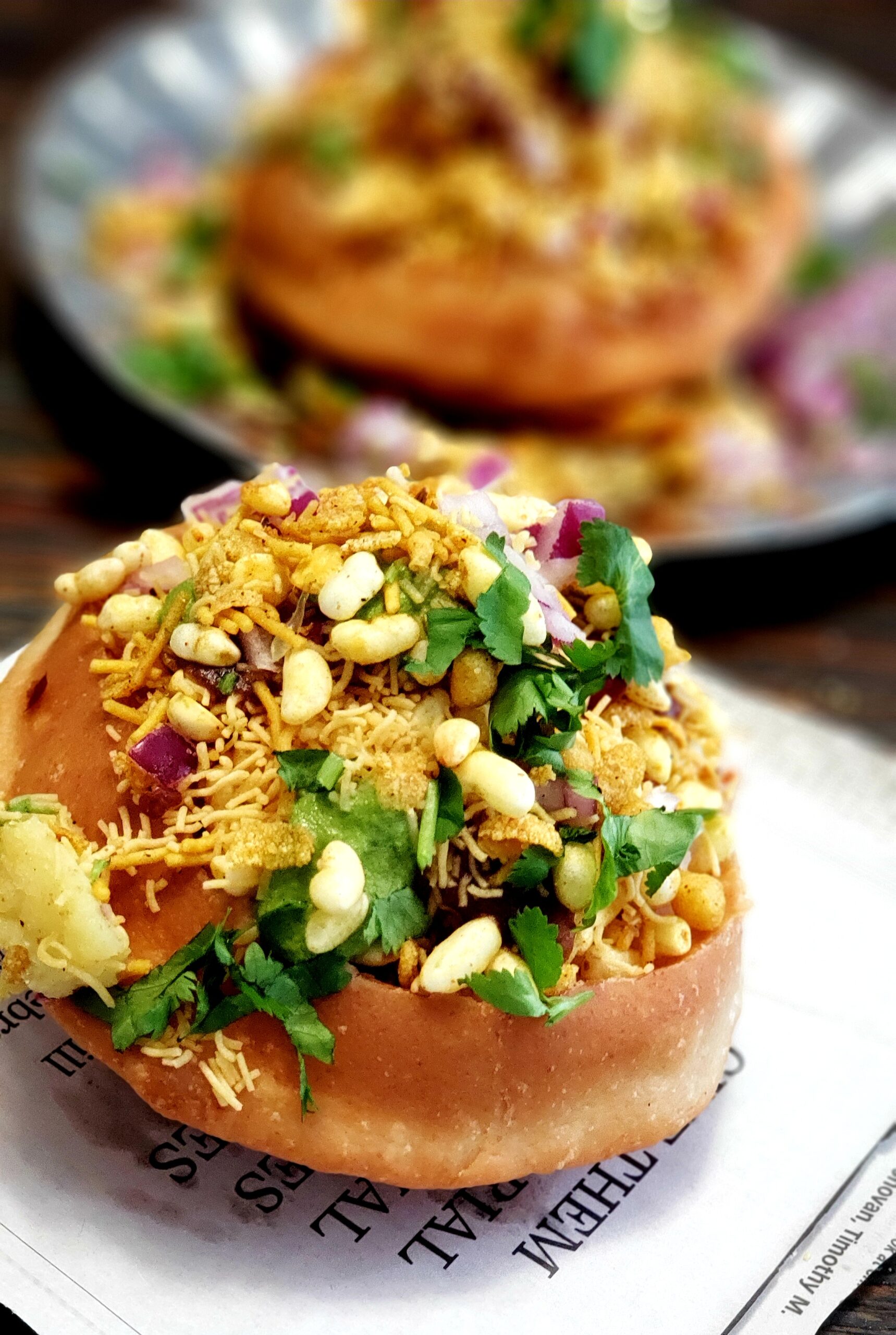 Makes : 6 serving | Prep Time : 30-45 minutes | Total Time: 45-60 minutes
Ingredients for kachori:
1 cup maida/ all purpose flour
2 tbsp fine semolina (jeeno ravo)
½ tsp salt
¼ cup oil
¾ cup water
½ tsp oil to massage dough
Oil for frying
Ingredients for kachori stuffing:
⅓ cup fine chickpea flour (besan)
½ tsp cumin powder (jeeru powder)
¼ tsp salt
¼ tsp red chilli powder
1 tbsp oil
Ingredients for bhel kachori:
1 cup boiled and cut potatoes
1 cup bhel mix
½ cup finely chopped onions
Cilantro mint chutney (Recipe Here)
Dates tamarind chutney (Recipe Here)
Garlic Chutney or Sriracha
½ cup thin sev
Lime juice
Chaat masala
Chopped fresh cilantro for garnish
Steps to make puri:
Add maida/ all purpose flour, semolina, salt and oil to a large mixing bowl.
Mix everything using your hands such that oil is spread evenly throughout the flour mixture. If done correctly then you should have a crumbly flour texture at the end.
Now slowly add water and start kneading dough. Dough should not be very hard.
Once the dough is formed, massage it with a little oil. Cover it with a wet towel and let it rest for 30 mins.
While the dough is resting, let's make stuffing.
In another bowl, add besan, cumin powder, salt and chilli powder. Mix everything properly.
Now add oil to the besan (chickpea flour) mixture and mix everything properly. Stuffing is ready.
After 30 mins the dough should have rested enough. At this stage, you should be able to see little spots on the dough. This means it is ready. Now give a quick knead and make equal portion balls out of it.
Take one dough ball, shape it like a small cup using your thumb & index finger and fill this dough cup with a small spoonful of the besan filling. Now seal the dough cup by bringing its ends together and roll it again to make a smooth dough ball. It is very important to seal the dough cup properly otherwise it can open up during frying.
Now flatten this filled dough ball with your hands first and then roll it in a thin to medium size circle using a rolling pin. Roll the rest of the dough balls in the same way.
Heat oil in a deep frying pan. Oil should be hot but not extremely hot. Deep fry all the kachori in medium hot oil.
While frying, push down the kachori with the spatula so it fluffs up, flip the kachori and splash hot oil over it so it fluffs like a balloon, and fry from both sides until crisp & golden brown. Fry all the kachori similarly.
Steps to make sukha bhel:
In a bowl, take bhel mix.
Add boiled potatoes, chopped onions, chopped cilantro, chat masala, sev and squeeze lime.
Mix everything and keep it aside.
Assembly of bhel kachori:
Before assembly, make sure all your chutneys are of pouring consistency and at room temperature. If they are thick, add little water to adjust consistency.
Now take one kachori, make a hole in the center of the kachori, add sweet chutney, green chutney and garlic chutney/sriracha as per your taste.
Fill kachori with some sukha bhel.
Now add all three chutneys on top of bhel again.
Fill in some more sukha bhel, followed by chutneys.
Add chopped onions, fine sev and fresh cilantro on the top. Bhel kachori is ready to serve.
We are sorry that this post was not useful for you!
Let us improve this post!
Tell us how we can improve this post?