Muthiya is one of the most common and staple gujarati snack/meals. It is delicious, tasty and very very healthy. Yes, made with cracked wheat (coarse wheat flour) and lots of veggies, muthiya is one of those gujarati dishes that rank high on nutritional charts. Similar to gujarati snacks like dhokla and khaman, muthiya is first steamed and then given a spicy and tangy tempering of fresh ingredients. Muthiya gets its name because of the method used in it's making. Muthiya means with hands. So to make muthiya, its mixture is shaped into rolls using hands, after which they are steamed and finally tempered before serving.
Here I share my version of gujarati muthiya. Now I usually make it with zucchini, carrots and fresh methi (fenugreek) leaves because I have these veggies on hand and I love the combination. Zucchini has a lot of moisture so it helps make muthiya soft. Carrots add a natural sweetness which I personally love with the spicy flavor of muthiya. And fresh methi is ofcourse an excellent flavor that also contributes to a softer texture.
But this veggie combination is easily replaceable with your favorite ones or what you can easily get. You can replace zucchini with bottle gourd, add cabbage instead of carrots or replace methi with spinach. Basically you can add any veggies that have good amount of moisture in them. You can make muthiya with just one or two veggies or add to my veggies list. Muthiya is one truly versatile dish.
I like my muthiya to be soft and so I prefer to have high veggie content to the muthiya mixture. The more veggies you add, softer your muthiya will turn out to be. Now for this reason the muthiya mixture from my recipe is of a batter consistency than dough like. Authentic muthiya mixture is usually dough-like. So you can shape them with your hand and then steam muthiya rolls. However, my muthiya mixture is batter like so we cannot shape them properly, which is not a problem at all. Infact it is great because all you do is pour the batter in a steaming dish and steam them as if steaming dhokla or khaman. My recipe skips a step of shaping the muthiya rolls. This makes it easy, quick and fuss free.
Muthiya is really a win win situation. They are so tasty and delicious that the kids are going to enjoy eating them. On the other hand, it has different veggies (lots of micronutrients), cracked wheat and whole wheat flour (carbs and fibre) and is steamed (low calorie). These ingredients make muthiya a really healthy food. So you don't have to worry about it's nutritional value. Definitely a perfect balance of taste and health!
I honestly love making muthiya for my little monster's meals. Muthiya is a great way to sneak veggies in my kiddos diet without him even knowing or fussing about it. In fact, he truly enjoys eating muthiya. Best part, you can pretty much add any veggies to muthiya. Although my kiddo is not very fussy about veggies yet, I have all future plans to sneak the veggies that he dislikes in muthiya. Try this trick with your kids and I am sure it will work!
Besides great for kids tiffin meals, muthiya is an amazing evening snack with a hot cup of tea/coffee. It is pretty filling breakfast as well as a light but satisfying lunch option. Oh and not to forget muthiya is one of my favorite comfort foods on a rainy day. Try my muthiya recipe and enjoy them with your favorite condiments or by itself or with tea/coffee. If you try my recipe then make sure to rate it and share your feedback in the comments section.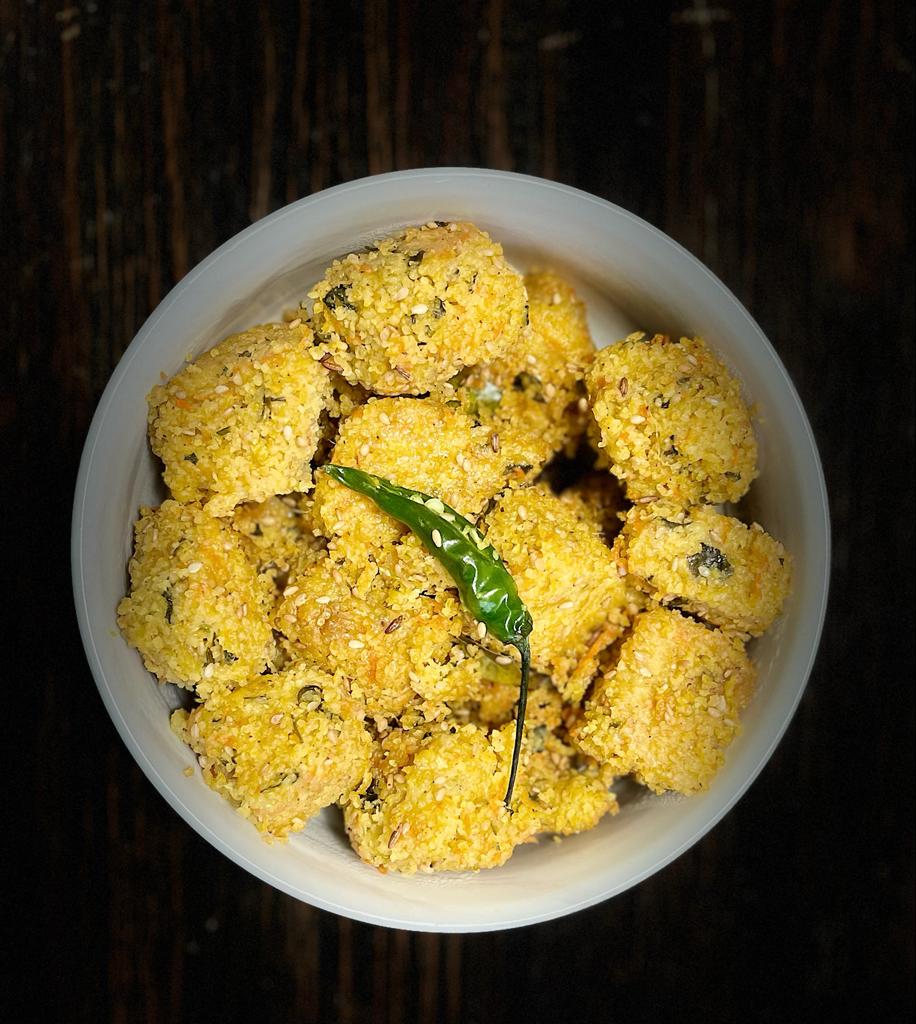 Serves : 2 | Prep Time : 10-15 minutes | Resting Time : 30 minutes | Cooking Time: 45-50 minutes
Ingredients to make Muthiya:
2 cups finely grated zucchini
1 cup finely grated carrot
½ cup washed and chopped methi (fenugreek) leaves
1 cup fine cracked wheat (coarse whole wheat flour)
⅓ cup besan (chickpea flour)
⅓ cup multigrain flour
1 tbsp oil
1 tbsp sesame seeds
½ tsp Eno or baking soda
½ tbsp grated ginger
½ tbsp grated garlic
⅓ cup yogurt
¼ cup jaggery
1 tsp cumin coriander powder
¼ tsp turmeric powder
½ tsp red chilli powder
¼ tsp garam masala
1 tsp or as per taste salt
Ingredients for tempering Muthiya:
2 tbsp oil
1 tbsp sesame seeds
5-6 curry leaves
1-2 green chilli slits
1 tsp cumin seeds
¼ tsp hing (asafoetida)
½ tbsp lime juice
Steps to make muthiya:
In a bowl, add finely grated zucchini, finely grated carrots, chopped methi leaves, grated ginger and garlic, yogurt, sesame seeds, salt, oil and all the spices (turmeric, cumin-coriander powder, red chilli powder and garam masala).
Mix everything properly.
Now add jaggery. If the jaggery is too hard then grate it first and add to the mixture so that it can easily melt and mix with the mixture.
Once all the veggies, spices and jaggery has mixed properly, it's time to add the flours.
Add cracked wheat, besan (chickpea flour) and multigrain flour. Mix everything properly.
The mixture at this stage normally has enough liquid. So you don't need to add extra water. The mixture should have cake batter like thick consistency.
Now let the mixture rest for at least 30-35 minutes.
Once the mixture has rested, take a steaming container. Grease the steaming dish properly.
Add eno or baking soda to muthiya mixture and mix properly. Now add the mixture to the steaming dish and steam it for 40-45 minutes or until cooked.
Once cooked, turn off the heat and remove the steaming dish from the steaming container. Let the muthiya cool down for 10-15 minutes, after which cut them in small square pieces.
Steps to temper muthiya:
Heat some oil in a saucepan.
Add cumin seeds to the heated oil. Once they start to splutter, add sesame seeds, green chillies, curry leaves and hing (asafoetida).
After a few seconds, add muthiya pieces. Mix everything properly making sure muthiya pieces are well coated with the tempering mix.
Turn off the heat. Add lime juice, mix well and serve warm.
We are sorry that this post was not useful for you!
Let us improve this post!
Tell us how we can improve this post?