Vermicelli or sev is one very common and versatile ingredient in indian cuisine. Besides used as a supplementary ingredient, sev is often the main ingredient of many savory and sweet indian dishes. Every indian state has its own style of making vermicelli either in a savory or sweet form. Savory dishes such as semiya upma to sweets like semiya kheer, gaddi (sweet) sev, sev ni biranj are just a few examples of how extensively vermicelli is incorporated in indian cuisine. I enjoy almost every vermicelli dish but as you must have figured it out already- Sev ni biranj is definitely my favorite one.
Sev ni biranj is a sweet made out of vermicelli. It is cooked in equal parts of milk and water until it absorbs all of the liquid. This makes it different from the semiya kheer which has liquid consistency while biranj is more like milk soaked vermicelli. In fact this texture of biranj makes it such an unique sweet and my absolute favorite. The sev/vermicelli absorbs all the creaminess from milk and gives it a very creamy, delicate and elegant taste. Although sev ni biranj is such an amazing delight, I feel it is often underrated amongst other indian sweets.
Sev ni biranj is not just elegant in taste but also in its appearance. It looks so delicate and royal with just a few slivers of pistachios and almonds. Not to forget it is also not overtly sweet like most other indian sweets. Basically sev ni biranj checks all the boxes right from taste, presentation to sweetness index for being a perfect dessert for hosting nights or potlucks. Did I mention it also does not take too much sweat or skill to make?! Yes, contrary to other indian sweets, sev ni biranj can be made in very little time and requires no chef skills. One perfect sweet or dessert for almost all occasions or even when there is none.
Sev ni biranj is usually flavored with Indian classic sweet flavors such as saffron, cardamom, rose, etc. I personally prefer the combination of saffron and cardamom. It is just a heavenly combo in my opinion. But you can use rose water, kewra to flavor it. No matter what flavor you chose, I'd suggest keeping it simple and modest will not overwhelm the flavor of creaminess in the vermicelli.
Growing up in Gujarat, I always had gaddi (sweet) sev as a holi sweet. Although it is one comfort sweet for me, I personally prefer having sev ni biranj. So in my house I make sev ni biranj as our holi tradition. Besides I also prefer making it for hosting nights and sometimes just when we are craving for it. While making for guests, I usually make it ahead of time and just warm it up before serving.
So here I share my take on sev ni biranj which is yet another Indian classic sweet/ dessert. Make it for a festival or any celebration or hosting nights or just to enjoy a normal day. I highly recommend making this classic indian sweet. If you try my recipe then don't forget to leave your feedback and experience about it. Also let us know what is your favourite vermicelli dish? Mine you already know!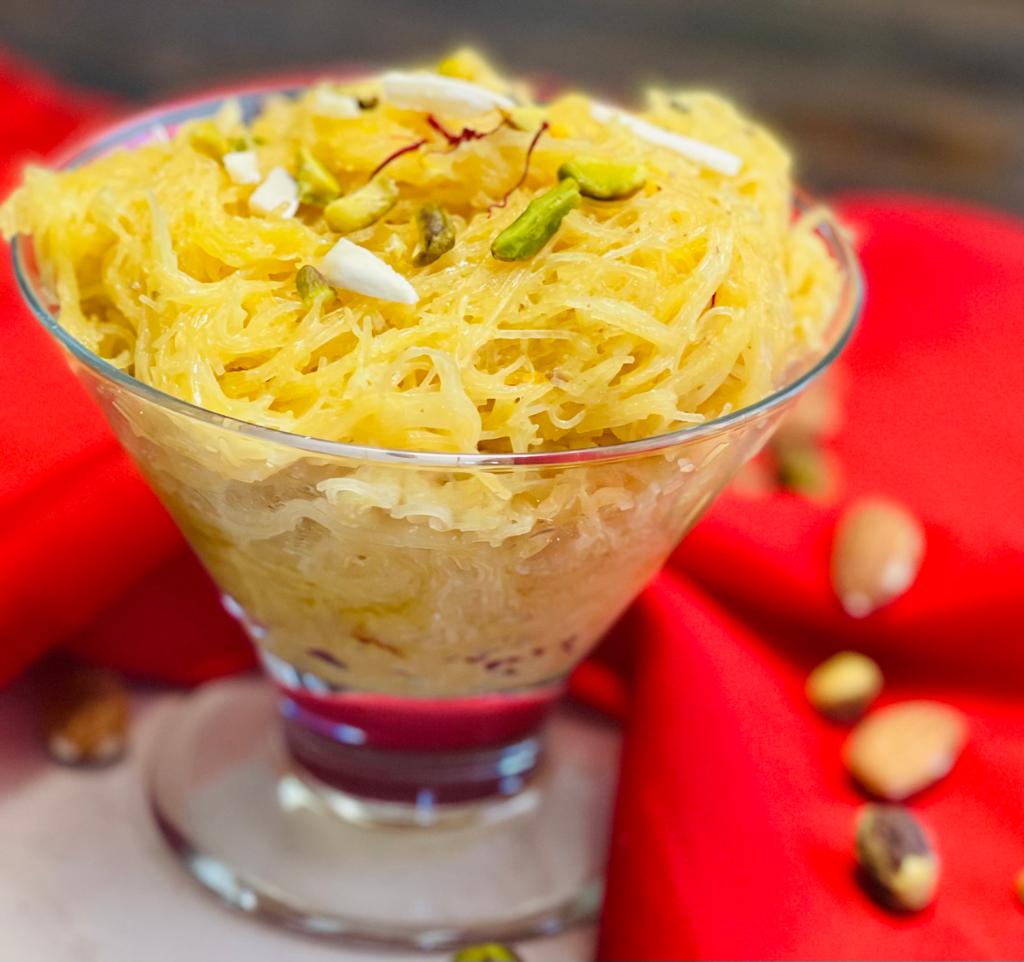 Serves : 2 | Prep Time : 5-10 minutes | Total Time: 15-20 minutes
Ingredients to Sev ni Biranj:
1 cup vermicelli
8-10 saffron strands
1 tbsp milk to soak saffron strands
2 tbsp ghee (clarified butter)
¼ cup sugar
¼ tsp cardamom powder
½ cup water
½ cup milk
Pistachio and Almond slivers for garnish
Steps to make sev ni biranj:
In a bowl, soak saffron strand using warm or room temp milk. Give it a quick stir and keep it aside.
Now in a saucepan, heat ghee (clarified butter) on medium to low heat. Add vermicelli to the ghee. Make sure you have broken down vermicelli into pieces before adding them to ghee. Roast the vermicelli until they turn golden brown. Stir them continuously so that they do not burn but roast evenly. This will take about 4-5 minutes.
Once the vermicelli is roasted, add water and milk to it. Let everything cook for another 5 minutes. Stir them at regular intervals (every 1-2 minutes).
As vermicelli starts to cook, it will begin absorbing liquid and soften. After about 5 minutes, add sugar, cardamom powder and saffron milk.
Mix everything properly and let it cook for another 4-5 minutes.
Once all the liquid is absorbed and you find vermicelli is perfectly cooked, then remove from heat.
Garnish with chopped nuts. Sev ni biranj is ready to serve.
We are sorry that this post was not useful for you!
Let us improve this post!
Tell us how we can improve this post?