If you know me already, you know I am not a baker. Which means if I share a baking recipe on the blog then it is meant to be for non-bakers like me. I only share baking recipes that do not require complex baking skills and are easy yet delicious. And today I am sharing my take on how to make mini cheesecake with some indian flavors. These are easy to make, full of flavors and the perfect size to munch on guilt free.
Now I do not claim this cheesecake recipe to be either authentic or my creation. I have tried a couple cheesecake recipes and some worked well while others were too complicated for me. I modified some of these recipes and tried to give them indian flavor touch. Finally I came up with this recipe which works well in terms of prep time, ingredients and most importantly taste.
These mini cheesecakes are kind of special to me since they bring back some of my childhood memories. Yes, they have the crust made with Parle-G biscuits (cookies) which are every indian kid's staple cookies while growing up in India. And the cheesecake filling is flavored with cardamom as the base flavor with a hint of rose and khus flavors. Once again rose and khus are like most indians' favorite summer drink flavors. So these mini cheesecakes are full of all the flavors that I enjoyed as a kid and now as an adult.
I replaced the original graham cracker crust in cheesecake with Parle-G biscuits because of two main reasons. First, of course my husband and I enjoy Parle-G biscuits over graham crackers anyday. Second, I wanted my kid to get familiar to his parents favorite cookies. Now I can give him parle g to snack on and trust me I do that. But why not in a cheesecake?! Afterall these are also a pantry staple in my house instead of graham crackers.
Now I don't flavor the crust with anything since I personally love the original parle g biscuit taste. I also think the filling already has enough flavoring to flavor the cheesecake. Adding the flavoring to the crust might overwhelm the overall taste. However, you can flavor it with cardamom, saffron, rose water or simply dash of vanilla extract.
For the filling, I keep cardamom as the base flavor since it pairs well with most other indian flavors. For the secondary flavors, I normally prefer rose and khus since those are mine and my husband's favorite. Once again, you can use any other flavor syrup like kesar-pista (saffron-pistachio), mango, etc. Remember these are secondary flavors and you will just get a hint of them in the taste like a secondary flavor burst. And not to forget these flavor syrups are also the reason why these cheesecakes look so cute. So I'd suggest using a syrup flavor that has a good contrasting color and strong flavor which pairs with cardamom.
So if you are a non-baker like me and looking for a cheesecake recipe that is easy to make, tasty and looks just as cute then this recipe is for you. I highly recommend making these little pieces of joy. I am sure you and your family will enjoy them just as we do. If you try them then do share your feedback in the comments section. And please rate the recipe as that's a way for me to grow in my cooking skills.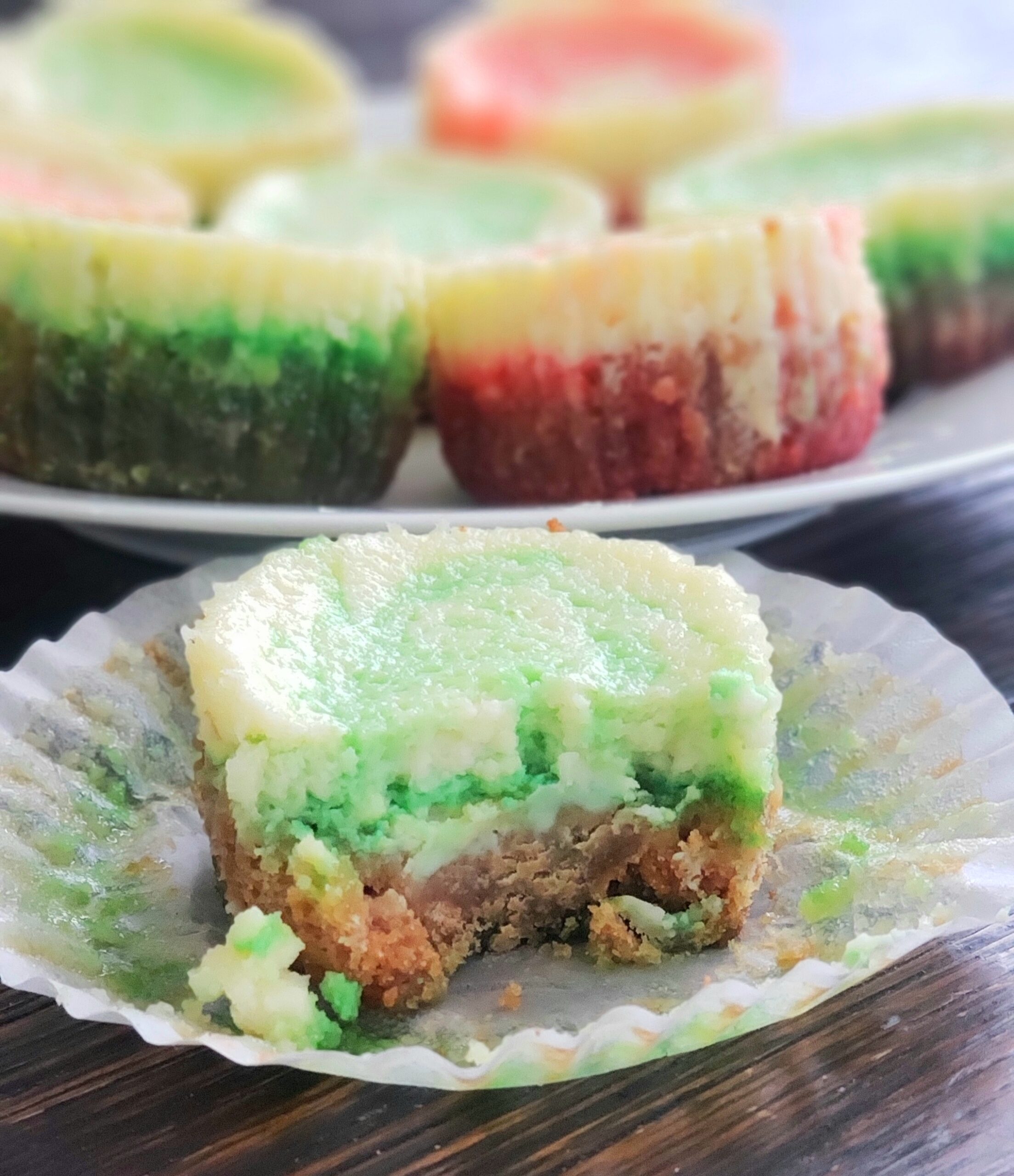 Makes : 12 mini cakes | Prep Time : 10-15 minutes | Bake Time : 40-45 minutes | Total Time: 2-3 hours
Ingredients to make crust for mini cakes:
2 packets (100 gram each) Parle G biscuits (approx. 1 cup parle g cookie crumbs)
¼ cup unsalted melted butter
Ingredients to make cheesecake filling:
8 oz room temperature cream cheese
1 large egg
½ cup granulated sugar
½ cup plain greek yogurt
1 tsp vanilla extract
¼ tsp elaichi (cardamom powder)
Rose or Khus Syrup as per your taste preference to make swirls
Steps to make crust for mini cakes:
Preheat oven at 325℉ and line cupcake mould with cupcake liners. My cupcake mould has 12 cups.
Now using a food processor, crumble parle g biscuits (cookies). Use the pulse option to make the cookie crumble.
Add melted butter to the cookie crumble and mix everything properly.
Divide the cookie crumb mixture between all the cupcake liners. Press the mixture firmly and bake for 10 minutes as shown in the picture below, after which the cheesecake crust will be ready.
Steps to make cheesecake filling:
In a bowl, add cream cheese and egg. Whip them until properly mixed using a hand mixer.
Now add sugar, yogurt, vanilla extract and cardamom powder.
Blend everything properly using a hand mixture until it looks light and creamy.
Keep it aside.
Steps to make mini cheesecake:
Once the cheesecake crust is bakes, lower the oven temperature 300℉.
Divide the cream cheese filling in each cupcake mould.
To each cupcake mould, add 1 tsp of rose, khus or any syrup of your choice. Using a toothpick, gently swirl the syrup as shown in picture below.

Now bake them for 20-25 minutes.
Once baked, they will be a little wobbly. Let them cool down.
Once cooled, refrigerate them for 2-3 hours before serving.
We are sorry that this post was not useful for you!
Let us improve this post!
Tell us how we can improve this post?