Lasan marcha thecha is a condiment that is paired with different curries and or breads. Thecha is mainly made with crushed chillies and garlic which are then tempered with oil and spices. It has many variants across different indian states like red chilli thecha, green chilli thecha, etc. All taste amazing and SUPER SPICY.
My favorite thecha is the most basic one made with green chillies and garlic. Normally, you can flavor thecha with different spices but I like to keep it simple and basic. I temper crushed chillies and garlic in oil and season with some salt. I feel the heat from green chillies and flavor from garlic is more than enough to make this thecha taste sizzling.
Thecha is usually eaten as a condiment or a side pickle. It can go with almost any indian curry but especially dry curries. As a condiment, it tastes great with all parathas, dhebras, theplas, and really any flatbreads. My personal favorite is eating thecha with methi (fenugreek) dhebras. You can pair it with any indian dish, just remember it is super spicy. So if you prefer low heat then start with a small quantity of thecha.
Traditionally thecha is made using a mortar pestle just like many indian chutneys. Now is a mortar pestle must for thecha? I would say it is not if you are not looking for the authentic thecha texture. This is similar to the debate of whether certain chutneys made in mortar pestles can be recreated using a mixer grinder. Some say the mixture grinder cannot give the same texture and taste but others won't find a problem with it.
I personally feel mortar pestles do make a difference. I remember my grandmother used to make a red garlic chutney using mortar pestle and it was divine in taste. But when I make it using her recipe with a mixer grinder, it does not taste the same. Chutneys made in a mortar pestle do not have a homogenous texture which is the case with mixer grinder chutneys. And that chunky non-homogenous texture is something we are looking for in thecha specially. So I recommend using a mortar pestle at least for the thecha.
If you don't have a mortar pestle and don't intend to buy one then you can still make this thecha. You can use a grater to grate garlic and chop chillies really finely. Texture may not be exactly similar but it will still taste great. You can store this thecha in a glass container and it will stay good in the refrigerator for about 2-3 months.
So try this thecha recipe and enjoy it as a side pickle with your favorite indian curry or as a condiment with parathas, dhebra, theplas or any flatbread. If you try this recipe then don't forget to rate it and leave us your feedback in the comment section.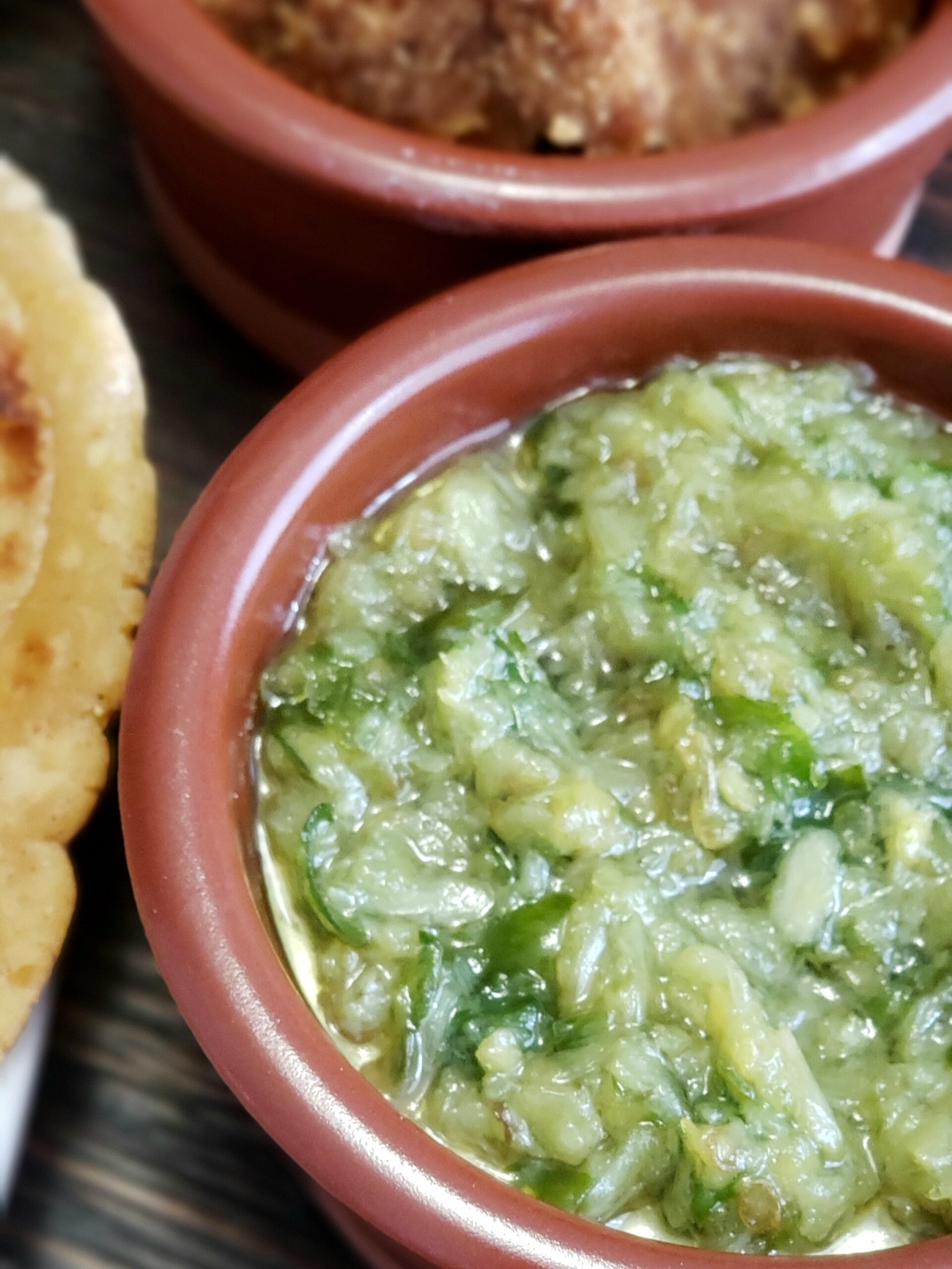 Makes : 4 serving | Prep Time : 15 minutes | Cooking Time: 5-7 minutes
Ingredients to make thecha:
5-6 spicy thai chillies
4-5 big garlic cloves
1.5 tbsp cooking oil
¼ tsp Salt
Steps to make thecha:
In a mortar pestle, add green chillies and peeled garlic.
Crush and grind them as much as you can.
Now add oil to a small saucepan and heat it on medium heat.
Add crushed chilli garlic paste to the oil. Let it saute for 5-6 minutes.
Once you see garlic is nicely sauteed but has not become brown yet, add salt. Let it cook for another 1-2 minutes.
Thecha is ready. Enjoy with your favorite paratha, dhebra, flat bread or as a side pickle with any indian curry.
We are sorry that this post was not useful for you!
Let us improve this post!
Tell us how we can improve this post?