Phirni is an authentic sweet or dessert from North India that is made primarily with milk and rice. It is a very delicate dessert, loaded with creaminess from milk and beautiful grainy texture from rice. Phirni is usually made in different flavors such as saffron, cardamom, rose or using different nuts.
This north indian sweet has close resemblance to a gujarati sweet named "dudhpak" (also made with milk and rice). Yet both of these are different in their textures due to the way rice is used in their making. In dudhpak whole rice grains are cooked in milk while in phirni coarsely grinded rice is used. So dudhpak is more liquidy while phirni is thicker and has a somewhat pudding-like texture.
Here I am sharing one of my favorite flavors of phirni- Kesar Pista (Saffron-pistachio). Kesar pista flavored phirni is my favourite for two main reasons. First, kesar (saffron) and pista (pistachios) perfectly compliment each other. Saffron's delicate flavor matches so well with the nutty pistachio flavors. And second, the sharp contrasting colors of saffron and pistachio makes this otherwise dull looking dessert so beautiful. Afterall we first eat with our eyes and then with our mouth, right? And kesar pista phirni has everything in it to easily make anyone drool with both- eyes and mouth.
Kesar pista phirni is once again easy to make and not laborious at all. It is a perfect dessert for when you are hosting or festive meals or just to treat yourself. I personally prefer making phirni when I am hosting since it needs to be chilled before serving. So I make it ahead of time without much fuss and it gets chilled and all set by the hosting evening. Again phirni is usually chilled and set as individual servings, making it easy to serve. It is perfect to showcase your culinary skills, since only we know how easy it is to make phirni. Do try this exquisitely looking creamy, luscious phirni loaded with nutty pista and delicate saffron flavors and let us know if you and your family enjoyed it or not.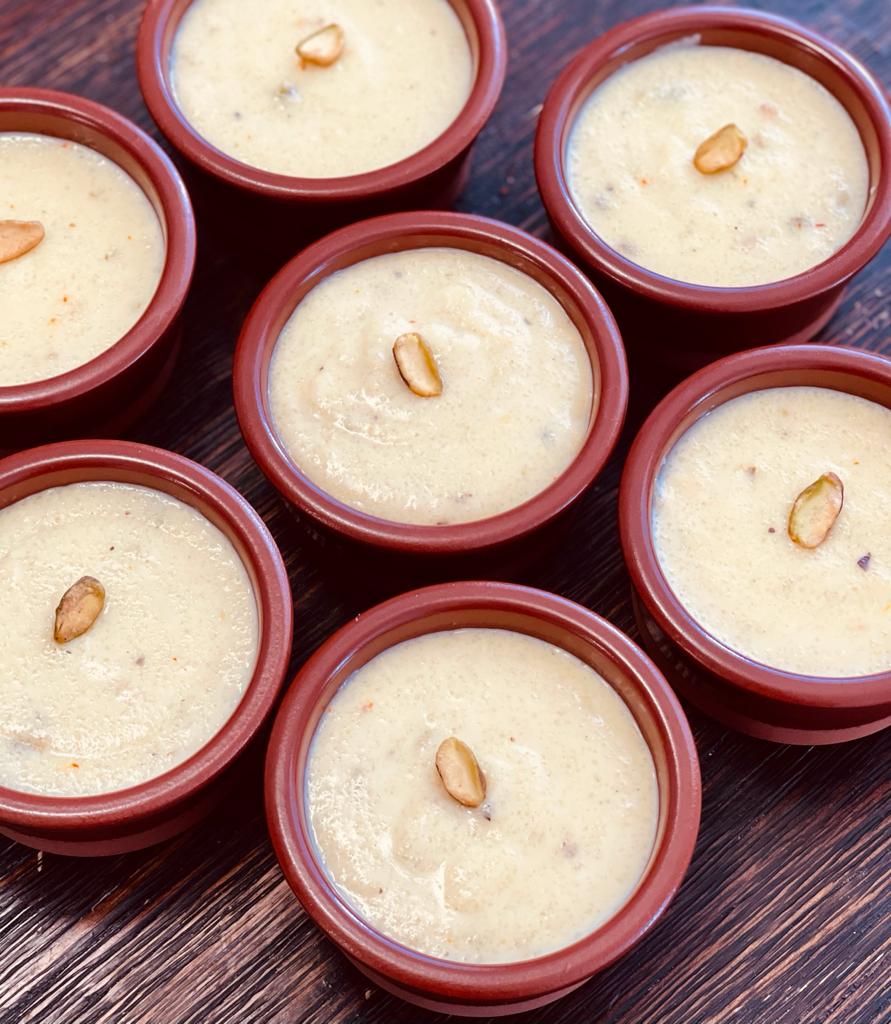 Prep time: 25-30 minutes | Cooking Time: 25-30 minutes
Ingredients:
5 tbsp rice
5 cups whole milk
1/2 tsp cardamom powder
1/3 cup sugar
sliced/roughly chopped pistachios
1 tsp or a dash of vanilla extract
10-12 saffron strands (soak half of the strands in 2-3 tbsp milk)
Steps:
Soak rice for 15-20 minutes.
After 15-20 minutes, coarsely grind this soaked rice.
Now boil milk in a non stick saucepan on medium heat. After the first boil, reduce the heat to low and let the milk simmer until it is reduced a little bit.
To this, add cardamom powder and saffron soaked milk and mix well.
Next add coarsely grind rice paste to the milk and mix everything properly.
Cook and stir this milk and rice mixture until the rice gets cooked and the mixture thickens.
Once the mixture starts to thicken, add chopped/sliced pistachios and remaining saffron strands.
Finally add sugar and vanilla extract to milk. Stir the mixture until sugar dissolves completely.
Phirni is ready. Transfer the phirni into individual serving bowls (earthenware bowls, shot glasses, cups, etc). Sprinkle pistachios and saffron on top and let the phirni cool down to room temperature. Transfer the cups to the refrigerator after the phirni comes to room temperature. Once chilled, it is ready to serve.
We are sorry that this post was not useful for you!
Let us improve this post!
Tell us how we can improve this post?