Falooda is one of the most versatile and popular desserts in India. It is a mixture of several different components such as vermicelli, basil seeds (tukmaria), nuts, ice cream or kulfi served together in a thickened milk custard. A single serving of falooda is full of different textures yet everything compliments each other so well. And this in my opinion is the best part of eating falooda.
Normally, you can make falooda by using instant mix packets that are readily available in indian stores within the USA and even in India. These instant packets are usually a mixture of everything needed for making falooda custard. You add them to milk, bring it to a boil, let it simmer until thickens and finally serve it chilled with ice cream. Although these instant mix packets are convenient, there are a few downsides to them.
Firstly, the falooda flavoring is already mixed with the contents of this premixed packet. So if your family is like mine where we all like a different flavor falooda then you have to buy different flavored falooda packets. Moreover, you can only make one flavored falooda custard at a time. And lastly, these instant mixes only come in some of the most popular flavors whereas falooda can be made in a variety of different flavors. So these instant mixes are clearly not the best option in terms of money, time and flavors when you want to enjoy different falooda flavors instead of one.
I decided to make a falooda mix that is similar to the store bought instant packets but does not have any flavoring to it. With this homemade mix, you can make one common falooda custard and then customize each serving with different flavors as per everyone's preference in your family. You essentially make falooda custard using this homemade mix just as you would do with a store bought one- add to milk, boil it, let it simmer until thickens and then chill and serve with ice cream. Major pros of this homemade mix are that it is budget friendly, time saving since you make a common custard for different flavors and easily customizable to your flavor likings (even those not sold commercially).
So here I first share my recipe of instant falooda mix and then make falooda custard using this mixture. I also share three different ways in which I like to customize falooda flavours- Royal falooda (rose flavored), Khus falooda and Kesar Pista falooda. For royal falooda and khus falooda, I use rose syrup (rooh afza) and khus syrup that are normally in my pantry to make sherbets. You can customize with any flavors of your preference using similar sherbet syrups or fruit purees. The choices are endless.
These instant falooda mixes also make up for great edible homemade gifts for your friends and relatives. They are so easy to assemble, take no time to put together and yet look impressive and unique. So try my homemade instant falooda mix as a gift option this festive season or make different flavored falooda for yourself and your family using it. Do let us know if you try them. Also let us know what flavors you use to customize your falooda.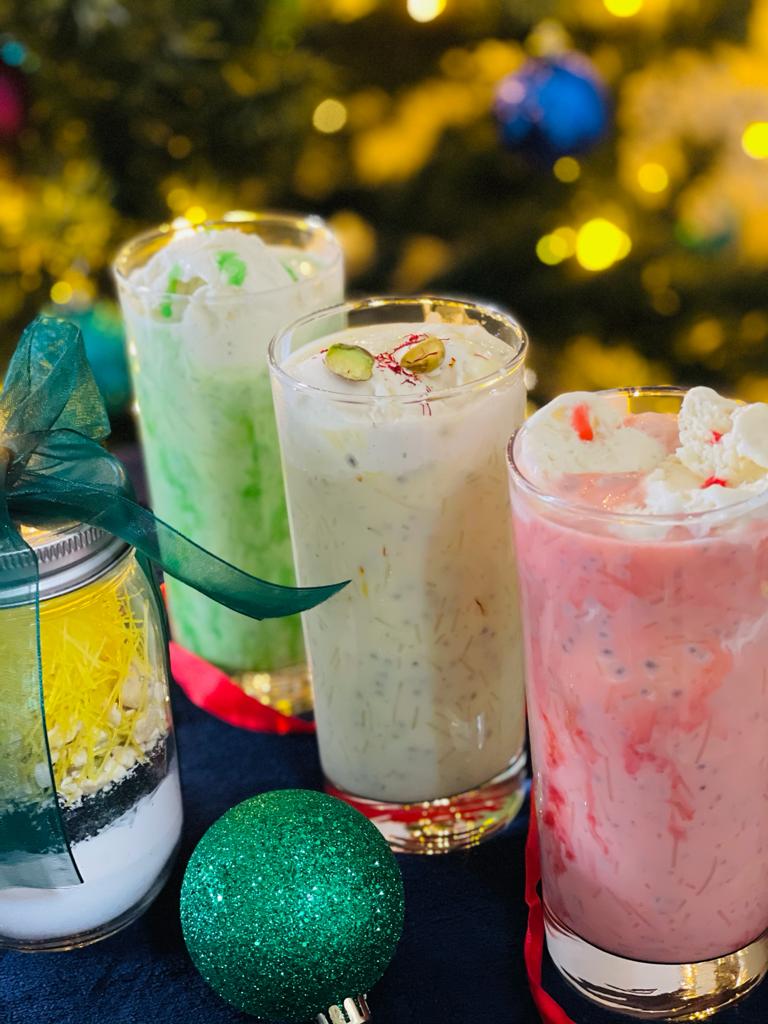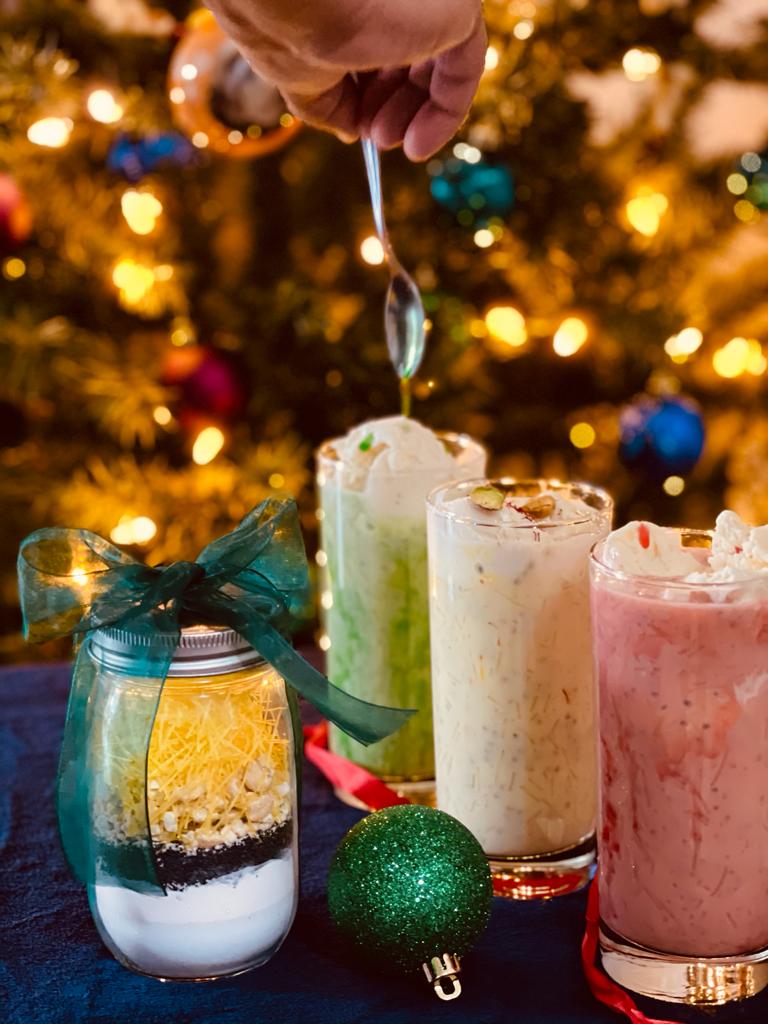 Serves: 4 | Prep Time : 3-4 minutes | Cooking Time: 15-20 minutes
Ingredients to make instant falooda mix:
2 tbsp vanilla flavor custard powder
6 tbsp sugar
1 tbsp basil seeds (tukmaria)
1 cup falooda sev
1/2 cup roughly chopped cashews
Ingredients to make falooda:
3 cups whole milk
1.5 cups water
Homemade instant falooda mix
Flavoring as per your choice
Ice cream scoop as per your choice
Steps to make instant falooda mix:
For making instant falooda mix, just mix all the ingredients listed under the instant falooda mix section. Store this mixture in an airtight container in a dry area.
Instant falooda mix is also a wonderful edible gift option. For this, take a mason jar.
Layer all the falooda mix ingredients in the following order- sugar, custard powder, basil seeds, chopped cashews, falooda sev.
Before adding falooda sev to the jar, cut them to the size of an inch using scissors so that they can fit properly in the jar.
Decorate the jar as you like. I usually wrap it with a ribbon and homemade instant falooda mix is ready to be gifted.
Steps to make falooda using instant mix:
In a saucepan, mix milk and water.
Now add instant falooda mix to this milk-water mixture.
Mix everything properly using a whisk. Make sure custard powder is completely dissolved in milk and there are no lumps in the mixture. This is a very important step to be followed before putting the mixture on heat.
Once the mixture is properly mixed, put it on medium to low heat and stir it continuously.
After 5-6 minutes, the mixture will start to thicken. Continue stirring and cook the mixture until falooda sev is cooked.
Remove the mixture from the heat when the falooda sev is cooked and it is thick but not as thick as you would prefer in your falooda. The mixture will thicken as it cools down. If for some reason the mixture gets too thick, add more water or milk as per your preference at this stage.
Let the mixture cool down.
Once the mixture is at room temperature, add your preferred flavoring. I added 2 tbsp rose syrup for royal falooda, 2 tbsp khus syrup for khus falooda and a few strands of saffron with chopped pistachios for kesar pista falooda. You can add any flavorings of your preference. Choices are endless.
Refrigerate the flavoured falooda mix for a couple of hours.
Falooda is ready. Serve it with a generous scoop of icecream and ENJOY!!!
We are sorry that this post was not useful for you!
Let us improve this post!
Tell us how we can improve this post?