Who doesn't like a larabar? Well most of us do, agree? I mean they are delicious, healthy, made with all sorts of good ingredients; they sure are a perfect snack. Now I agree they aren't budget friendly always, which could be a major downside to these bars. But what if I tell you that it is possible to make these bars at home and in an economical way. Yes, I have a perfect homemade larabar recipe that is easy, budget friendly, full of goodness and tastes just as good as store bought larabars.
Let me first talk about how I came up with this recipe. So when I first ate larabar, it reminded me of one particular khajur pak that my mom used to make from dates, black sesame seeds and different nuts. Khajur pak is typically a winter sweet from India made using things that are high in fat (good fat!) and protein content to withstand cold temperatures. In short, I"ll say khajur pak are made in different ways with different ingredients but the common goal of keeping the body strong and warm during winters. And the resemblance that I found in the taste and texture of larabar and my mom's khajur pak was my inspiration to make these bars at home using her technique.
Irrespective of the technique, larabars are similar to my mom's khajur pak wherein they are essentially a mix of different nuts and dried fruits. However, a key difference between these two is that my mom's khajur pak involves roasting all goodness in clarified butter (ghee). Now this is a key step in khajur pak making that helps to keep the body warm during winter (not sure if it's true but that's what I grew up hearing). So I used this step in my recipe which may be useful in terms of increasing nutrition value but it sure helps to get that store bought larabar texture by binding all the ingredients. Finally, I replaced dried fruits and nuts in my mom's recipe to the ones that I prefer or we usually get in larabars. And guess what, I was able to recreate larabars at home.
Now my homemade larabars are not the authentic ones but they are still nutritious and taste just as delicious. In fact they taste sometimes better since I have the liberty to use my favourite combination of dried fruits and nuts. Although larabars have a wide range of different flavors, they could have a few ingredients that are not as per your liking. So making them at home is not just economical but allows you to customize the flavor combinations as per your preference. A total win win situation in my opinion.
So here is my recipe for homemade larabars. I use a combination of dried figs and dates paired with cashews, pistachios and cranberries. But as I mentioned before you can customize as per your liking. You can make the base using just the dates and add any other nuts such as almonds, walnuts, pecans etc. You can also replace ghee with coconut oil to make them vegan.
Do try this easy to make, customizable and utterly delicious bar that tastes like larabars. They are a perfect snack for all age groups and at any time of the day. If you try them then do share your experience with us. Let us know if you like them or not and what flavor combinations you use.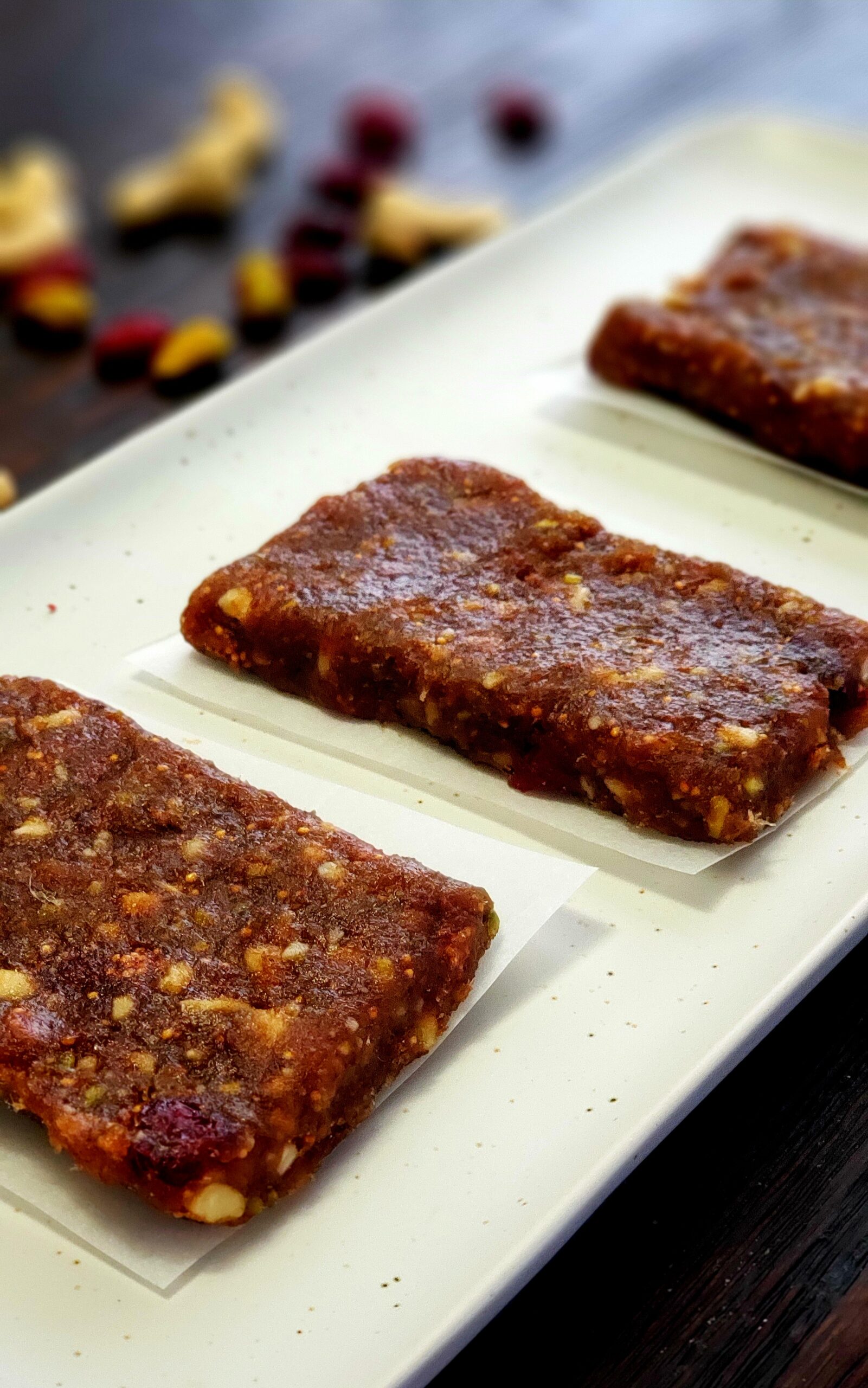 Prep time: 5-7 minutes | Cooking Time: 15-20 minutes | Cooling Time: 20-25 minutes
Ingredients:
1 cup dried figs
2 cups mejdool pitted dates
1.5 cup warm water to soak dried fruits
1/2 cup roughly chopped cashews
1/2 cup roughly chopped pistachios
1/3 cup roughly chopped dried cranberry
1/4 cup ghee(clarified butter)/ coconut oil(vegan option)
Steps:
Soak dried figs and dates in warm water for 30-40 minutes.
In a food processor, roughly chop cashews and pistachios separately using the pulse technique. Make sure to chop both the nuts separately, otherwise they can get powdered due to their size difference. Now keep the chopped nuts aside in a bowl.
Drain out the water that was used to soak dates and figs. Now blend these soaked dates and figs using the same food processor. Make sure there is as little to no water in them while blending them.
Heat ghee (clarified butter) or coconut oil in a non-stick pan on low heat for about a minute.
Once the ghee is slightly hot, add blended dates and figs mixture.
Saute this mixture with the ghee properly to get a thick paste like consistency. Stir this mixture continuously and cook it for about 5-7 minutes.
After 5-7 minutes, add chopped cashews and pistachios. Mix everything well and cook for another 2-3 minutes.
Finally add chopped cranberries. Mix everything and cook for another 1-2 minutes.
Remove the pan from the heat.
Take a sheet pan/ baking dish. Cover it with parchment paper and grease it with ghee or coconut oil. Transfer the cooked mixture to the greased pan/dish and even out the surface using the back of a spatula or cup.
Let this homemade larabar mix come to room temperature after which put it in the refrigerator to set for a couple of hours. Once the mixture is set, cut it in desired shape pieces.
Homemade Larabars are ready. Store it in an airtight container for up to a month in the refrigerator.
We are sorry that this post was not useful for you!
Let us improve this post!
Tell us how we can improve this post?