Fruit custard popularly known as fruit salad in Gujarat is one of the most humble yet genuinely delicious Gujarati desserts. This dessert is a silky, creamy and smooth milk custard that is subtly flavoured with cardamom, saffron and loaded with a variety of different fleshy fruits. I call it humble because it is such a versatile dessert yet one of the most underrated ones at the same time. In Gujarat, this is eaten as a sweet accompaniment during meals where it is paired with hot puris or even served as a chilled dessert after dinner. We make it during festivals like "Uttarayan" or special occasions like birthday celebrations, family get-togethers. In my family we would often make it without any reason because why not? It is afterall easy to make, requires just a few ingredients and comes together in hardly any time.
Now I am talking a lot about how amazing this dessert is. But there, you may be still confused about what is this and why is it called so? Is it a custard or a salad? I don't blame you for these questions. Well whoever decided on this name, clearly didn't do a good job at it. But I don't blame them either because I understand how it can be called a fruit salad/custard. This dessert is something in the middle of a fruit salad and a custard. So think of a bowl full of different fleshy fruits. Now when you generously pour milk custard on this fruit mix then the result is the dessert that I am talking about. It is Fruit Salad/ Fruit Custard.
The milk custard in this dessert is not as thick as conventional custards but has a smooth flowy consistency. I feel this semi-thickened consistency of the custard is the highlight of this dessert. This consistency allows the fruits to remain suspended in them instead of getting cluttered with each other. And every spoonful of this deliciousness has a generous amount of creamy custard with a fruit surprise. As a child I used to play a game with my sister while eating fruit salad. We would compare what fruits we got and who got a different variety everytime. So there you have not just a dessert but to get your kiddos eat their fruits as well as play a counting and naming game with it. Such a treat it is!
Let us now talk about making this dessert. As I mentioned before, it comes together with a handful of ingredients and in no time. The custard here is made with custard powder instead of eggs. Custard powder is basically corn starch with some flavouring. I use vanilla flavoured custard powder which is commonly available in any grocery store. So when adding custard powder, you need to first dissolve it in cold milk similar to using corn starch. Custard powder similar to cornstarch if added to hot liquid then it instantly forms lumps which we do not want. Dissolving in cold milk ensures that lumps are not formed and custard powder is homogeneously spread in the liquid.
Second important thing to keep in mind is its consistency. Normally custards are thick but the milk custard here has a smooth, flowy consistency. It should not be runny like milk or water but should not be too thick like pudding. After adding the custard powder liquid to hot milk, cook it only until the raw taste of custard powder is gone and milk starts to thicken. This ensures that the cornstarch in the custard powder has cooked and activated to thicken the milk. The milk custard will further thicken on cooling down. Cooking the milk custard mix for too long will make it clumpy, pudding like on cooling down which we do not want. The milk custard should be smooth and silky, so just cook it until milk starts to get thicken and raw smell and taste of the custard powder is gone.
Now for the second important part of this dessert- Fruit mix. This milk custard pairs up with literally any non-citrus and fleshy fruits like bananas, chikoo, apples, etc. You can also add grapes to the fruit mix if they are not sour. My favourite combination is bananas and chikoo but you can eat with your favourite fruits. Now I usually make a big batch of this custard to be eaten for multiple times and do not add fruits to it. I add the fruit mix about 30 minutes prior serving time and only to the quantity that will be consumed. Once you add fruits to the custard, its shelf life reduces. then I suggest adding fruits only to the just 30 minutes before usually add fruits.
So here is my take on the Gujarati style fruit custard or fruit salad as it is commonly referred to as. My family, including my kiddo, absolutely loves it. I highly recommend trying this recipe and I hope you and your family enjoy it just as much as we do. Make it on a special occasion or just on a regular day because remember this one doesn't take too much effort. If you try it then do leave us a comment about your experience.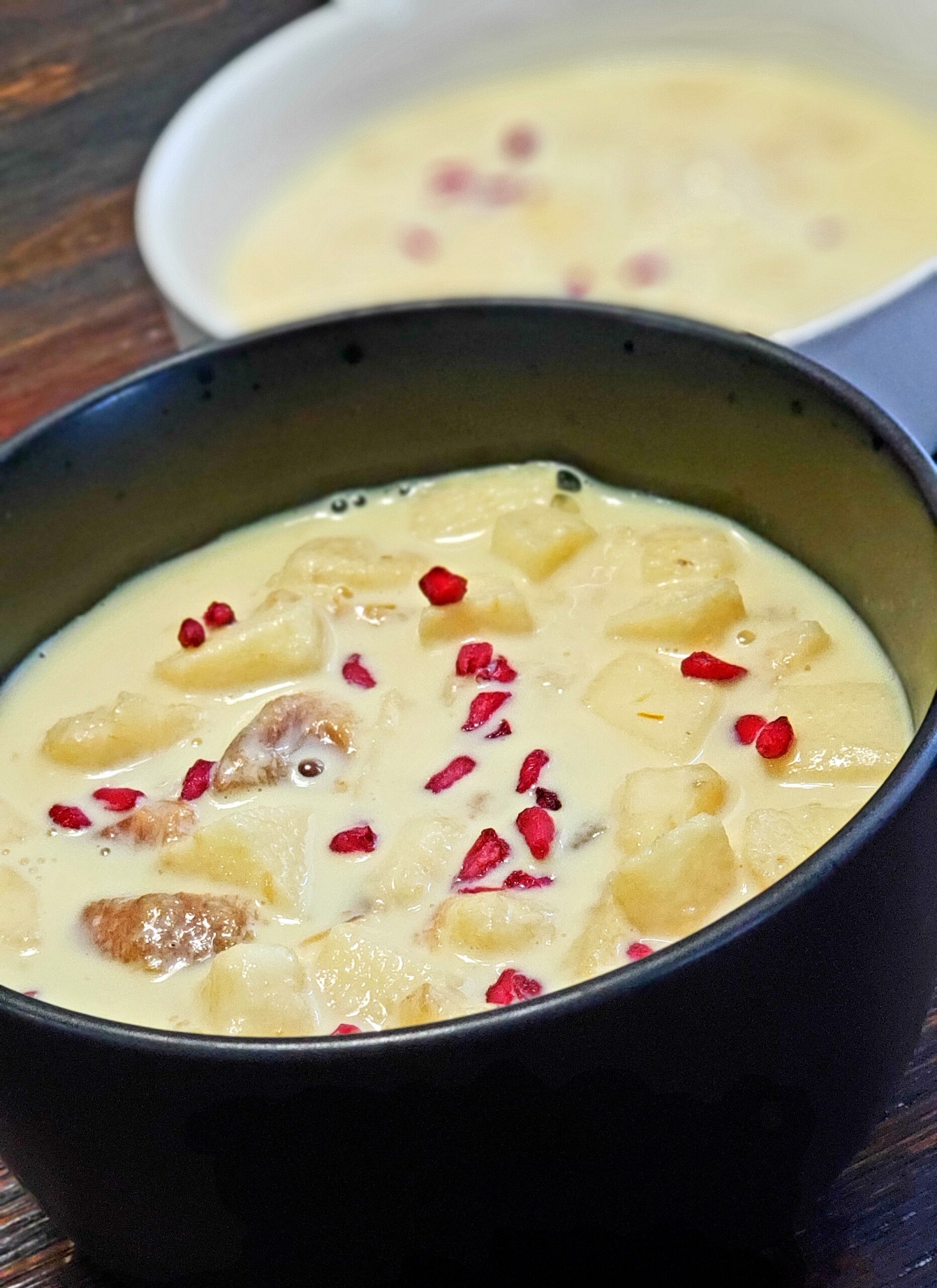 Makes : 4 serving | Prep Time : 10-14 minutes | Cookin Time: 15-20 minutes
Ingredients to make Fruit Custard:
3 cups whole milk
2 tbsp custard powder
2 tbsp milk to dissolve custard powder
4 tbsp sugar
¼ cardamom powder
few strands of saffron
Fruits of your choice

Fruits used in this recipe

½ cup banana chopped in small pieces
½ cup chikoo(sapodilla) chopped in small pieces
½ cup peeled apple chopped in small pieces
¼ cup fresh pomegranate kernels
Steps to make Fruit custard:
Soak saffron strands in some water in a separate bowl and let it rest.
In a saucepan, heat milk and bring it to boil.
While milk is heating up, mix custard powder with 2 tbsp milk in a small container. Make sure that the custard powder is dissolved completely and there are no lumps. This step is important as if the custard powder is not dissolved properly then it will form lumps when added to hot milk.
Once the milk starts to boil, add custard powder and milk mixture to it while stirring the boiling milk continuously.
Now add sugar and continue stirring it.
Cook until the milk starts to thicken.
Finally add soaked saffron strands and cardamom powder to the custard.
Custard is ready. Let it cool down. Stir the custard every once in a while in order to prevent the cream layer from forming on the top.
Once the custard has come to room temperature, chill it in the refrigerator.
Add fruits of your choice after the custard has completely chilled.
Fruit custard is ready to serve. It is best served chilled.
We are sorry that this post was not useful for you!
Let us improve this post!
Tell us how we can improve this post?