I have always been a chai (tea) person. My mornings usually don't start until I have a cup of piping hot kadak masala chai (strong spiced tea). And although chai literally means tea, Indian chai is different from tea in the USA. Unlike the tea here, Indian tea has four key ingredients- tea powder, sugar, milk and water. It is made by boiling and simmering these key ingredients together to bring out the tea flavors and infuse them in the milk-water mixture. The more you reduce this tea concoction, the stronger (or better) it gets in terms of flavor, aroma and color.
Indian tea is usually spiced up in a variety of ways to enhance the tea flavor. It can be simply done using cardamom pods or chai masala powder (mix of different spices and easily available in all indian stores) or using fresh ingredients such as ginger, mint and lemongrass. Personally, I am a huge fan of tea that is flavored with ginger, mint and lemongrass. The fresh flavors from these three paired with strong tea flavor is like the ultimate luscious drink that one can have in the morning. Lemongrass, mint and ginger tea is clearly my favorite kind of tea.
Well I do agree grating ginger and chopping mint, lemongrass everyday could be taxing especially on slow mornings. But I have a perfect hack for this which not just saves time from grating and chopping them but also enjoy them in your perfect cup of tea every morning. I freeze grated ginger and chopped mint, lemongrass together in an ice cube tray and make frozen cubes of them. Once frozen, all I have to do is add 1-2 cubes while making tea. This way I can have my favorite tea without any hassle of chopping or grating every morning. Moreover, freezing lemongrass, ginger and mint locks their freshness so I don't even have to compromise on their fresh flavors.
So here I share my hack of making frozen cubes from ginger, lemongrass and mint and a recipe of my favorite chai (tea). I highly recommend you to try both and let me know if you find it useful or not. Also share with us in the comments below how you like to have your tea or coffee.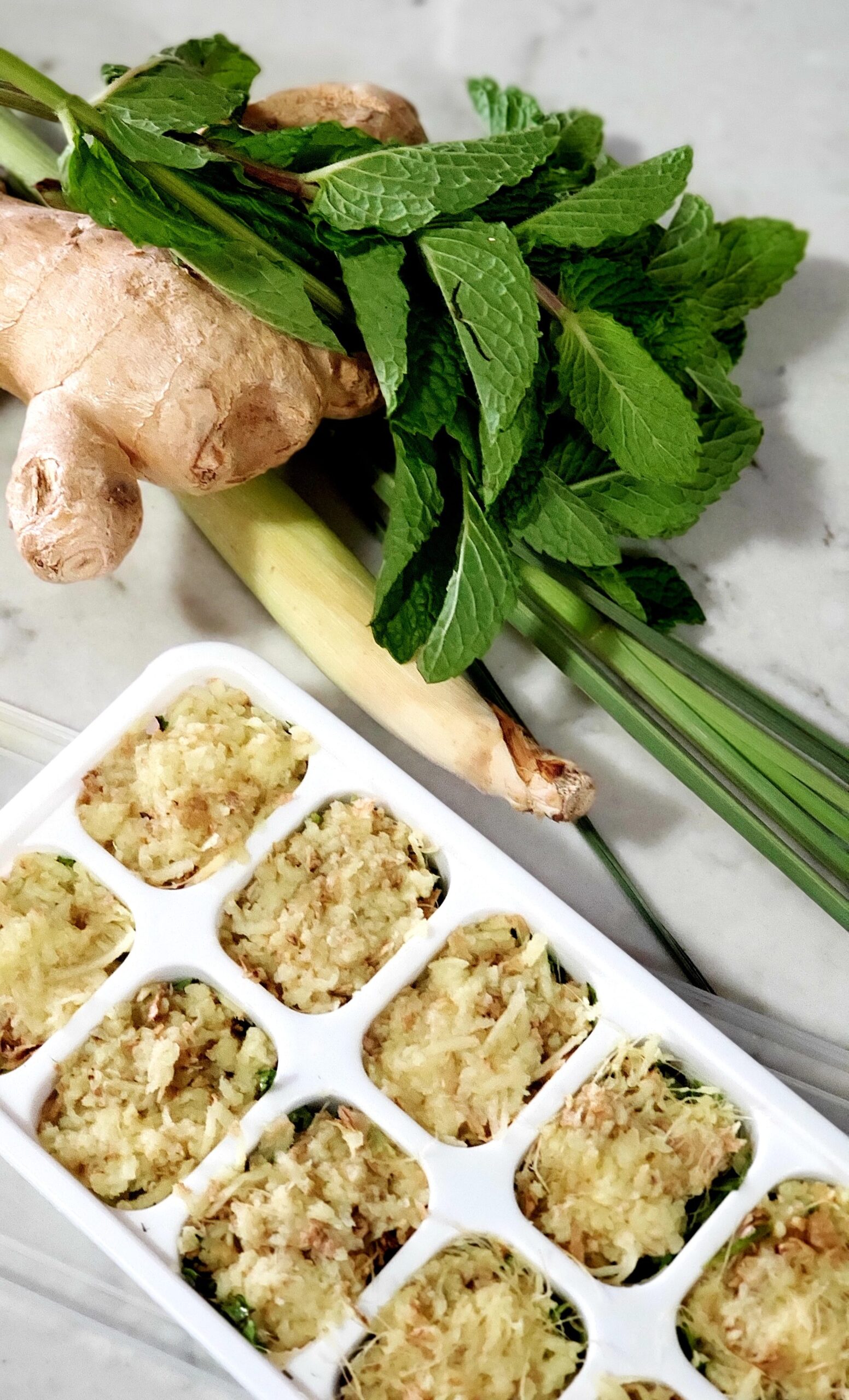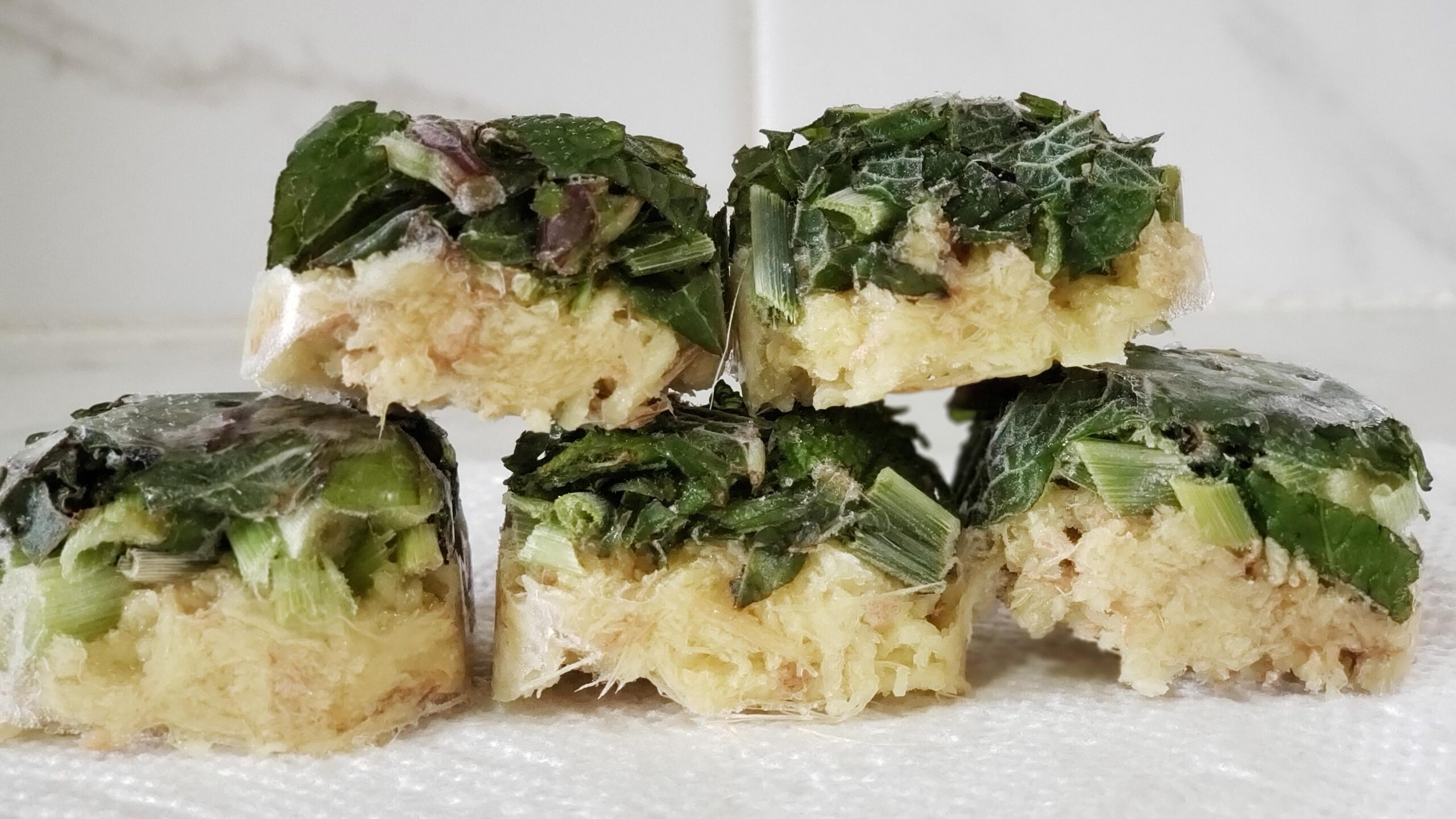 Serves 2 | Prep time: 5 minutes | Cooking Time: 10 minutes
Ingredients for making frozen cubes:
1 bunch of fresh mint
2-3 stalks of fresh lemongrass
1 large fresh ginger
Silicone ice cube tray for freezing
Ingredients for making tea:
1.5 cups water
2 black tea bags / 2 tsp tea powder
2 cubes of frozen lemongrass, mint and ginger or 2 tsp grated ginger, 2 tsp chopped mint and 2 tsp chopped lemongrass
2 tsp sugar or any sweetener (adjust sugar/sweetener measurement as per your sweetness preference)
1.5 cups whole milk (or milk of your preference)
1 tsp chai masala (optional, readily available in any indian store)
Steps to make frozen cubes:
Finely chop mint and lemongrass.
Grate fresh ginger.
Take a silicone ice cube tray and fill it with equal proportions of lemongrass, mint and ginger.
Freeze them for at least 6-8 hours (overnight preferably). Once they freeze, you can either take the cubes out of the tray and store in a freezer bag or leave them in the tray and use them as needed.
Steps to make tea:
In a medium saucepan, heat water on medium heat.
Once water starts to boil, either add freshly chopped or frozen cubes of lemongrass, mint and ginger.
Now add tea bags or tea powder, sugar and bring everything to a boil.
Once the tea mixture comes to a boil, give it a quick stir and add milk.
Now add milk to the tea mixture and bring it to another boil.
Once it starts boiling again, lower the heat and give it a quick stir. Let the tea simmer for 5-7 minutes after which it will be ready.
Strain the tea using a strainer and your hot cup of tea is ready to enjoy.
We are sorry that this post was not useful for you!
Let us improve this post!
Tell us how we can improve this post?