Paneer bhurji crostinis are an excellent appetizer for hosting nights or potlucks. They have this perfect serving size, look very appetizing and are not too spicy yet full of flavors; basically works for all age groups. Everything needed for these crostinis can be made ahead of time, so all you have to do is assemble and broil them about few minutes before the serving time. Apart from a party, these are also great for lunch or brunch when you have left over paneer bhurji.
There are three main components to these crostinis – paneer bhurji, masala (spiced) onions and crostinis (ofcourse!). I have already shared paneer bhurji recipe on my blog before (Recipe Here). I share the recipe of making crostinis and masala (spiced) onions in this recipe.
I usually make crostinis from left-over baguette or baguette that is near expiration. These crostinis can be stored in an airtight container or ziplock bag for about a month. I like to keep them on hand since they are great for making a quick snack or appetizer. Crostinis are an amazing vessel for all different kinds of toppings and having fun with flavor combinations.
Masala (spiced) onions make up for a great topping on the paneer bhurji crostinis. They add that extra burst of flavor to the crostinis that are already yummy. Since these onions are soaked in spice mix for a while, they lose the raw taste which could be unpleasant to some. These onions are not just good topping for the crostinis but also great accompaniment for any indian curry. I personally prefer them over raw onions especially when I am hosting since I don't have to worry about people who don't like raw onions.
So here is my recipe of paneer bhurji crostinis that are easy, simple yet delicious. Do try them and let us know if you liked them or not.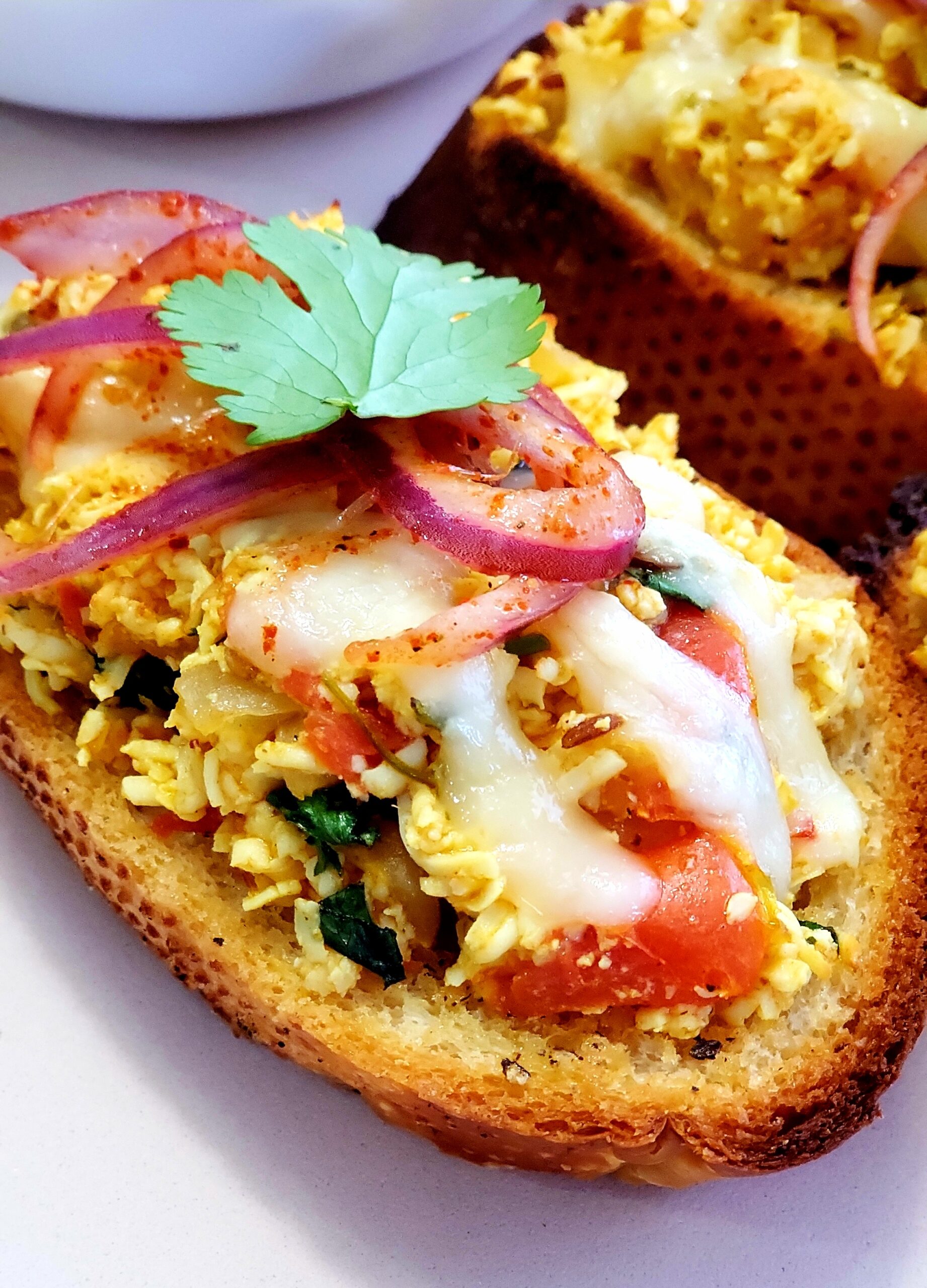 Serves 4 | Prep time: 5-7 minutes | Cooking Time: 10-12 minutes
Ingredients for crostini:
1 baguette – sliced (about ¼ inch thick)
Salt to sprinkle
¾ cup extra-virgin olive oil
Freshly ground pepper to sprinkle
Ingredients for masala onions (spiced onions):
1 medium red onion
1 tbsp lemon/lime juice
½ tsp kashmiri red chilli powder
½ tsp chaat masala
½ tsp freshly ground pepper
Salt as per taste
Ingredients for paneer bhurji crostini:
1-2 cups paneer bhurji (Recipe Here)
½ cup shredded pepper jack cheese
1 cup masala onions (spiced onions)
Fresh cilantro for garnish
Steps to make crostini:
Preheat the oven to 350 degrees.
Arrange baguette slices on a large baking sheet.
Brush both sides of baguette slices with oil, and season with salt and pepper.
Bake/toast them until they are golden on both sides. Turn the slices once during baking. It takes a total of around 8 to 10 minutes for both the sides to get that golden color.
Once they are toasted properly on both the sides, take them out and cool them on a cooling rack.
Steps to make masala onions (spiced onions):
Thinly slice red onion.
Add lime juice, kashmiri red chili powder (it is not spicy and used for its color), chaat masala, black pepper powder and salt.
Keep it aside for 15-20 minutes, after which they are ready to use
Steps to make paneer bhurji crostini:
Take crostini and top it with paneer bhurji (about 1.5 tbsp).
Now add shredded pepper jack cheese on top of paneer bhurji.
Broil these crostinis for 2-3 minutes using a baking sheet and until the cheese melts. Broiler helps to rapidly melt and brown the cheese without over-baking the crostinis.
Now top this baked crostinis with some masala onions and fresh cilantro. Paneer bhurji crostinis are ready to serve. Enjoy!
We are sorry that this post was not useful for you!
Let us improve this post!
Tell us how we can improve this post?