Biryani may or may not have originated in India, but it is like a national rice dish for most Indians. Every region in India has their own version and unique taste. But in its simplest description, biryani is a layered rice dish in which rice and a protein and/or veggies (either cooked or marinated in different spices) are layered and slowly cooked together. Now this may not sound fancy but biryani tastes extraordinary. Biryani may be high on the heat index but it is not merely a pot of spicy rice. Biryani has a beautiful melody of different spices that give unique aromas and delicate flavors to it. To really enjoy biryani, you need to use both- your taste and smell senses.
Now I am aware of the debate amongst biryani lovers claiming that biryani cannot have a vegetarian version. Well my argument is does it really matter? I feel biryani is more about the technique and the spice mixture than whether it has a protein in it or not. Biryani is made using this unique technique in which every grain of rice is infused with flavors even though it is literally never mixed with any spices. Protein and/or veggies in biryani are more like a vessel for those spices. Be it chicken, meat, paneer or just veggies, spices are mostly the same and the technique is identical which ultimately leads to every grain of rice full of unique flavors and aromas. So tell me does it really matter if we replace chicken or meat with paneer and veggies? I don't think, after all it's the taste that ultimately matters.
So here I am sharing my husband's best ever recipe that is Veg Dum Biryani. Unlike his other recipes, this one needs some amount of work and dedication. But it is 100% worth. I love his veg dum biryani more than a restaurant one and this is not bias or exaggeration. Try this recipe of veg dum biryani and you will agree with me. It is perfect for special hosting occasions, potluck dinners, festival feasts or just a weekend dinner. I highly recommend you trying this recipe and do share with us if you enjoyed it or not.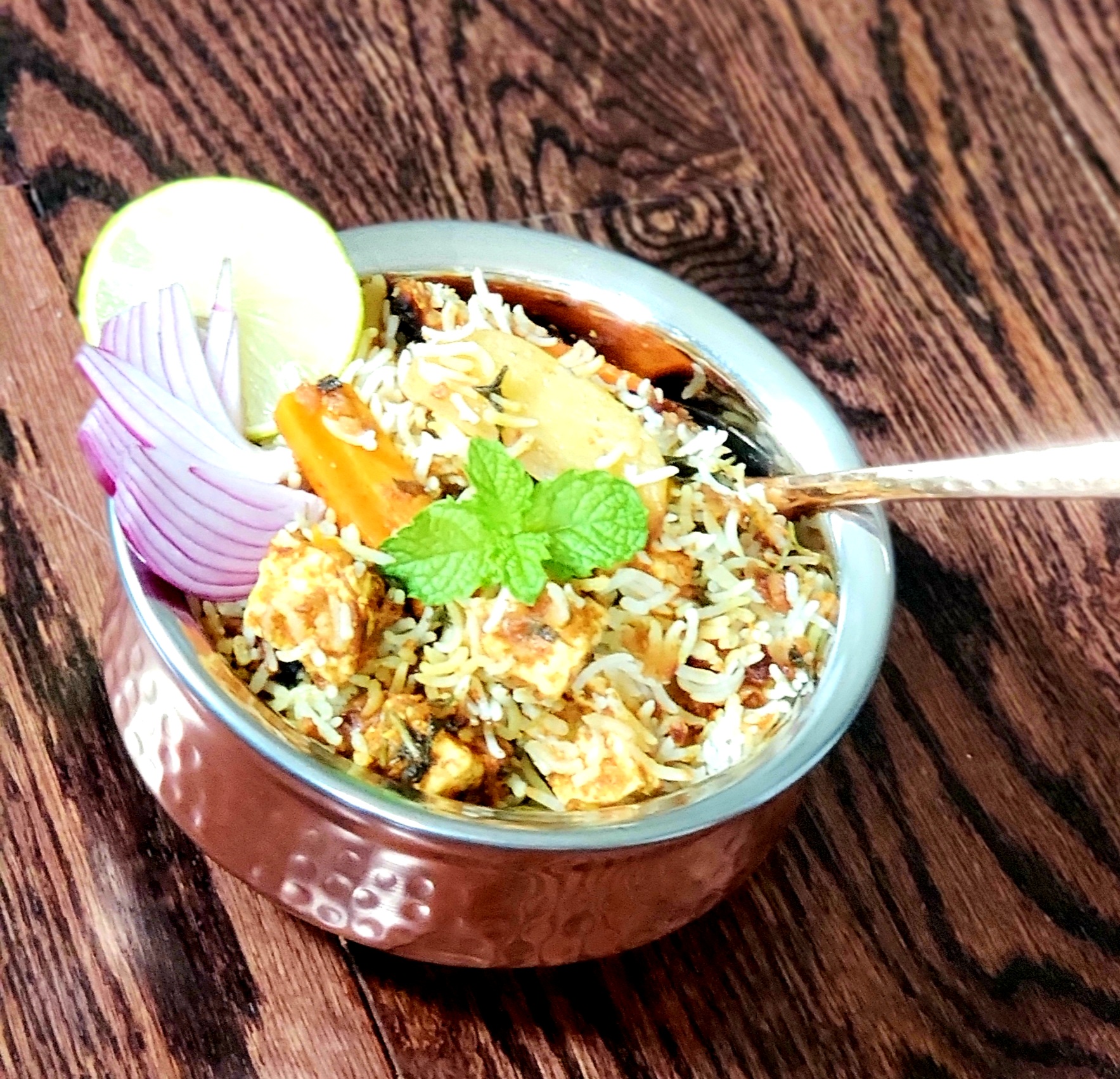 Serves 4 | Prep time: 30-35 minutes | Cooking Time: 35-40 minutes
Ingredients for making Biryani Rice:
2 cups basmati rice (uncooked)
5-6 cups of water
Ingredients for making Biryani:
1 cup chopped mint
1 cup chopped cilantro
250 grams paneer (diced)
1 large carrot – cut into thick wedges
3 medium sized potatoes – cut into thick wedges
1 packet (60 grams/2.1oz) shaan sindhi biryani masala (or any good biryani masala)
1-2 green chillies – cut into slits
1 tsp jeera (cumin seeds)
3 whole elaichi (cardamom pods)
3-4 cloves
½ inch cinnamon stick
2 tbsp oil
1 tbsp ghee
1 tbsp ginger garlic paste
½ cup whisked curd/yogurt
Salt as per taste
Ingredients to assemble Biryani:
1 cup chopped mint
1 cup chopped cilantro
1 cup whisked curd/yogurt
½ cup fried onion slices
8-10 raw cashews
4 tbsp saffron milk
pinch of garam masala and chaat masala
Steps to make biryani mixture:
To a pan add oil and ghee and heat on medium heat.
Add jeera, cloves, cinnamon stick and elaichi.
Once jeera starts to crackle, add green chillies and all chopped vegetables(you can add whatever veggies you like). Saute everything for a minute or so and add ginger garlic paste.
Mix everything well, add salt and cook the vegetables till they are half done. Be careful while adding salt as we will add biryani masala later on which already has salt in it. Moreover, cooked rice also has salt in it.
Now add half of chopped mint and coriander along with all the diced paneer. Mix everything properly.
At this stage add the whole packet of biryani masala and ½ cup of whisked curd/yogurt. Mix everything well. Make sure that all the veggies and paneer are properly coated with the masala/spice mix and curd. Let them cook for about 2-3 minute. Don't over cook the veggies. Turn off the heat after 2-3 minutes, our biryani mixture is ready to assemble.
Steps to make rice:
Wash and soak rice for 1 hour.
In a vessel, start boiling water. Once water starts to boil, add 1 tbsp salt and 1 tbsp oil.
Now add soaked rice and cook for about 4 minutes or until 70% cooked.
After 4 minutes, turn off the heat. Strain the rice and keep it aside. Rice for biryani is ready.
Steps to assemble biryani:
Take a handi in which you plan to cook biryani.
To this, add half of the biryani mixture and spread it evenly all over the pan. Over this layer, add some curd/yogurt, cashews and some fried onions. Now layer with half of the 70% cooked rice.
Repeat the same process by layering again with biryani masala/mixture → curd, cashew, fried onions → rest half of 70% cooked rice.
Lastly add fried onions, remaining mint and coriander, saffron milk and pinch of garam masala and chaat masala on rice.
Cover the handi tightly. Seal the lid using raw dough or silver foil. Cook the biryani on slow heat for 30-35 mins.
Biryani is ready. Serve it hot with raita or whipped yogurt/curd and papad.
We are sorry that this post was not useful for you!
Let us improve this post!
Tell us how we can improve this post?