Pulao or pilaf is one of those rice dishes that holds a strong position in indian cuisine. Pulao is extremely unique in that it has a perfect balance between flavors and heat index of spices. It has delicate flavors from the spices, yet it's not spicy or hot. Pulao is like a meeting ground for plain rice and biryani where you can enjoy subtly (yet noticeably!) flavored rice without burning your tongue.Truly the best of two worlds!
One of the best features of pulao lies in its versatility. It does not need any accompaniment and yet can complement almost any curry. Pulao can be a perfect comfort food as well as part of a big fat indian meal. Speaking of the flavors or veggies or protein that goes in it, well you are the captain of your choices (almost endless options).
Another great thing about pulao is how kid friendly it is! It's neither spicy nor bland and so perfect rice dish for our little humans. And you can possibly add any veggies to pulao and still have your kiddo eat them happily. Adding different veggies to pulao makes it more colorful and attractive for kids. Trust me pulao is a great way of feeding veggies to kids without hiding them in their food. I use carrots, beans, peas and potatoes since I like their combination in terms of taste, texture and color, but you can add any veggies of your choice.
Pulao is like a regular in my family, especially when I have long days. It is delicious and filling, yet instant and so easy to make. To me pulao with gujarati kadhi and a side of papad is like the ultimate comfort food on a rainy day. But you can have it with any curry or raita or simply yogurt. So here is my take on pulao which is simple, delicious, easy to make and yet so satisfying.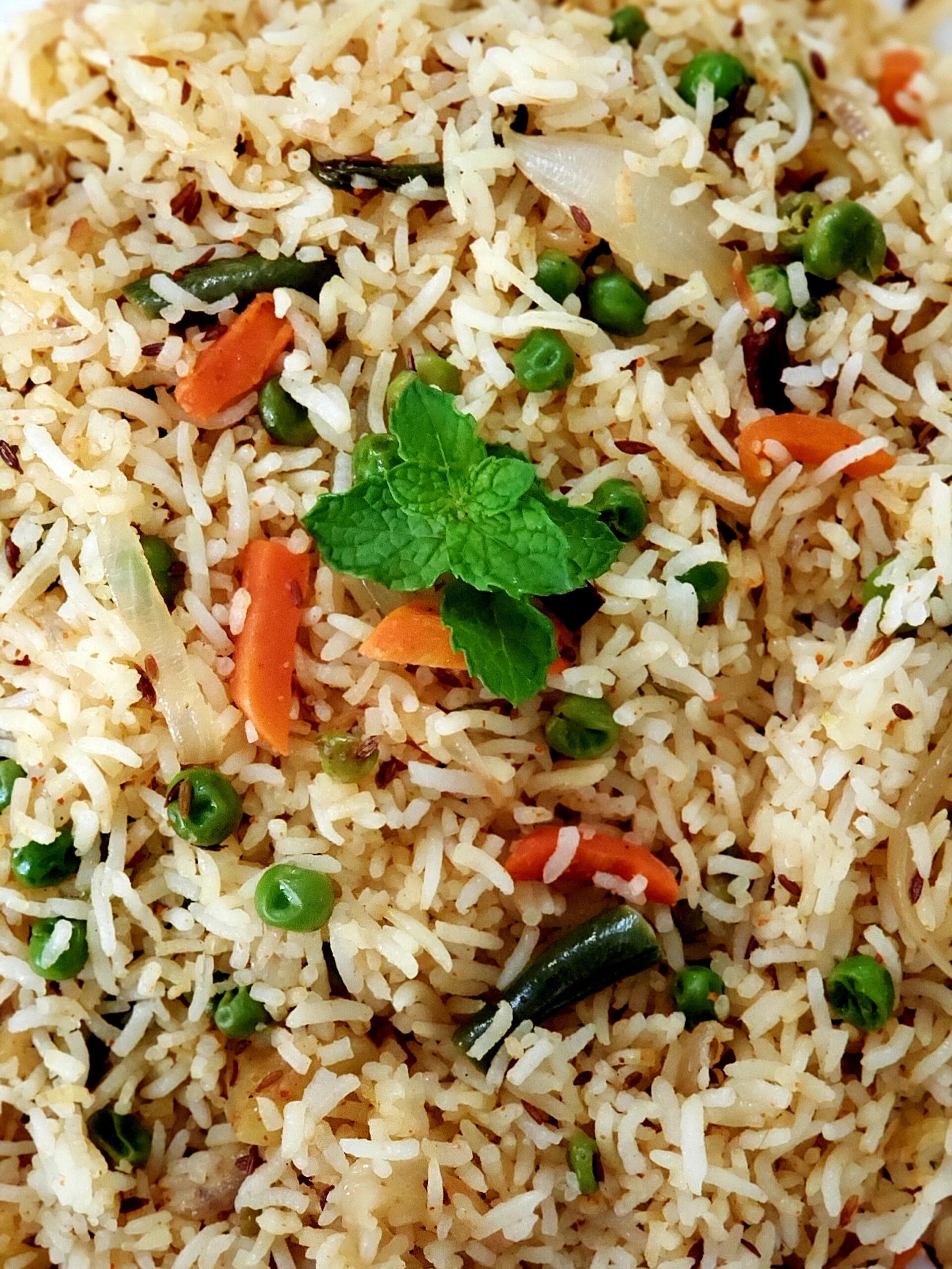 Serves 2 | Prep time: 5 minutes | Cooking Time: 10-15 minutes
Ingredients:
2 tbsp oil
1 tsp jeera (cumin seeds)
1 bay leaf
1-2 green chillies – slit in the middle
1 medium size potato – diced
1 medium size onion – sliced
1 tbsp shaan sindhi biryani masala or any biryani masala (biryani spice mix)
⅓ cup carrots – diced and boiled
⅓ cup beans – diced and boiled
⅓ cup peas – boiled
4 cups cooked basmati rice
1 tsp salt or as per taste
Steps:
In a kadai or saute pan heat oil on medium heat.
Once the oil is heated, add bay leaf and jeera (cumin seeds) to it. Let the cumin seeds crackle.
Now add diced potatoes and let them cook until half done.
Once the potatoes are half cooked, add onions.
When the potatoes and onions are almost cooked, add all the boiled vegetables. I use carrots, beans and peas but you can add veggies of your choice. Saute all the vegetables for 1-2 minutes.
Add biryani masala and salt. Mix everything properly such that all the veggies are coated with the spices. Saute this spiced vegetable mix for another 3-4 minutes.
Now add the cooked rice to the spiced vegetable mix.
Mix everything gently in order to prevent the rice grains from breaking.
Cook the pulav for 2-3 minutes after which it is ready to serve.
Garnish with fresh mint or cilantro. Enjoy with warm kadhi, raita or whipped curd (yogurt)
We are sorry that this post was not useful for you!
Let us improve this post!
Tell us how we can improve this post?