Whether you are a salad person or not, I guarantee you are going to like this salad. How can I be so sure? Well I know because I am not a salad fan and it takes a toll on me to eat one. But when it comes to this one then I thoroughly enjoy eating my salad. It has all the components needed for making a healthy and delicious salad.
This salad is made of very simple, basic ingredients- mainly pantry staples and yet tastes delicious. I feel it gets the magic taste from the dressing that goes into it. Yes, the lemon honey dressing that I use for my salad mix is so light, refreshing and has balanced flavors. It has a perfect balance of sweetness and tartness from lemon and honey and a slight heat punch from the black pepper. Absolutely delicious! You can use this dressing for any other salad mixes and it will work just perfectly.
I recommend making the salad dressing as in this recipe, but you can definitely alter things in your salad mix. The salad mix that I use in this recipe is one of my favourites, but I sometimes change it according to what I have handy in the pantry. I also like to add walnuts and cranberries to my salad mix as they add to the taste and texture of the salad. Walnuts give a great crunch while cranberries add little sweetness. You can skip them or use any other nuts or dried fruits of your choice.
Similar to most salads, this salad is a great meal prep option. Its salad dressing can also be prepared ahead of time and both can be stored separately in the refrigerator for upto 4-5 days.
While you make this for meal prep or a quick weekday lunch, I highly recommend trying it once. If you try them then do share with us how you liked it? Also share with us what are your favorite salads, salad mixes and dressings.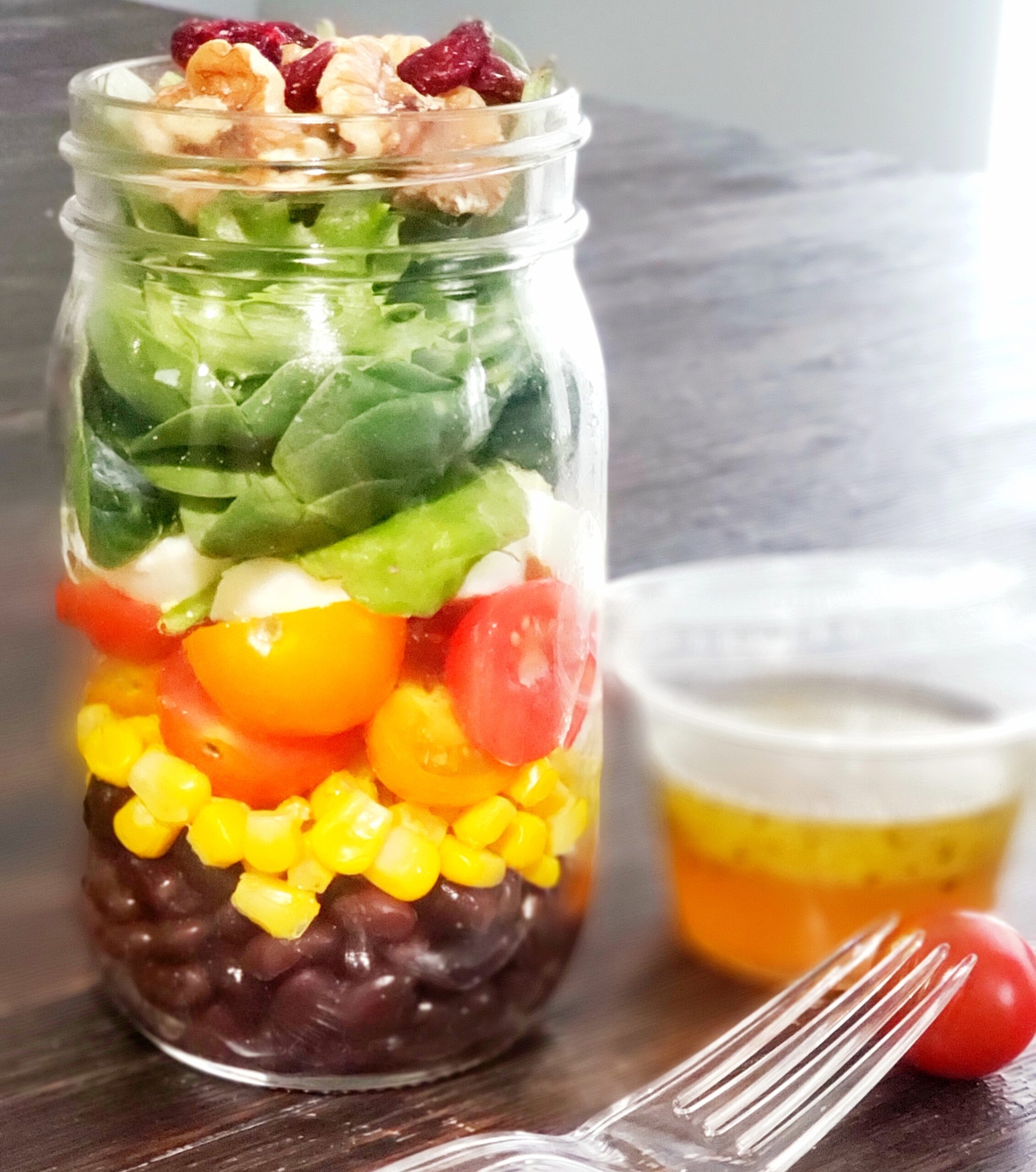 Serves: 1 | Prep Time : 5 minutes | Total Time: 5-10 minutes
Ingredients Salad Jar:
Cooked black beans
Boiled sweet Corn
Chopped Cherry Tomatoes
Chopped Hard Boiled Eggs
Mix spring greens
Walnuts
Cranberries
Ingredients Salad Dressing:
2 tbsp Extra Virgin Olive Oil (EVOO)
2 tbsp lemon juice
1.5 tbsp honey
Salt as per taste
Freshly ground pepper as per taste
Steps to make salad in jar:
Layer all the ingredients listed under Salad Jar one by one in a mason jar as per your preference and liking.
Top it with some walnuts and cranberries or any other nuts and dried fruits of your preference and liking. You can also skip them altogether.
Salad in the jar is ready. You can store it in the refrigerator for upto 4-5 days.
Add the salad dressing to it right before serving. Easy, instant, delicious and healthy salad is ready to eat.
Steps to make salad dressing:
Take all the ingredients listed under the salad dressing section in a shaker.
Give a good shake to this mixture. A shaker helps to emulsify the EVOO and mixes it well with honey and lemon juice.
You can also store salad dressing for upto 4-5 days in the refrigerator.
We are sorry that this post was not useful for you!
Let us improve this post!
Tell us how we can improve this post?