If you have ever visited a restaurant in India, I bet you had this sirke wale pyaaz, AKA indianized pickled onions. Now eating raw onions as a side to any savory dish is a common practice in India. No exaggeration most indians' consider their food incomplete without some onions on top. However, there could be certain instances where people avoid or are not a fan of eating raw onions due to its strong flavor and after smell. So pickled onions is an excellent alternative for such occasions or for people who enjoy eating onions but not the after smell of it. Probably this is the reason why restaurants in India serve pickled onions instead of raw ones.
Sirke wale pyaaz or pickled onions are something that everyone would enjoy eating. These are flavorful, fragrant and beautiful at the same time. Indian style pickled onions are mildly flavored with whole spices. I feel these spices also help to tone down the strong odor of onions. They are pickled using vinegar and some salt which mainly helps to remove raw pungent flavor of the onions. Finally, they get that pretty blush pink color from the beetroot which helps them look absolutely beautiful.
Sirke wale onions may look too fancy or difficult to make at home, but they are not. Trust me these are so easy and simple to make and budget friendly at the same time. Made with under 10 ingredients, prepping pickle onions takes no more than 15 minutes. Once they are pickled, you can store them in the refrigerator for upto 10-15 days. Although I doubt they will last that long. Best part, you can re-use the pickling mixture to pickle the next batch of pearl onions.
I learned to pickle onions at home during the COVID19 lockdown. Just like everyone else, I was on a cooking spree, learning new recipes to satisfy all those pandemic cravings. And pickling onions was one of those learnings. Since then pickling onions has become a routine in my house. These pickled onions go so well with any indian curry paired with naan/roti/rice. Be it for yourself or your family or on a hosting night, serve these pickled onions as a side with any indian dish. Everyone will enjoy eating them without the fear of any after smell. A bonus point is the fancy look of these onions which will sure help you impress your guests. So do try this recipe at home and let us know if you liked it or not.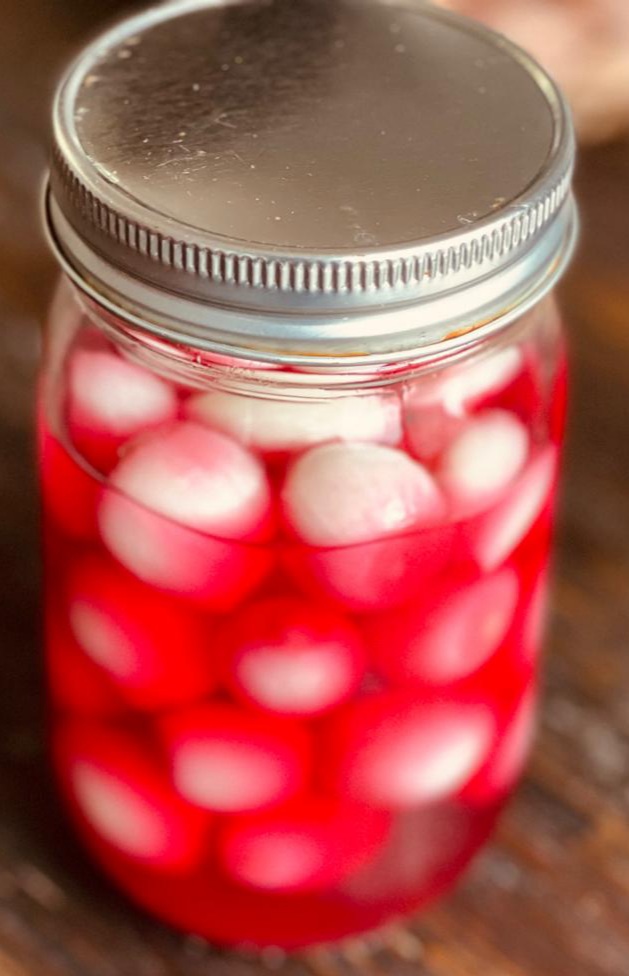 Serves: 4-5 | Prep Time : 5 minutes | Total Time: 15 minutes
Ingredients:
1 cup pearl onions (red/white – peeled and washed)
1 tbsp beetroot – chopped as small cubes
1 cup white vinegar
½ cup water
1 tsp sugar
1-2 cardamom pods
1 inch cinnamon stick
2-3 cloves
2 tsp salt
Steps to make sirke waale pyaaz:
In a small saucepan, heat water on medium heat.
Next add cloves, cardamom pods, cinnamon, sugar and beetroot to the water. Bring the water to a boil for a minute or so.
Now let it cool down. Once cooled, strain the water.
Add peeled and washed pearl onions in a clean jar. Pour cooled down water over these onions.
Now add vinegar and salt to the jar. Give everything a gentle mix.
Cover the jar and keep it in the refrigerator.
Pickled/ sirke wale onions will be ready to use after about 24-36 hours.
We are sorry that this post was not useful for you!
Let us improve this post!
Tell us how we can improve this post?