Raita or spiced yogurt is probably one of the most famous sides served in indian cuisine. Be it a side for biryanis, pulao, khichdi or a dip for pakoras (fritters), parathas; raita is a great accompaniment for almost all indian dishes. Raita is made in literally infinite different ways all around India. Each state/ city/ village or should I say every house has its own way of making raita. Although made in different ways, I bet all of them taste great since the concept of raita itself is amazing.
We know Indians love curd (yogurt) and they love spices. So whipping them together makes raita. Yes, raita is yogurt that is mildly flavored with spices. Now spices in yogurt may seem absurd to some but trust me it's a great combination. The cool, soothing nature of yogurt with slight sourness perfectly compliments with the spices in it. Although spiced up, raita is still mild in heat index because of yogurt. And so it works as a great accompaniment with dishes that are generally high on heat index.
As I mentioned before, raita can be made in a number of different ways. And here I am sharing one of my favorite ways that everyone in my house loves to eat. I prefer to mildly spice up raita since I feel yogurt taste should not be overpowered by the heat. Soothing and cool nature of yogurt should still be the hero of the dish. However, if you like it spicy then you add more green chillies or black pepper.
I also prefer to not add a whole lot of veggies to my raita, but keep it simple. However, you can either add more veggies or substitute them with the ones of your preference. One thing that I would not recommend changing is the combination of chaat masala, amchur (dry mango) powder and black pepper. This spice combination is really something. Don't believe me, try it once! Finally comes the cilantro-mint combination which brings so much fresh aroma to this raita. I really like this raita for its simple, basic and pure flavors.
This raita is an extremely easy to make, highly versatile and purely delicious yogurt dip. It is definitely worth a try if you haven't yet! Try this raita recipe with some of your favorite indian spicy dishes and let us know if you liked it or not. Also let us know what your kind of raita is. I am always willing to ramp up on my favorite recipes.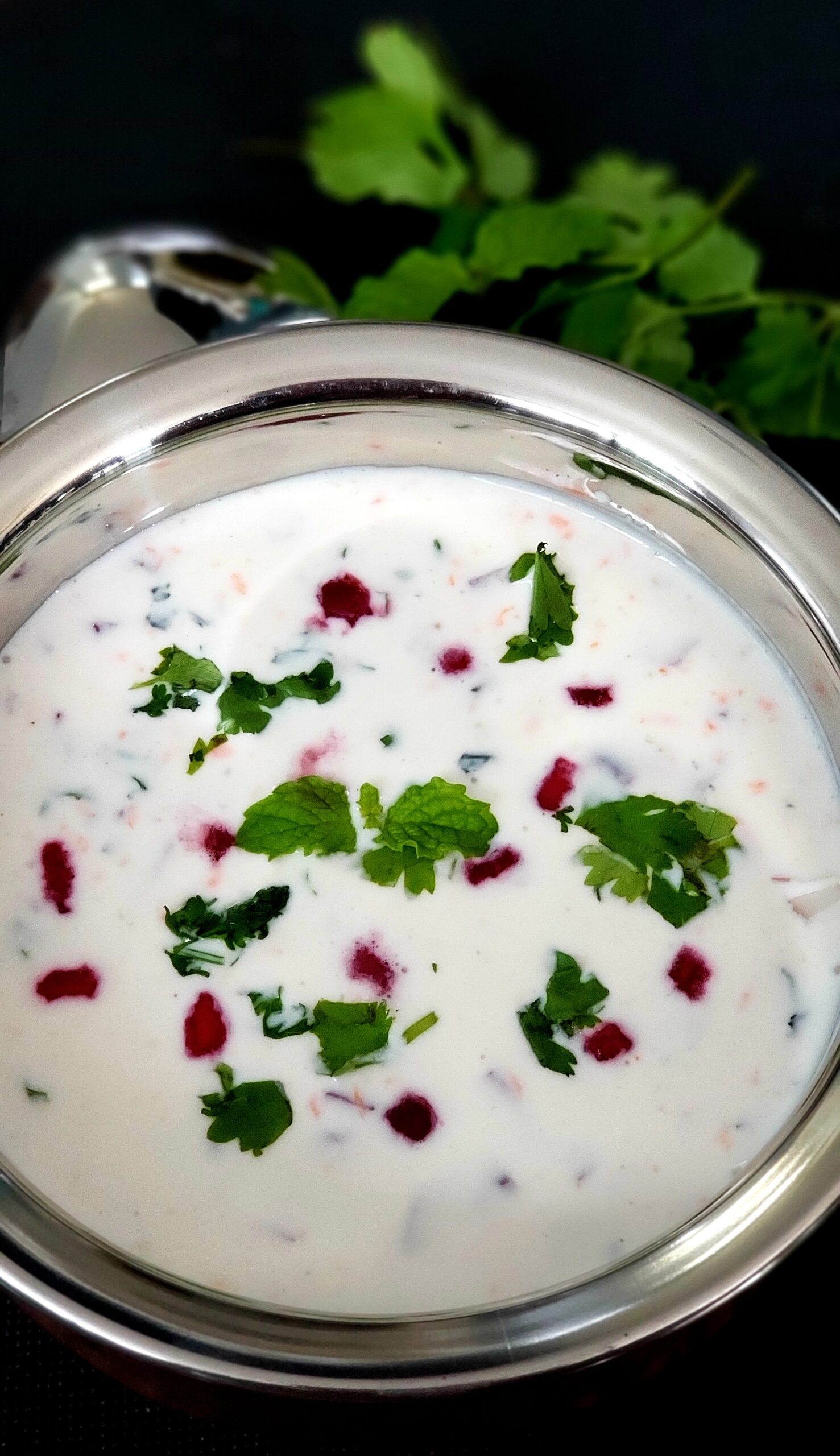 Serves 4 | Prep time: 5 minutes
Ingredients:
2 cups whisked yogurt
1-2 green chillies – finely chopped
⅓ cup grated carrot
1 small red onion – finely chopped
⅓ cup mint – finely chopped
⅓ cup cilantro – finely chopped
½ tsp amchur powder (dried mango powder)
½ tsp chaat masala
½ tsp black pepper powder
Salt as per taste
Steps:
In a bowl whisk yogurt until it looks smooth and creamy.
Now add the rest of the ingredients and mix well.
Garnish with cilantro and pomegranate seeds. Serve chilled with biryani, pulao, khichdi or as a dip with fritters/pakodas.
We are sorry that this post was not useful for you!
Let us improve this post!
Tell us how we can improve this post?