You can find Gujaratis anywhere in the world but not without their theplas. Yes, theplas are not just the dearest snack but a customary snack/meal/survival food for us- Gujaratis. A staple in every gujarati household, theplas are eaten commonly for breakfast, evening tea snack, kids tiffin meals and not to forget travel meals/snacks. No exaggeration, but theplas just like khaman and dhokla are no less than a religion for Gujaratis.
Theplas are spiced parathas made from wheat flour, rolled thin and cooked using ghee or oil until brown on both sides. Now theplas are made in a variety of different flavors right from- basic masala theplas to lauki/dudhi (bottle gourd) thepla, methi (fresh fenugreek leaves) thepla, palak (spinach) thepla and the list goes on. If you notice in this list, except for masala theplas, they usually have one key vegetable in it. And so it's not just a normal paratha but a great way to incorporate veggies in diet or should I say add them in your kid's food without letting them know about it.
One such thepla that my mother used to make a lot was lauki/dudhi thepla. Since bottle gourds have high water content, theplas made using them are very soft, supple and moist. So lauki theplas can be eaten on their own and do not require any accompaniment. They were one of my favourite kinds until I decided to try something new.
Inspired by my mom's lauki theplas, I decided to replace bottle gourd with zucchini since the latter are easy to get in the USA compared to lauki. Since zucchini are very similar to bottle gourds in terms of water content and texture, I knew theplas wont turn out very different. However, I didn't know they would actually taste even better. Haha. Zucchini theplas were an instant hit with my toddler and Mr. Hubby.
So here I share my recipe of zucchini thepla which are easy to make, soft, moist and delicious. They can be eaten on their own or with tea/coffee, curd, pickle, ketchup, jaggery or any other thepla accompaniment of your choice. They are not just tasty but one very healthy snack option for all ages. Be it a kid or an adult, I am sure everyone will enjoy eating these theplas. And not to forget these are a perfect way to add zucchini to your kiddo's meal and they will enjoy eating them without knowing about it. So do try it and let us know if you enjoy eating them. Also let us know in the comments what are your all time favorite theplas to eat?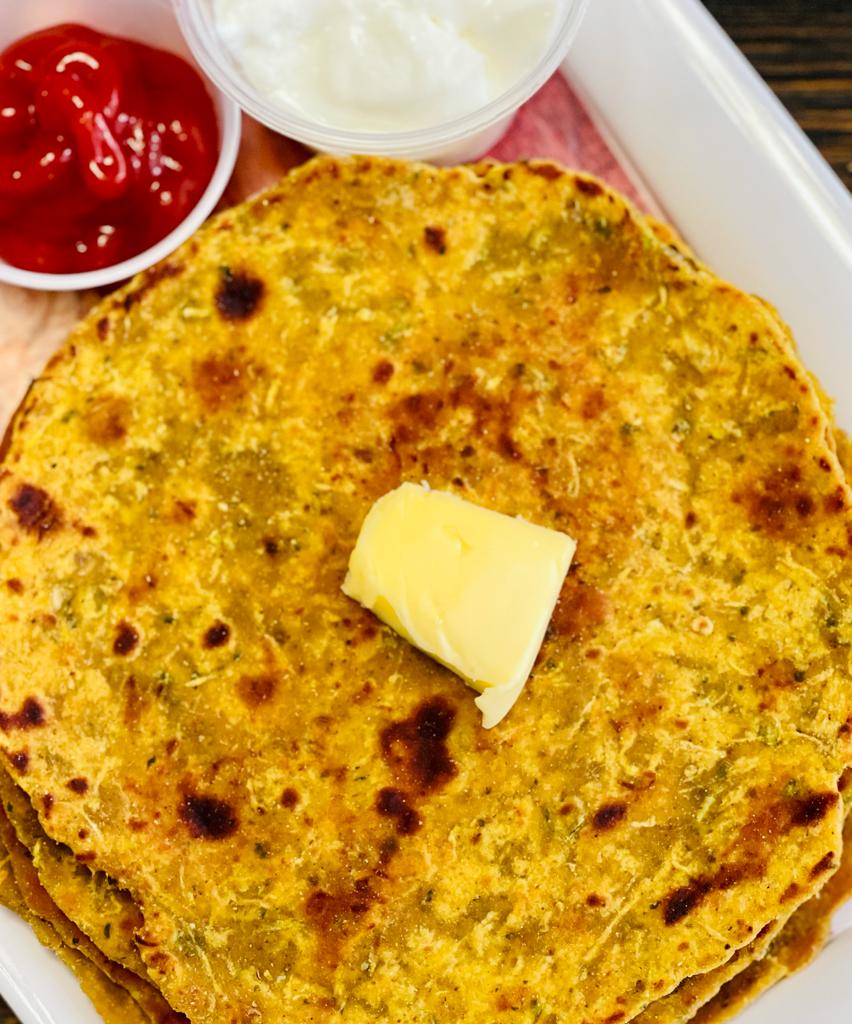 Makes : 7-8 theplas | Prep Time : 15-20 minutes | Resting Time : 2 hours | Total Time: 2-3 hrs
Ingredients:
2 medium sized zucchini
1 tsp grated ginger
2 tsp grated garlic
2 tbsp yogurt
1 tbsp kasuri methi (dried fenugreek leaves)
½ tsp ajwain seeds (carom seeds)
2 tbsp jaggery
½ tsp salt or as per taste
¼ tsp turmeric powder
¼ tsp garam masala powder
1 tsp cumin coriander powder
¼ tsp red chilli powder
¼ tsp green chillies (optional) – finely chopped
1 tbsp oil
2 cups wheat or multigrain flour
Steps to make zucchini thepla:
Wash, peel and finely grate zucchini. Using a cheesecloth, remove excess water from the grated zucchini. Do not discard this water as we will use it to make the dough later on.
In a bowl, take grated zucchini. Add all the ingredients mentioned above except for flour to the grated zucchini. Crush kasuri methi and ajwain seeds using your hands before adding them. This helps to enhance the flavor and aroma.
Now mix everything properly and make sure that the jaggery is dissolved completely.
At this stage, add flour to make the dough. It should have enough moisture to bind the dough but if you feel it is too dry then add the water squeezed from grated zucchini little by little.
Once the dough is ready, take some oil in your hands and roll it over dough. Cover the dough and let it rest in the refrigerator for 1-2 hours. The more it rests, the softer the thepla comes out.
After it has rested for a while, make small dough balls. Roll them gently using a rolling pin as thin as possible. Use dusting flour while rolling if it sticks to the rolling pin.
Heat tawa/pan on medium heat. Place the rolled thepla on hot tawa and cook it on both the sides using some ghee or oil.
Zucchini thepla are ready. Serve them warm with yogurt or any sauce.
We are sorry that this post was not useful for you!
Let us improve this post!
Tell us how we can improve this post?