Dhebras are one of the most famous and a staple snack among gujaratis. Now some may mistake it for theplas which are yet another universally popular gujarati snack. But there is a huge difference between dhebras and theplas. Besides a similar rhyme in their names and appearance, these two snacks have their own unique identity and a special place in gujarati cuisine. They taste different, have a different texture, have different nutritional value and most importantly are made from different flours.
Dhebras are usually made with bajra (pearl millet) flour or jowar (sorghum) flour while theplas are made with whole wheat flour. Due to the use of jowar or bajra flours, dhebras are considered slightly higher on nutritional quotients compared to theplas. These flours also contribute to the difference in the texture between them. Dhebra are usually thicker and slightly chewier than theplas. Second key difference is that dhebras are almost always made with some kind of green leafy vegetable like fresh methi leaves (fenugreek), spinach, etc., while theplas may or may not have a vegetable in it. These key differences give a unique taste and identity to dhebras which is delicious, hearty and healthy.
As I mentioned earlier, dhebras are usually thicker than a normal roti/paratha/thepla. This is mainly because of two reasons. Firstly, the jowar/bajra flour used in dhebra is not as easy to work/roll as is what flour. So dhebras are usually rolled slightly thick. Secondly, dhebras are considered one hearty meal. So they are intentionally rolled thick in order to make them filling. Dhebras with a side of pickle, keri chundo, green chillies and ghee is like a staple and satisfying meal for many gujarati families.
Of all different dhebras, methi (fresh fenugreek) dhebras are my absolute favorite ones. So here I am sharing my version of methi dhebras. These are spicy, slightly sweet and of course fenugreek flavored. Now you will notice my recipe has the proportion of methi leaves more than the flour since this makes soft dhebras. Dhebras are usually chewy but they should not be dry. Keeping the proportion of methi leaves more than flour helps to make soft and moist dhebras. I also like to add crushed kasoori methi to the dhebra dough. Now this is my secret ingredient and trust me it makes so much of a difference. We know kasoori methi has a really intense methi (fenugreek) flavor. So adding just a little of this crushed beauty brings in so much flavor. I feel it almost uplifts or enhances the flavor from the fresh methi leaves. So do not skip on this secret ingredient.
My recipe also uses multigrain flour instead of simply jowar or bajra flour. This is because multigrain flour already has jowar and bajra flour in it. I do not use bajra or jowar flour for any other recipes so it does not make sense to get a bag of them just for dhebras. And I like to use multigrain flour on a routine basis since it is healthier than whole wheat flour, so I always have it in the pantry. Besides, adding wheat flour to dhebra dough makes it easier to work with the dough and roll them out. In terms of taste, take my word- using multigrain flour instead of bajra or jowar flour does not change the dhebra flavor at all but only makes it easier to make them. So i highly recommend using multi grain flour.
Although eaten as a meal, dhebras are pretty versatile. They can be eaten for breakfast or as an evening snack with a cup of hot tea/coffee. They can be great for a quick work lunch or a light dinner with a side of soup on chilly nights. Not to forget, dhebras with ghee+gaud (clarified butter + jaggery) are like every gujarati mom's favorite tiffin meal for their kiddos. Once you have the dough ready, you can roll out dhebras in not time for any quick meal of the day. Given the nutritional value of dhebras, you won't even feel guilty of giving it to your child for breakfast, lunch or dinner. So try my recipe for this hearty gujarati snack/meal which I am sure you will like. If you try them then do let us know in the comments section.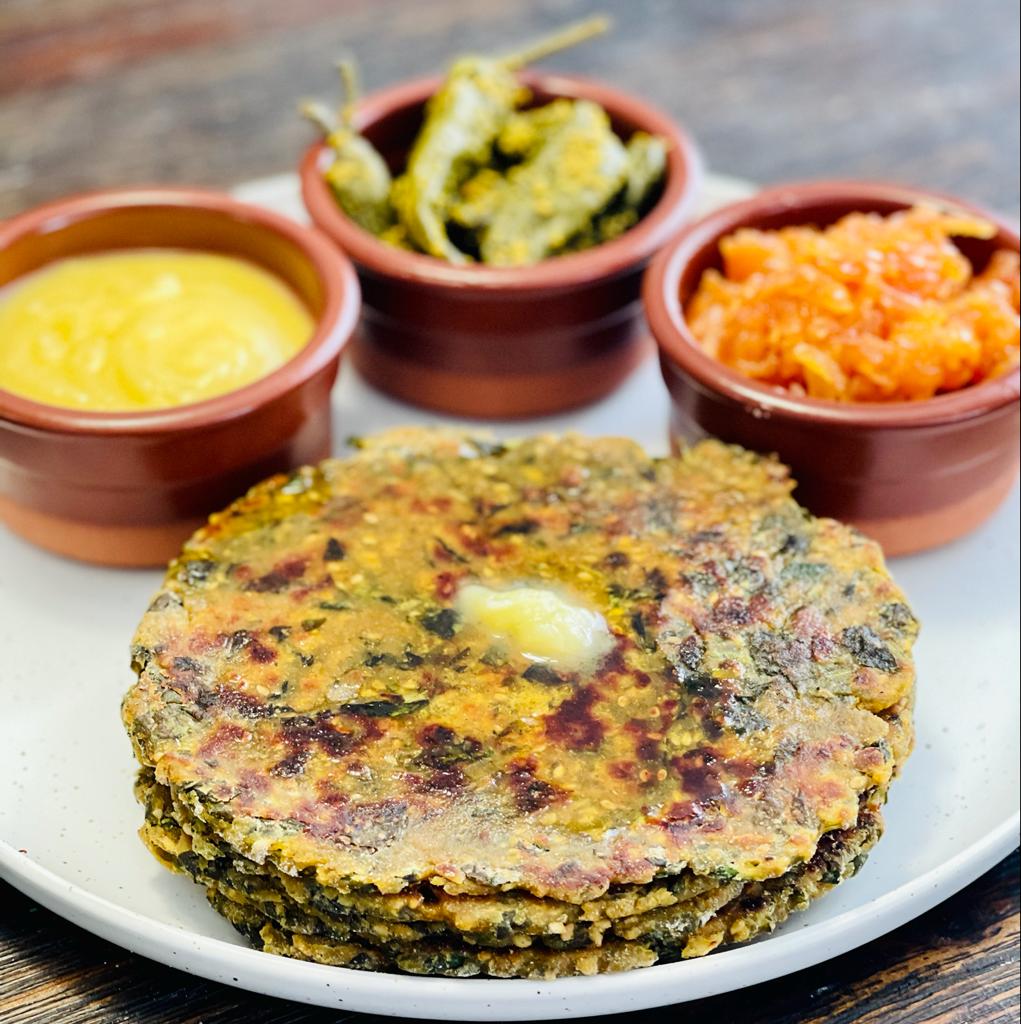 Makes : 7-8 Dhebra | Prep Time : 15-20 minutes | Resting Time : 30-45 minutes | Total Time: 50-55 minutes
Ingredients to make methi dhebra:
2 cups washed and chopped fresh methi (fenugreek) leaves
1.5 cups multigrain flour
2 tbsp fresh grated garlic
1 tbsp fresh grated ginger
1 tbsp crushed kasuri methi
1 tsp crushed ajwain seeds
2 tbsp sesame seeds
⅓ cup yogurt
2 tbsp oil
¾ cup jaggery
1 tbsp finely chopped green chillies
¼ tsp turmeric powder
1 tsp cumin coriander powder
¼ tsp red chilli powder
¼ tsp garam masala
½ tsp salt or as per taste
Steps to make methi dhebra:
In a big bowl, take methi leaves, ginger, garlic, sesame seeds, yogurt, oil, green chillies, turmeric powder, cumin coriander powder, red chilli powder, garam masala and salt. Mix everything well.
Now crush kasoori methi between your palms and add it to the mixture. Similarly crush ajwain (carom seeds) between your palms and add to the mixture.
Next add jaggery. If the jaggery is soft, just smash it with the hands/back of a spoon before adding to the mixture. If the jaggery is hard then grate it before adding to the mixture. This is an important step since it makes sure that the jaggery is homogeneously spread and dissolves properly in the mixture.
Now mix everything well to make sure jaggery is completely melted.
At this stage, gradually add the flour, start mixing and make the dough.
The mixture already has enough moisture in it so we won't need any extra water to knead the dough.
If the above mentioned flour is not enough to bring dough together, add a little more flour to bring the dough together so you can knead it. But do not add to much flour, this dough is usually wetter than roti/paratha doughs.
Once dough is kneaded, cover it using clear food wrap and let it rest for at least 30-45 minutes in the refrigerator.
After the dough is well rested, divide into small equal part balls.
Place a parchment paper or non stick paper on a rolling board. Put a dough ball on it and press gently using your hand. Now place another parchment paper on it and roll gently using a rolling pin until it is about about 6 inches in size.
Remove the parchment gently and place the rolled dhebra on hot tawa. Let it cook on both sides for 2-3 minutes on medium heat.
Now apply ghee/oil and cook for another 1-2 minute on both sides.
Make dhebras from all the dough balls in a similar way. Serve warm or cold dhebras with keri chundo, pickled chillies and ghee or a cup of hot tea/coffee.
We are sorry that this post was not useful for you!
Let us improve this post!
Tell us how we can improve this post?