Aloo parathas are one of the best gifts of indian cuisine. If in my power, I would totally make them the National Parathas of India (Haha) Originally hailing from Punjab, these parathas are probably eaten in every corner of India and served in almost all Indian restaurants overseas. And why not? These parathas are so tasty, buttery and filling that it is really hard to say no to them.
There are probably hundreds of aloo paratha recipes out there and I sure learned from one of those recipes as well as my own experience of making them. So here I am sharing my recipe of making these parathas after modifying them to our taste and overcoming two main issues I had while making them. First, how to stop paratha from breaking, and second get the crispy crust on parathas. So here are my three important tips that I learned over time after making these parathas for like n number of times.
First, grate boiled potatoes instead of meshing them which ensures an even smooth texture of filling. Second, keep the dough soft which helps to roll the parathas easily and without breaking the covering. Last, use rice flour instead of wheat flour for dusting as you roll the parathas. This helps to get that crispy buttery crust on parathas. Try these three hacks and you will get the perfect parathas everytime.
Aloo parathas are usually eaten for breakfast in North India. They are filling but not so heavy, so you can have them for a light filling meal or a quick snack. We usually eat them for a sunday brunch or light lunch or dinner. These parathas are a great meal for kids tiffin boxes. We usually eat them with raita (spiced curd) or mango pickle, but you can even pair it with chole curry or cilantro mint chutney. Do give it a try and if you like it or have any other tips/hacks to make these parathas then do share with us in the comments section.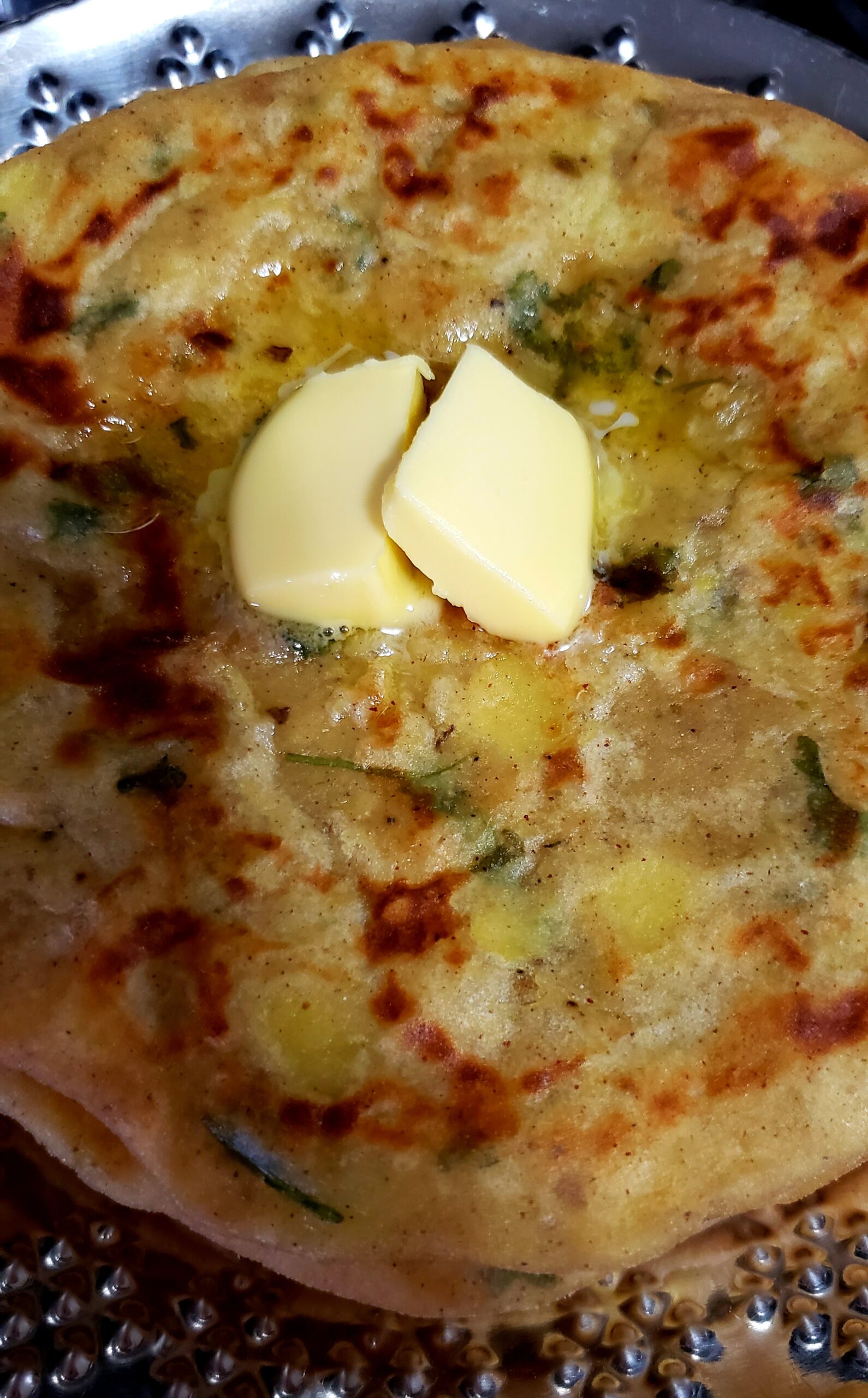 Serves 4 | Prep time: 10 minutes | Cook time: 20-25 minutes
Stuffing Ingredients
3 cups grated boiled potatoes
Pinch of hing (asafoetida)
1/2 tsp salt(or as per taste)
1/2 tbsp sugar
1/4 tsp garam masala
1 tbsp green chillies – finely chopped
1/3 cup cilantro – roughly chopped
1 tbsp lime juice
1/4 tsp amchur(dry mango) powder or chaat masala
Dough Ingredients
2 cups whole wheat or multigrain flour
1 tsp oil to coat dough after kneading
1 tbsp oil
1 tsp salt
Steps for Stuffing:
In a bowl, take all the ingredients listed under the stuffing section and mix everything properly.
Make 8 equal parts from this mixture. Roll each part to make a stuffing ball.
Stuffing balls are now ready. You can modify spice level as per your taste.
Steps for Dough Prep:
In a bowl, take flour, salt and oil. Mix them and you will see oil coats the flour and gives it a crumbly texture.
Now add water and knead until it is soft dough.
Once dough is kneaded, apply oil on hands and coat it on kneaded dough.
Cover the dough and let it rest for an hour.
After an hour, make 8 equal parts of the dough and roll them to dough balls.
Steps to make paratha:
Take one of the dough balls and roll it to a small circle using your rolling pin. Do not roll it thin, keep it thick since we will roll it again after stuffing it.
Place one stuffing ball in the center. Don't overfill else it will be difficult to roll.
Bring all the edges of dough together and pinch to seal the edges.
Flatten the dough ball using your hands. Use rice flour as dusting powder. You can use wheat flour, but rice flour helps to get a crispy texture.
Now using a rolling pin, roll the stuffed dough to a circle of 7-8 inches diameter. The trick here is to apply gentle and equal pressure while rolling.
Transfer the rolled paratha onto the hot tawa. Cook the side for a minute or two and then flip over. Apply oil or ghee [around 1/4 teaspoon] on the half-cooked side and flip again. Apply oil on the other side as well.
Press with a spatula and cook the paratha till both sides have golden brown spots on them.Repeat with the remaining dough balls.
We are sorry that this post was not useful for you!
Let us improve this post!
Tell us how we can improve this post?