"Sev-Usal" is one of the most popular street side delicacies in Vadodara. This utterly simple to make yet scrumptious in taste dish has ruled the hearts of locals and visitors for years now. There would hardly be any travel diaries on Vadodara that would complete without trying this dish. On the other hand, sev usal is a "go-to" meal (breakfast/lunch/dinner) for so many people in Vadodara belonging to different societal groups. If not on the street side, sev usal is a pretty common staple meal in most gujarati families.
Sev-Usal is a medley of spicy hot stew made with yet another unique legume – dried green/white peas ("vatana" in Gujarati, "matar" in Hindi) in a thick broth made with garlic, onions and tomatoes. Honestly, if I didn't know how it tasted, it would sound completely boring to me. Afterall, how interesting can a stew be? However, sev usal gets its magic from this insanely flavorful broth and the accompaniments that go along with it.
This flavor packed stew is eaten with "sev" (a Gujarati snack easily found in indian stores) on top and a side of pillowy soft dinner rolls, aka "ladi pav". Sev are crispy fried noodles made from chickpea flour that gives a perfect crunchiness to the spicy Usal (stew), thus also giving it the name "Sev-Usal". The side of ladi pav or any soft dinner rolls provides an ideal vessel to soak up the spicy usal, thereby giving a perfect blend of flavours in each bite.
To increase the heat index of the dish, sev-usal is often served with a "laal tari" which is basically oil infused with red chilli powder and garlic. Although, I would not suggest adding too much of the "good stuff" for beginners since it really takes the spice game to another level. With all that said, let's get cooking!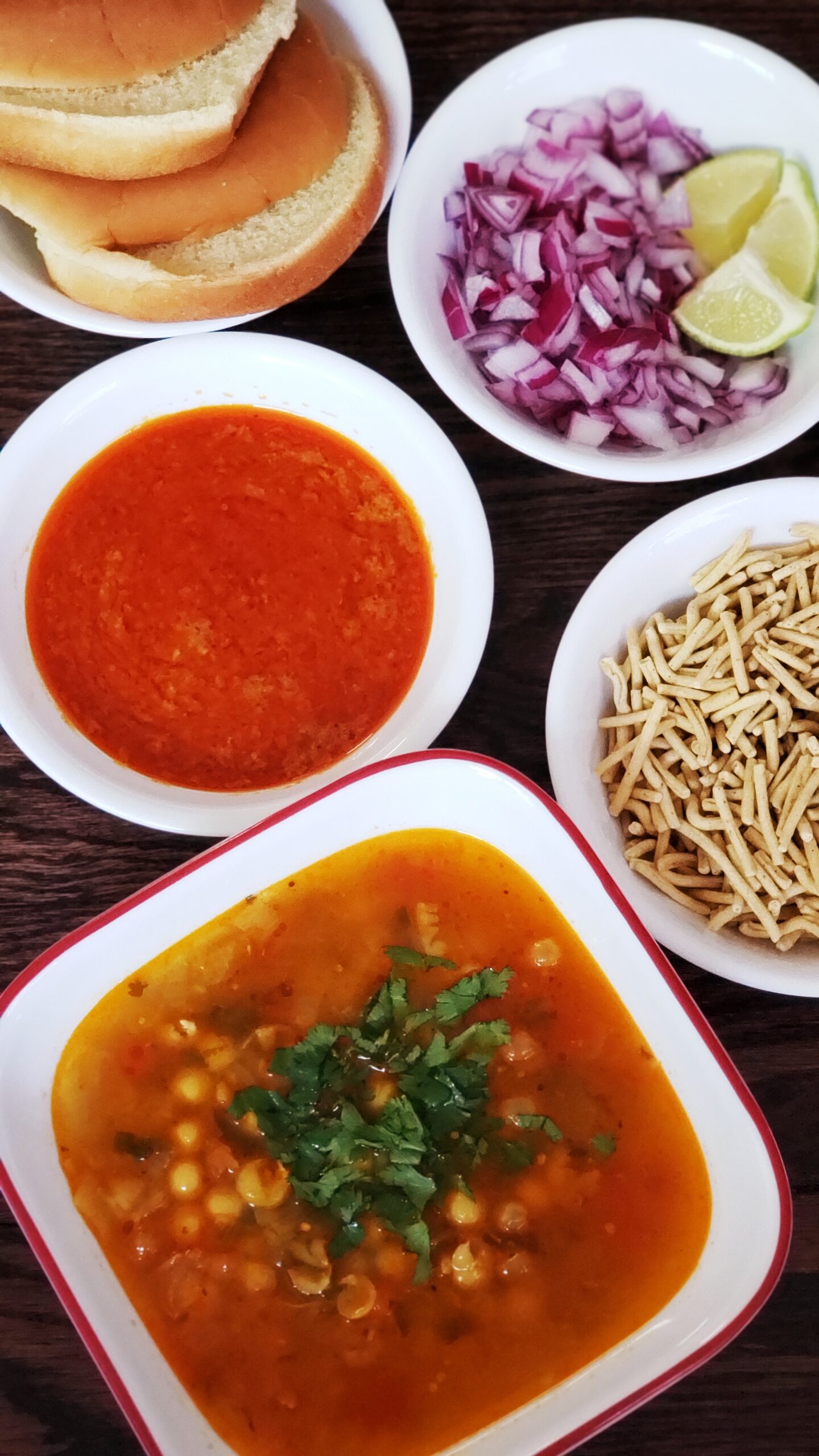 Serves 4 | Prep time: 10 minutes(6-8 hrs for soaking dry peas) | Cook time: 30-35 minutes
Usal Ingredients:
1 cup dry peas(vatana)
2 garlic cloves – finely chopped
3-4 green chillies – finely chopped
8-10 curry leaves
2 medium onions – finely chopped
3 tomatoes – finely chopped
1.5 tbsp – oil
1 tsp mustard seeds
¼ tsp hing (asafoetida)
½ tbsp methi pickle masala (optional)
½ tsp red chilli powder
1 tsp cumin-coriander powder
½ tsp garam masala
½ tsp turmeric powder
1 tbsp lemon juice
3 cups water
Salt as per taste
Laal Tari Ingredients:
2 tbsp oil
1/4 tsp hing (asafoetida)
5-6 grated/crushed garlic cloves
1 tsp salt
2 tsp red chili powder
1 tsp sugar
2 tsp lime juice
1 tsp kashmiri red chili powder
2-3 tbsp water(as per required consistency)
Garnish:
Roughly chopped onions and coriander
Laal tari (red garlic chutney)
Dinner rolls (ladi pav) or choice of bread
Sev
Steps to make usal:
Add oil in a pressure cooker on low to medium heat. Once ready, add mustard seeds, hing (asafoetida) and curry leaves, and crackle them on medium heat. Make sure they do not burn. Quickly, add chopped garlic and chilli, and saute them for a minute.
Now add chopped onions and saute on medium heat until they turn translucent.
Once onions are translucent, add tomatoes. Continue sauteing on medium heat for 5 to 7 minutes until everything is fully cooked.
Oil should start separating. At this stage, add methi masala (optional), chilli powder, cumin-coriander powder, turmeric, garam masala and splash of water (water prevents burning of the mixture). Cook this masala/broth mix for 5 to 7 minutes.
Once the masala/broth mix is cooked, add soaked dried green peas (vatana/matar), water and salt (per taste). Mix everything and pressure cook on medium heat for 6 whistles.
Let the pressure cooker cool down completely. Open the cooker and add lemon juice.
Usal is ready. Garnish it with coriander and onions. Serve it with dinner rolls and laal tari. Add the laal tari to usal as per your spice preference.
Steps to make Tari:
Heat oil in a pan. Once heated, add hing (asafoetida) and crushed/chopped garlic. Saute for 2-3 minutes until garlic is lightly browned.
Next add salt, red chili powder and sugar. Saute all for 2 more minutes.
Now add lime juice, kashmiri red chili powder and water. Mix everything well and let it simmer for 2-3 minutes until it starts to thicken up.
At this stage, laal tari base is ready. Remove it from the heat and add more water to get your desired consistency.
We are sorry that this post was not useful for you!
Let us improve this post!
Tell us how we can improve this post?