Puna misal is one of the many food dishes in Vadodara, that is a product of amalgamation between Maharashtrian and Gujarati cultures. Puna misal is a perfect combo of spicy (zarzarit) marathi and sweet-savory gujarati flavors. Having originated from misal pav, an authentic maharashtrian delicacy, Puna misal is well adapted for a gujarati palate. Aside from being a common staple for the people in Vadodara, puna misal is also the most popular dish served by the oldest and most iconic cafeteria, "Canara Coffee House" in Vadodara.
Puna is the gujarati pronunciation of Pune city and misal means mixture. So puna misal is a mixture of mung sprouts curry with a bunch of accompaniments. First, the mung sprouts curry is made using quite a few indian spices and then it is topped with sev or farsan (gujarati snack easily found in indian stores), sweet whipped curd/yogurt, tomatoes and onion salad. Finally, this mixture is garnished with chopped coriander and a dash of pink salt and chilli powder that helps in marrying all the flavors together.
I often feel that puna misal is a highly underrated dish in terms of its popularity to the outside world. Not just this dish is full of flavors, but it is also packed with protein. Mung sprouts are a rich source of protein which is the heart of puna misal. It contains lots of yogurt which again is a source of protein and probiotics.
In terms of meal type, puna misal is so versatile. It can be a perfect Sunday brunch with tea/coffee, kids tiffin meal, a quick desk lunch or just a comforting dinner on an overcast evening. Such a flavorful, versatile and protein packed dish, I wonder who would not like it? I highly recommend you to try my version of puna misal if you haven't tried it yet and let me know if you like it.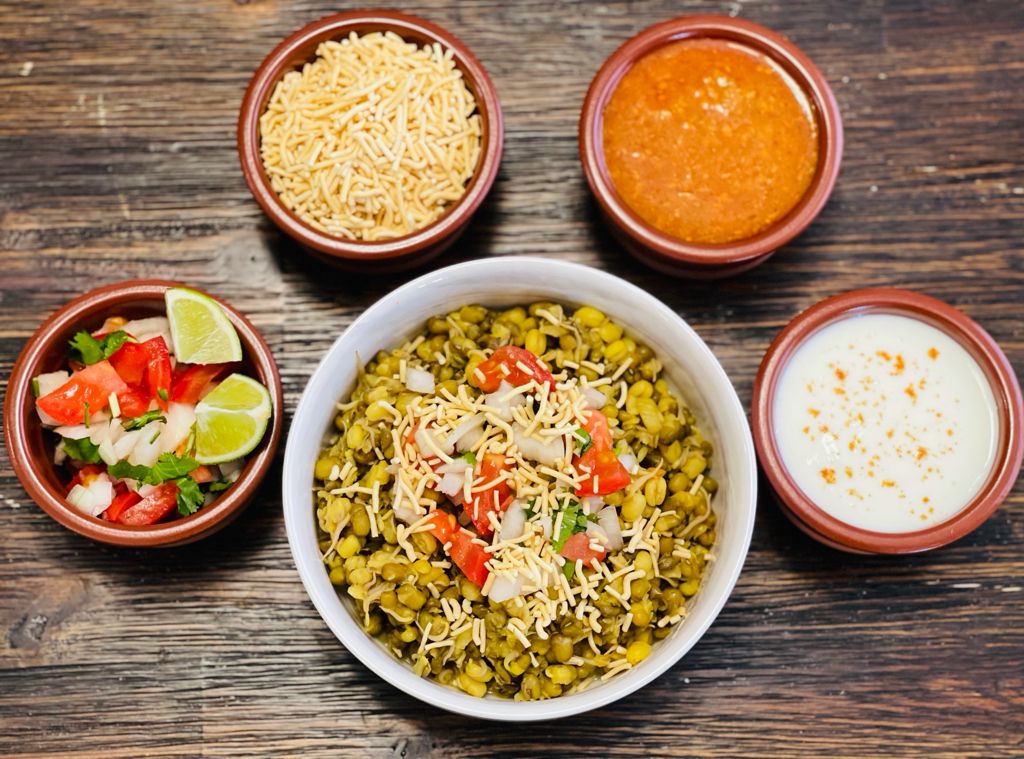 Serves 4 | Prep time: 10-15 minutes | Cook time: 30-35 minutes
Ingredients:
4 cup mung sprouts
2 garlic cloves – finely chopped
2 green chillies – finely chopped
3 cups – water
2 tbsp – oil
1 tsp – jeera
¼ tsp – hing
1 tsp – cumin-coriander powder
½ tsp – red chilli powder
½ tsp – turmeric powder
½ tsp – garam masala
2 tbsp – lemon juice
Salt as per taste
Garnish:
Mix of pink salt and red chili powder
Finely chopped onions and tomatoes
Sweet Yogurt
Sev, mix chivda
Finely chopped cilantro
Steps:
Take oil in a deep pan/kadai and add jeera/cumin seeds to it. Once the cumin starts crackling, add hing (asafoetida),turmeric powder, chopped garlic and green chillies and stir (don't let garlic brown).
After about a minute, add mung sprouts. To this add cumin-coriander powder, red chilli powder, garam masala, salt and water.
Cover and cook for 10-15 minutes on medium heat. Stir occasionally.
Once mung sprouts are fully cooked, add lemon juice and fresh cilantro.
Serving:
In a bowl, take cooked mung sprouts. Top it with yogurt, onions and tomatoes, sev or mix chivda. Finally garnish with chopped coriander and sprinkle pink salt/ red chilli powder.
Notes:
For mung sprouts, you can either use store bought sprouts or sprout them at home. Many people use sprouter or cheesecloth but I sprout whole mung without using any of it and they come out perfect every single time. To make sprouts at home, first soak the whole mung in water. After 6-8 hours of soaking, drain all the water. Put the soaked mung in a bowl and cover it loosely. Place this bowl at room temperature for another 8-10 hours. Toss once in between. It takes about 10-12 hours for the mung to sprout depending on your home temperature (sprouts faster on hot days but takes longer on colder days). I usually soak mung overnight, drain the water in the morning, let them sit in the bowl for the entire day and they are usually ready to get cooked next day.
We are sorry that this post was not useful for you!
Let us improve this post!
Tell us how we can improve this post?