We know how much gujaratis love to eat different farsans (snack/appetizer). Be it a special or a random day, gujarati are always ready to eat khaman, dhokla, dalwada and the list goes on. And Sev Khamani is one similar farsan from that list that I bet any gujarati would say no to. Sev Khamani is made using khaman, yet it has its own identity which is different from the taste and texture of khaman. I often describe sev khamani as a chaat version of khaman since it has all qualities of a typical chaat, aka "finger licking good" (haha).
Sev khamani is basically crumbled khaman (khamani) that is first tempered and finally topped with lots of sev and other toppings that add flavors and texture to the dish. Although this has crumbled khaman as the base, its tempering is different which gives it a distinct flavor (slightly sweeter) from regular khaman. Topping this slightly sweet khamani with lots of sev, spicy mint cilantro chutney, fresh coconut and pomegranate seeds makes it one delightful and flavorful farsan chaat. Definitely one of my favorite chaats or farsan or both.
So far you would have figured out sev khamani requires khaman that is not tempered already. While you can use store bought khaman, it is already tempered. So I highly suggest making khaman for sev khamani at home since you can give it that specific khamani tadka. I usually make a big batch of khaman and split them into three portions. After that all I do is give specific tadkas- one each for regular khamam, masala khaman and sev khamani. And we can enjoy khaman in different ways with the same amount of work.
Here I share my fool's proof recipe to make khaman and it is exactly the same as I had shared before on the blog. As I mentioned in my khaman recipe, making khaman is a work of patience but sure gives a lot of gratification. It may seem difficult but it is not impossible. Making perfect khaman really boils down to the perfect ratio of leavening agent which I have shared with you. So I really recommend you making khaman at home, but you also have an option of using store bought ones just in case.
Finally, when and how do you eat sev khamani? Literally for any meal of the day and all by itself! This may seem like a biased opinion from a gujarati, but I promise sev khamani can be enjoyed any time of the day. It is a great appetizer option on hosting nights, festive meals or GAME DAY meals. It can also be enjoyed as a Sunday brunch or a quick weekday lunch when you have leftover khaman in the fridge. And not to forget you can enjoy this amazing farsan chaat even without an occasion but whenever you are craving for it. So do try this recipe and let me know if you like it. Also let me know if you are a khaman, dhokla, sev khamani fan just like me or not.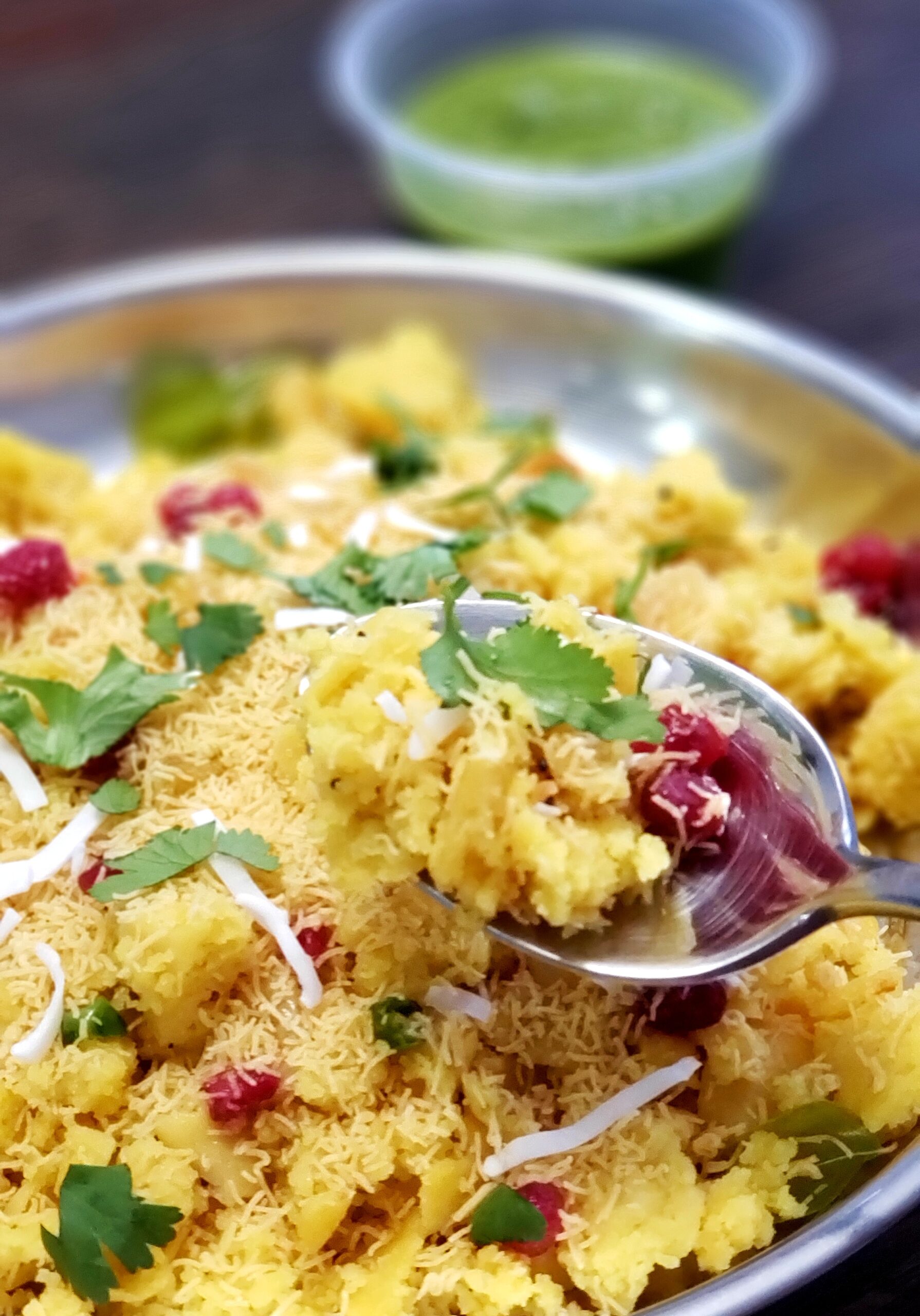 Serves 4 | Prep time: 10 minutes | Fermenting/Resting Time : 10-12 hours | Cooking Time: 25-30 minutes
Ingredients for Sev Khamani:
1 cup chana dal
¼ cup rice
Water for soaking
1 inch ginger
2 green chillies
¼ cup yogurt
¼ tsp turmeric powder
½ tsp salt
½ cup water
½ tsp eno(fruit salt) / 1/2 tsp baking soda + 1/2 tbsp oil + 1/2 citric acid
Ingredients for tempering Sev Khamani:
2 tbsp oil
1 tsp mustard seeds
pinch of hing (asafoetida)
2 green chillies – slit in the middle
Few curry leaves
¼ cup water
1 tsp sugar
1 tbsp raisins
Ingredients for garnishing Sev Khamani:
Cilantro Mint Chutney (Recipe Here)
Pomegranate Seeds
Thin Sev
Grated coconut
Fresh cilantro, finely chopped
Steps for making khamani batter and fermenting:
In a large bowl soak chana dal and rice using water for 4-5 hours.
After 4-5 hours, drain off the excess water and transfer them to the blender.
Add ginger, green chillies to the soaked dal and rice. Blend everything to a coarse paste.
Transfer this chana dal – rice blended mixture to a large bowl.
Add yogurt, turmeric, salt and water to the mixture. Mix everything well to form a smooth consistency batter.
Cover the batter and let it ferment for 10-12 hours or until the batter looks well fermented. I usually place it in the oven with bulb light on (ofcourse oven is switched off). But you can either place it under direct sunlight or any other dry warm corner of your house. Dry and warm temperature helps the batter to ferment well.
Steps for making Sev khamani:
Once batter is well fermented, add ½ tsp eno OR ½ tsp baking soda + ½ tbsp oil + ½ citric acid. Mix the batter gently.
Transfer the batter to a greased pan.
If you are steaming, steam it for 25-30 minutes on medium flame until khaman is completely cooked. If you are baking, then preheat the oven at 350°F and bake for 25-30minutes.
Once steamed or baked completely, let it cool down. Now crumble khaman pieces using hands.
Steps for tempering Sev khamani:
Heat oil in a saucepan. Once oil is heated, add mustard seeds and let them crackle.
Now add hing (asafoetida), green chillies and curry leaves.
Next add water, sugar, salt, raisins. Mix everything and bring it to a boil.
Now add crumbled khaman to the tempering and mix gently.
Khamani is ready. Top it with lots of sev, cilantro mint chutney, pomegranate seeds, grated coconut and cilantro and Enjoy!
We are sorry that this post was not useful for you!
Let us improve this post!
Tell us how we can improve this post?