Vegetarian Tortilla Soup is one of the few soups that I actually crave for. Yes, this is true in spite the fact that I am not a huge fan of soups. I am one of those who goes for the smallest serving of soup or hardly finish it in a restaurant or at a party. Yet when it comes to this particular soup, I crave for it especially on cold days. Hard to believe but I actually have this soup for lunch, and why not? After all this soup is so flavorful, has different textures, aptly spiced up and so filling and comforting.
This soup recipe is definitely not the authentic mexican recipe, but I like it since it's so easy to make. I mean this is afterall my husband's recipe so it is going to be fuss free. This soup can be made in no time with as little prep as possible, something ideal for weekday meals. It is literally like dumping all the ingredients in a pot, cooking for sometime and the soup is ready. Not many ingredients needed nor does it have much chopping work. In addition, it is a one pot meal, so needless to say less dish cleaning work?! And all of these without compromising on the taste profile even a bit. Honestly it can't get any better!
We make this in our home usually for weekday meals, especially on cold and snowy days. Trust me, a bowl of this warm soup is so soothing and comforting on those cold and chilling days. I highly, highly recommend you making it and let me know in the comments section if you enjoyed it. Also share with us if you have your own way of making this soup.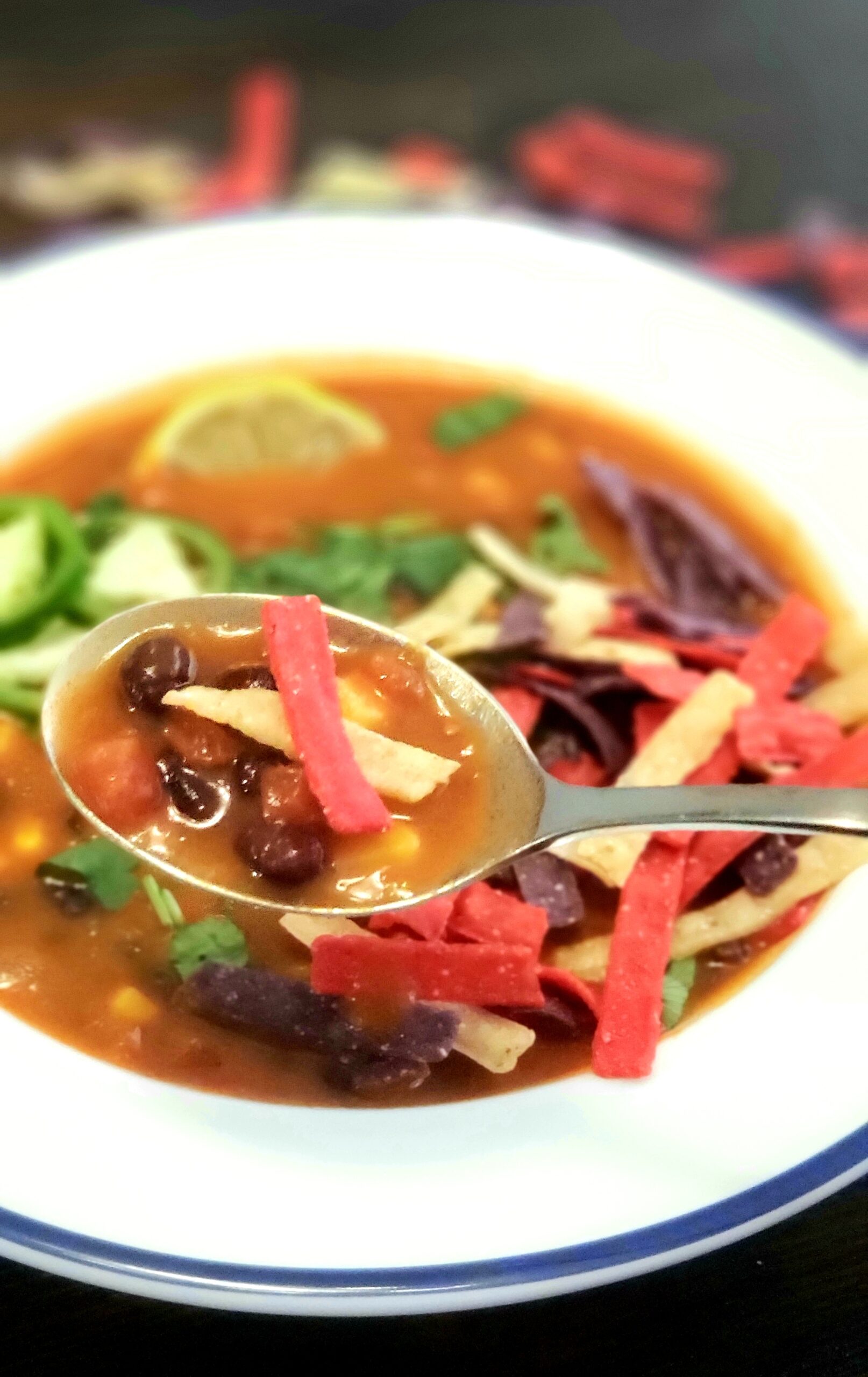 Serves 4 | Prep time: 5 minutes | Cooking Time: 20-25 minutes
Ingredients:
15 oz canned black beans
8.5 oz canned sweet corn
16 oz Hot/Mild Salsa (I prefer using Herdez Casera brand but you can use your preferred brand salsa)
1 quart Vegetable Broth (I prefer Pacific Organic brand but you can use your preferred brand)
3 chipotle peppers (La Costena Chipotle Peppers in Adobo Sauce)
1 big burrito tortilla (Mission Burrito Size Flour Tortillas)
½ cup onion – finely chopped
2 tbsp oil
4-5 garlic cloves
Salt as per taste
2 tbsp roasted cumin powder (jeera powder)
Steps:
Heat oil in a medium pot or dutch oven.
Add finely chopped onions to oil and saute for 1-2 minutes.
Add cumin powder and let it cook for another 1-2 minutes.
Now add canned black beans and sweet corn to the pot. I drain out the liquid from beans and sweet corn before adding them. But you can skip this draining step and add them with the liquid if you like to use it.
Next add salsa. I am using the hot salsa but you can use a mild version if you prefer less heat. Mix everything well.
Now is the time to add vegetable broth. Keep ½ cup broth aside and add rest of it to the soup pot. Mix everything well, cover with a lid and let it simmer on medium heat for 10 minutes.
While the soup is simmering, take a blender container. To this, add garlic cloves, roughly cut Tortilla, chipotle pepper and ½ cup of broth that was kept aside. Blend everything to get a smooth paste.
Now add this mixture/paste to the soup that is simmering. Mix everything well. Taste it and season it with salt if required. Cover with a lid and let it simmer for another 10 minutes on medium to low heat.
Soup is ready. Squeeze some lemon juice and top with avocado, tortilla chips and cilantro before serving. Enjoy it while still warm!
Note:
The brands mentioned in this recipe are not sponsored. I personally like and use them on a regular basis so I have mentioned them. You can use your preferred brand products.
You can also make a non-vegetarian version of this soup. Just replace vegetarian broth with chicken broth and/or add shredded rotisserie chicken to it.
We are sorry that this post was not useful for you!
Let us improve this post!
Tell us how we can improve this post?