Magaz is a traditional gujarati sweet made in almost every gujarati household, especially during festivals. Magaz is particularly made using coarse chickpea flour making it different from besan burfi that is made using fine chickpea flour. As much as this subtle difference in the flour texture seems trivial, trust me, it makes a vast difference in how these two sweets taste. Well both taste equally delicious, but they are uniquely different in their texture due to the flour used in their making. And obviously I love magaz texture and nutty flavor slightly more than besan burfi.
Growing up, I always found magaz and sukhadi (gol papdi) as a staple sweet in our house. Apart from a routine basis, magaz was like a must sweet in our family during Diwali. Out of all the different kinds of snacks and sweets made during Diwali, my mother's magaz was a major hit. It was famous even among friends and relatives. Any guests coming to our house would not leave without having her magaz. Yes, I am not exaggerating but it was that good.
So here I am sharing with you all my mother's magaz recipe that was passed down to me. I really like her recipe not just because it tastes brilliant but it is actually very simple and easy to follow. I have heard, read several of magaz recipes, but I feel my mother's recipe is both hustle free and foolproof. And so I decided to master her recipe and share with you all, because why not?!
This festive season, I highly recommend you to try this gujarati sweet which is traditional yet simple yet delicious! Make it for your family, share with your relatives, friends or just treat yourself. You can also use it as a homemade gift for this Diwali. And as always, whether you make it for this festive season or on a regular basis, do tell me if you like it or not in the comments section.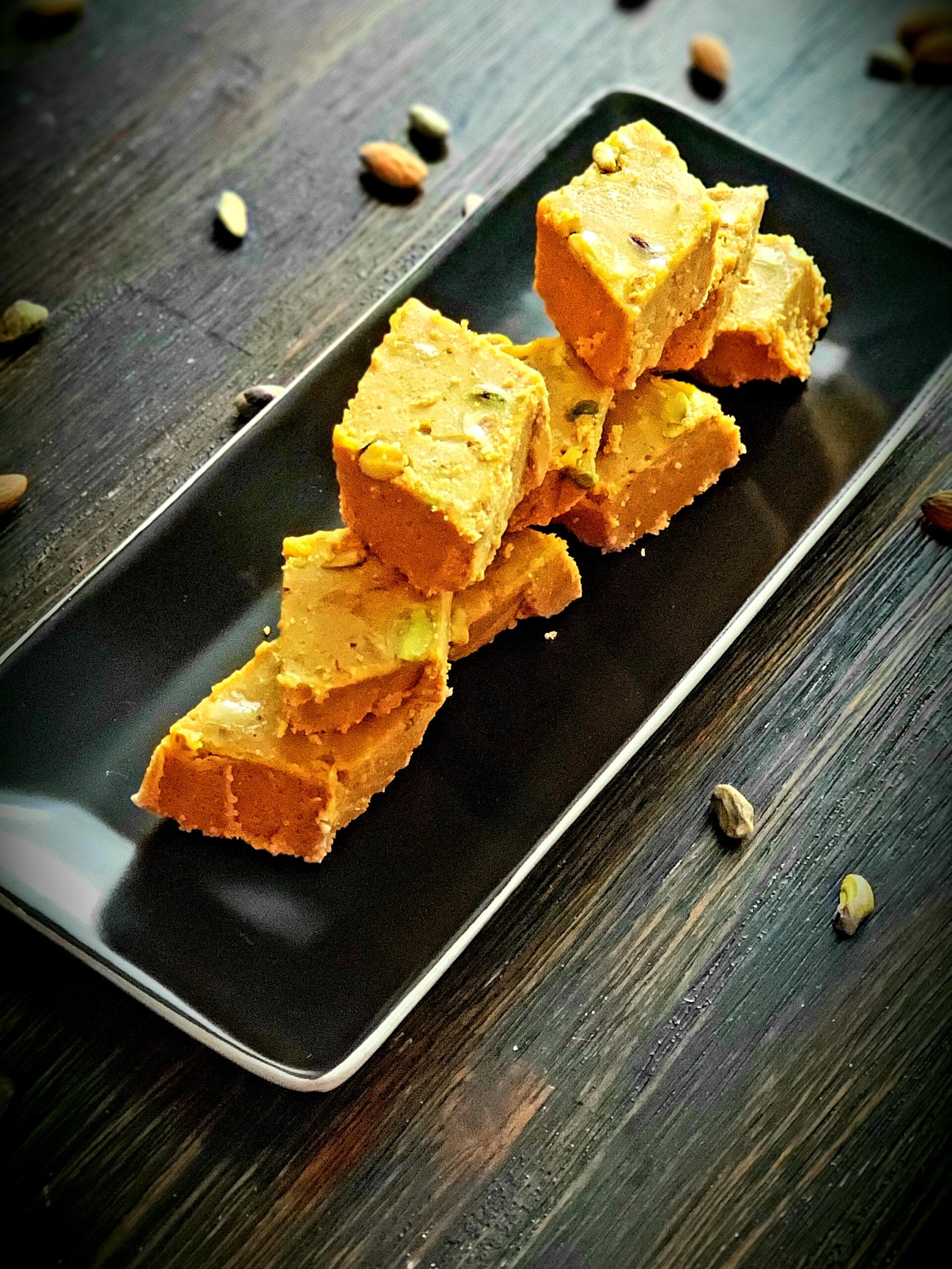 Prep time: 5-7 minutes | Cooking Time: 25-20 minutes
Ingredients:
2 cups coarse chickpeas flour / Magaz flour
sliced/roughly chopped almonds/pistachois
1 cup ghee (clarified butter)
1 cup powdered sugar
2 tbsp milk
½ tsp cardamom powder
5-7 saffron strands
Steps:
Heat ghee (clarified butter) in a non-stick pan on low heat for about a minute.
Once ghee is slightly hot, add coarse chickpea flour.
Mix the flour with the ghee properly to get a thick paste like consistency.
Now roast this flour paste for about 5-7 minutes by constantly stirring it.
Meanwhile, soak saffron strands in warm milk in a separate cup and keep it aside.
As the flour starts to get roasted, it will turn darker. It will start having toasted nutty aroma which is typical of a roasted flour.
At this point, add saffron milk and cardamom powder.
As soon as you add milk, bubbles will start to pop up. This is normal, so don't worry and just be careful. Keep stirring it carefully. Once everything is properly mixed and you do not see any bubbles, turn off the heat.
Remove pan from the burner top. After a minute or so, add powdered sugar to this magaz mixture. Add sugar only after the mixture is off the burner top or it will get hard. Now mix everything properly. As the magax mixture is still warm, sugar will easily get incorporated into it.
Take a sheet pan/ baking dish/ thali and grease it with ghee. Transfer the magaz mixture to the greased dish and even out the surface using back of a spatula or cup.
Garnish with sliced/chopped almonds and pistachios.
Let magaz come to room temperature after which refrigerate it for a couple of hours to set. Once magaz is set, cut it in desired shape pieces.
Serve magaz at room temperature and store it in an airtight container for up to a month in the refrigerator.
We are sorry that this post was not useful for you!
Let us improve this post!
Tell us how we can improve this post?