If you know me already then you know how much I love summer and why. But for those new to this blog, let me tell you- MANGOES are the main reason why I love summer apart from the hot sunny days that are rare in Chicago. Although mangoes are available round the year in some parts of the USA, enjoying this deliciousness on a hot sunny day is just outright most satisfying summer things.
Now we know how versatile mangoes can be. Ripe or unripe mangoes- there are so many delicious things we can make using them. Recently, I shared one such recipe on aam panna/ keri no baflo (recipe here) that is a soothing summer drink made with unripe mangoes. And in today's blog I am sharing yet another recipe made using unripe mangoes- "Keri nu Shaak" (raw mango curry/chutney/jam).
Keri nu shaak is basically a curry made with raw/ unripe mangoes. It is not the conventional shaak (curry) like other regular indian curries but can be considered something in between a pickle and a curry. Some people also consider it as a chutney or jam. No matter what you call it or classify as, one thing is for sure- it is utterly delicious. This curry/chutney is sweet and sour with a hint of spiciness in the background.
I personally love this shaak for the bite of those cooked unripe mango pieces that are soft, tender, little chewy and full of sweet and sour flavors. I remember my mother used to make this shaak every summer for me and my sister, especially on days when she would make a grown up curry for lunch or dinner. My sister and I would devour this shaak with fresh phulka rotis without any complaints. Needless to mention, this shaak is one great recipe for kids.
This shaak can be enjoyed with almost all kinds of indian flatbreads (phulka rotis, parathas, theplas, dhebras, etc.). I love eating it with phulka rotis and theplas. It is not just a great meal idea for kids but works for their tiffins too. Spread the shaak on phulka rotis/theplas/dhebra, roll it and you have a tiffin meal ready. Mesh the mango pieces a little bit with a potato masher and you can use it as a jam/chutney on bread for making tiffin sandwiches. Basically, this one curry can be used in multiple ways for different kids meals.
Speaking of the time it takes to make mango shaak- it's minimal. Yes, you know I like recipes that can be made with minimal prep and cooked in no time. This mango shaak definitely is one such recipe. Not just is it easy to make but it also stays in the refrigerator for a couple days. Not to forget except for the unripe mango, rest all the ingredients needed for this recipe are pantry staples. So it is one truly easy, instant and basic ingredient recipe that is not just kid friendly but adults can enjoy too.
Here I share the recipe of unripe mango shaak (curry) that I learned from my mother. My sister and I always enjoyed eating this shaak and now my kiddo loves eating it. I highly recommend trying this recipe. Do try it and let us know in the comments if you like it or not. Also let us know if you have any such traditional family recipes made with raw/unripe mangoes.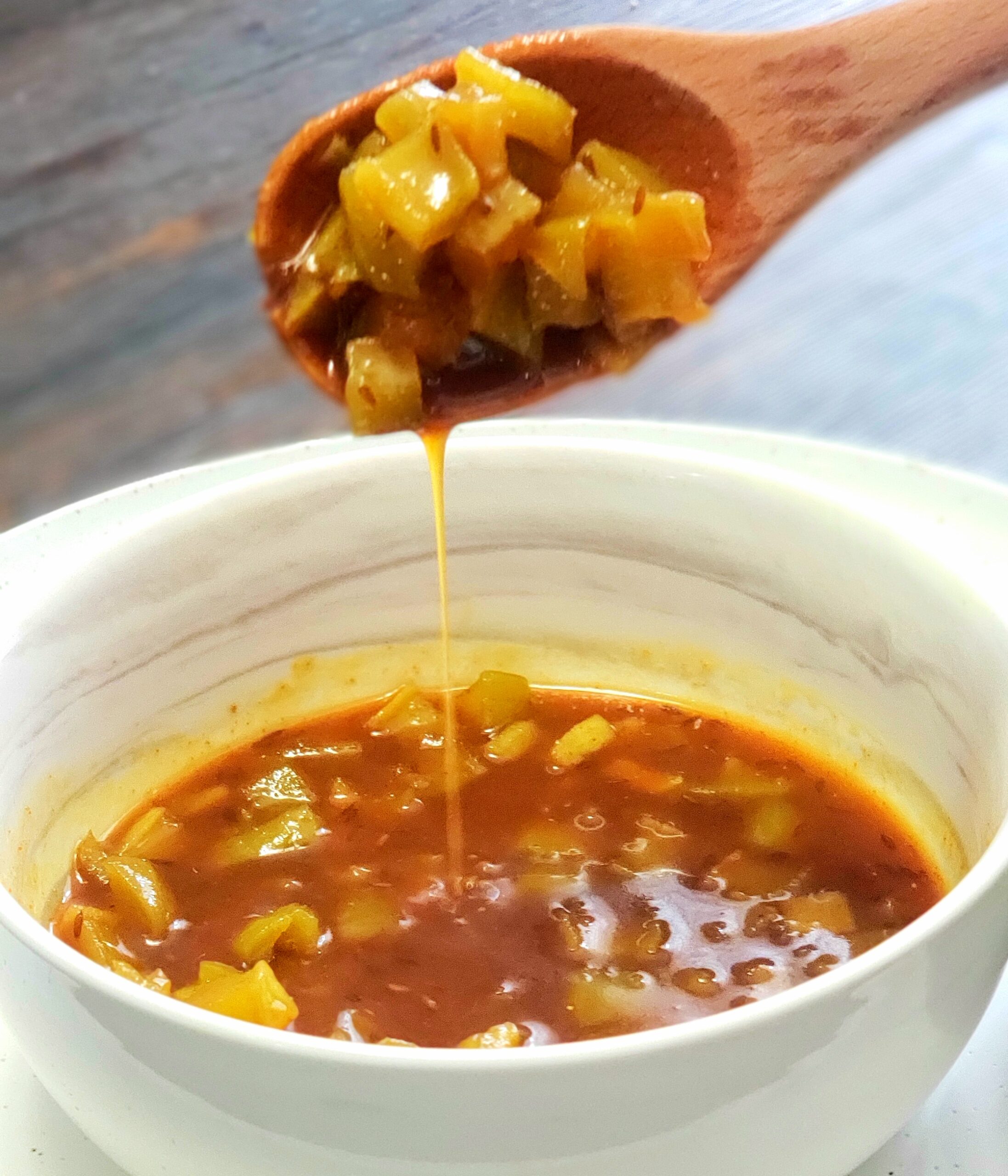 Makes : 2 serving | Prep Time : 5-7 minutes | Cooking Time: 8-10 minutes
Ingredients to make raw mango shaak:
1 cup peeled and cut pieces of raw/ unripe mango
1 tsp cumin seeds
1 tbsp oil
⅓ cup water
¼ tsp salt
½ cup jaggery
¼ tsp turmeric powder
½ tsp red chilli powder
1 cumin coriander powder
Steps to make keri nu shaak:
In a saucepan, heat oil on medium heat. Once it is heated, add cumin seeds.
When the cumin seeds start to crackle, add raw mango pieces, salt and water.
Mix everything, cover the pan with a lid and cook the raw mango pieces for 5-7 minutes or until they change color and become nearly translucent.
Once the mango pieces are cooked, add jaggery, red chilli powder, cumin coriander powder and turmeric powder.
Mix everything well and let it cook on low-medium heat until the jaggery is completely melted. Make sure you don't cover the pan.
After about 2-3 minutes, the jaggery will completely melt and start to thicken. Let the shaak/curry simmer for 4-5 minutes.
If you think it is still watery, let it cook for another 2-3 minutes. However, remember that the curry/shaak will thicken on cooling down. So you don't need to simmer it for too long.
Taste the curry and add more jaggery if needed. Sometimes mangoes are very tart and so the quantity of jaggery needs to be adjusted accordingly.
Keri nu saak is ready. Enjoy it with paratha, khichdi, or as a chutney/condiment.
We are sorry that this post was not useful for you!
Let us improve this post!
Tell us how we can improve this post?