Recently, I shared one of my favorite curries- Ringan no oddo (Baigan Bharta/ Eggplant Mash (Recipe Here)) that is a roasted eggplant curry mainly eaten during winter times. I mentioned in its recipe how this scrumptious curry is almost incomplete without its accompaniments – makai rotla (maize flour flat bread) and some ghee-gaud (clarified butter+jaggery). This food combination is truly one of the most satisfying meal combos. But I wouldn't make much sense about this combo unless I share the complete recipe of each of its components.
So in this blog post I am going to share my take on one of my favorite rotlas/ flatbread that is made with maize flour – Makai Rotla. (maize flour flat bread). Now most of you are aware of the word- "rotis" made with wheat flour so you must be wondering why I call these rotlas. Is it a typo? No, it's not. Rotlas are usually thicker than rotis and made with a different flour than just wheat. Rotlas are usually made of jowar (sorghum flour), bajra (pearl millet flour) while rotis are made from wheat flour. Since these flours are denser than wheat flour, rotlas have a thicker/denser texture than rotis. And this thicker/denser texture works as a perfect vessel for curries that have a really intense flavor profile.
Makai rotla is one such rotla/flatbread that is made using maize flour. This maize flour is different from the cornstarch that is usually used as a thickening agent. Maize flour is basically unrefined corn flour which is coarse in texture. The difference between these two is similar to what we find between wheat flour and refined wheat flour. You can easily find unrefined corn flour in any grocery store, especially indian stores.
Makai/corn/maize flour can be slightly tricky in terms of making dough and rolling out. So you may have heard of this rotla made only out of maize flour but I like to add some wheat flour to it. Adding some wheat flour helps to work with the dough especially making it pliable to roll out without breaking. I also feel wheat flour adds to the taste and overall texture of the rotla.
Makai rotla are definitely one great accompaniment for baingan bharta (ringan oddo/eggplant mash), but it can literally go any indian curry that is intensely flavorful. You must have heard about another classic combination- Makke di roti- sarso da saag. The makke di roti is basically makai rotla or maize flour flatbread and sarso da saag is a curry made with mustard greens. So I recommend trying this rotla even if you are not a fan of baingan bharta. You can try eating it with pretty much all indian curries.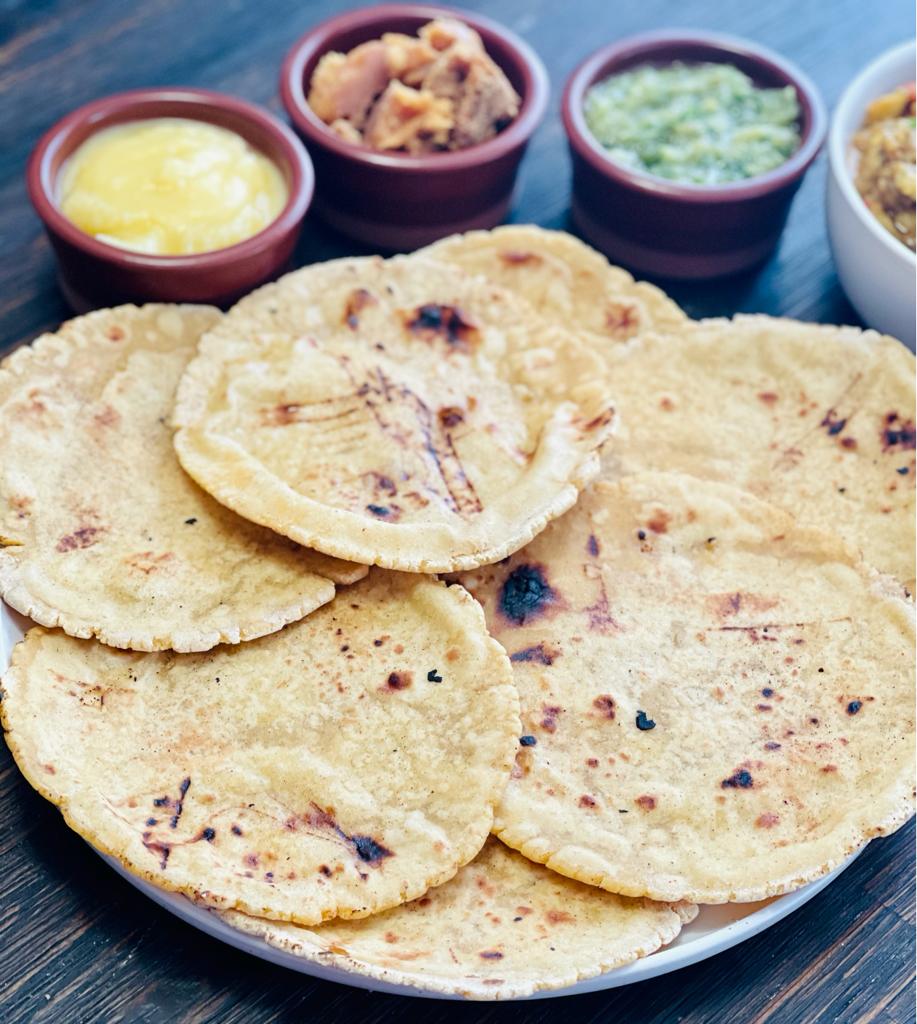 Makes : 7-8 Rotla | Prep Time : 15-20 minutes | Resting Time : 25-30 minutes | Total Time: 50-55 minutes
Ingredients to make makai rotlo:
2 cup maize flour
1 cup wheat flour
1 tbsp oil
½ tsp salt
1.25 cup warm or room temp water
Steps to make makai rotla:
In a bowl, take maize flour, wheat flour, oil and salt. Mix them well.
Now slowly start adding water and simultaneously knead the flour mixture to make a dough.
You may need some extra water than the above mentioned quantity since it depends on the type of wheat flour. If you feel the dough is not coming together then add 1-2 tbsp of more water to bind it. Do not add too much water, since a very soft dough will be difficult to roll the rotlas/flatbread.
Once the dough is kneaded, cover it using a damp cloth or clear food wrap. Let it rest in the refrigerator for 25-30 minutes.
Once the dough has rested for a while, make small dough balls.
Roll the dough ball gently using a rolling pin as thin as possible. Use dusting flour while rolling if it sticks to the rolling pin or the surface.
Heat tawa/pan on medium heat. Place the rolled rotla/flatbread on hot tawa and cook it on both the sides or until the rotla starts to get light brown spots on both sides.
Now carefully lift the tawa with one hand (non dominant) and pick up the rotla/flat bread using a pair of tongs and place it upside down on medium high flame for about 20-30 seconds (no more). This is to pop up the rotla/flatbread like a balloon and start to get brown spots on it, about 20 to 30 seconds. It is similar to when making a wheat flour fulka roti.
Once the rotla has popped up, place it on a plate facing up the side that just cooked directly on the flame. Place the tawa back on the flame. Apply ghee on the top surface of the rotla/flatbread.
Serve warm and enjoy with your favourite curry.
We are sorry that this post was not useful for you!
Let us improve this post!
Tell us how we can improve this post?