Dal (legume soups) have a special place in the Indian cuisine. Made with legumes, dals are a source of protein in a regular Indian meal. While dal is eaten in almost all corners of India, every region has their own version made with different legumes, using different recipes and tastes different (yet all taste delicious!). Gujarati dal is one such unique delicious variant of Indian dals that is slightly sweet but tangy at the same time.
Every gujarati family has their way of making dal, so do I. Here I am sharing my family recipe of gujarati dal. We make our dal using three different legumes instead of one (usually made from only tuver dal), and so triple the amount of goodness. I like to use three dals since it is a great way to get your kiddos to eat their protein without having them know about it. Moreover, I like to use tomatoes and lemon instead of kokum to bring the tangy flavor in the dal. Not just they are great sources of Vitamin C, but tomatoes also give a rich color and texture to the dal. They help make the dal thicker which is usually thin and watery.
Lastly, adding methi masala (pickle mix, readily available in indian stores) in the dal tempering is like the real charm of my recipe. This masala, by the way, is not just spicy but has some really complex flavors. Methi masala adds depth and intricacy to the dal flavors, making it taste so much better than a regular dal. Seems like an exaggeration? Try the dal with and without the tempering and you will see the magic of this methi masala.
I make dal as part of the regular gujarati thali – shak (vegetable curry), rotli (roti), rice, and dal. We prefer to eat a full gujarati meal for dinner, so the leftover rice and dal is the perfect lunch for next day. My 18 months old eats this dal with rice and ghee and let me tell you it's already his favorite. So here is my version of gujarati dal. I hope you will give it a try and will enjoy it just as much as my family does.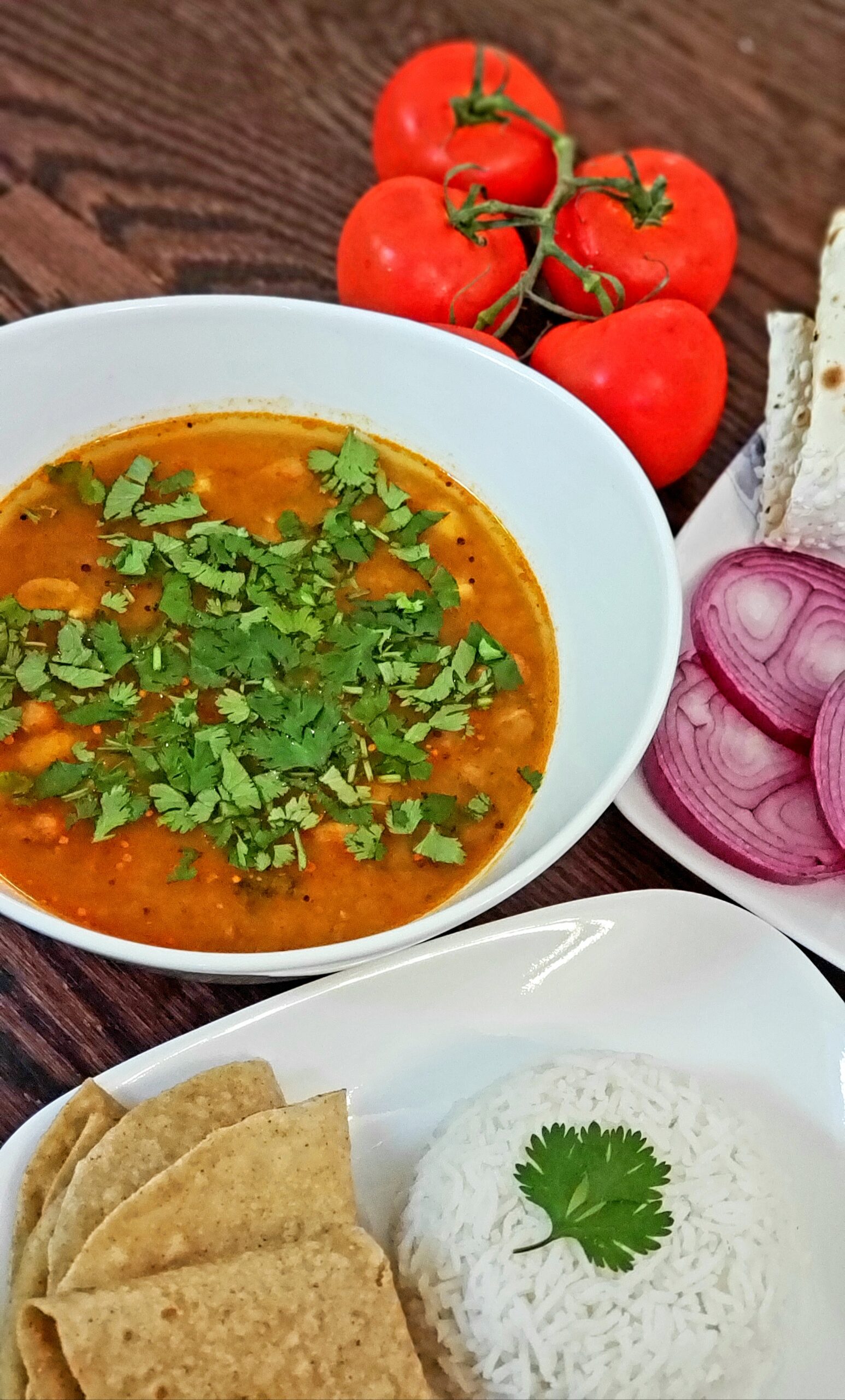 Serves 4 | Prep time: 10 minutes(1-2 hrs for soaking daals) | Cook time: 30-35 minutes
Ingredients
⅓ cup tuvar dal (split pigeon peas)
2 tbsp moong dal (green gram)
2 tbsp chana dal (split chickpeas)
1 diced tomato
⅓ cup raw peanuts
¼ cup jaggery
1 tsp cumin-coriander powder
½ tsp red chilli powder
¼ tsp turmeric powder
¼ tsp garam masala
2 tbsp lime juice
3 cups water
Salt as per taste
Tempering
2 tbsp oil
1 tsp mustard seeds
1 tbsp methi masala (pickle mix)
¼ tsp hing (asafoetida)
2 slit green chillies
¼ tsp fenugreek seeds (methi dana)
Steps
Soak all the three dals for 1-2 hours
Take all the three soaked dals, tomato, peanuts and a cup of water in a pressure cooker and cook them for 4-5 whistles.
Open the pressure cooker once it has cooled down (allow all the steam to escape before opening it).
All the dals should be cooked thoroughly at this point and they should have a soft mushy texture.
Blend the cooked dals and tomato using a whisk until you get a smooth consistency. Make sure that you do not blend the peanuts. By using a whisk to blend the dal, the peanuts will not get crushed or blended. If you are using a hand mixer, take out the peanuts first and then blend the dals. Once the dals are blended to a smooth consistency then add the peanuts back into the mixture.
Now heat the dal mixture on medium heat and add 2 cups of water to it.
Add spices (red chilli powder,cumin-coriander powder, garam masala, turmeric), salt (as per taste) and jaggery to the dal mixture. Mix everything properly. and let it simmer on medium heat.
While the dal is simmering, prepare the tempering. In another saucepan, heat some oil.
Once the oil is heated, add mustard seeds to it.
When the mustard seeds start to crackle, add slit green chillies, methi masala, fenugreek seeds (methi dana) and hing (asafoetida).
Now add this tempering to the simmering dal. Mix everything properly and bring the dal to a boil.
Gujarati dal is ready. Add fresh lemon juice, garnish with chopped cilantro and serve hot with rice.
We are sorry that this post was not useful for you!
Let us improve this post!
Tell us how we can improve this post?