Chana dal/Split Chickpea Curry is yet another protein packed curry that is healthy, comforting and delicious at the same time. Chana dal aka split bengal gram is one of the most commonly consumed lentils and a major source of protein for most Indians (specially vegetarians). This lentil is not just a great source of protein but is packed with fibre and other micronutrients such as zinc, folate and calcium. I also think it is one of the tastiest lentils.
Personally I like chana dal curry since it is so easy to make and requires minimal preparation. It is a one pot curry that can be whipped up in 20-30 minutes. This curry has gravy like consistency; so although it is saucy, it's not liquidy like normal dals. So it can be eaten like a sabji with roti/parathas or rice. It is one perfect curry for weekday meals.
Now I understand that lentil based curries can be sometimes boring or not so tempting. But the flavors in these dals can be easily enhanced and elevated by a small hack that I use in almost all lentil based curries. Yes, that hack is adding a small amount of jaggery and lime/lemon juice to the curry. This combination of sweetness from jaggery and sourness from lemon juice balances out the flavors and makes it tangy. Additionally, I use garlic, onions and tomatoes to give it that gravy-like consistency which again adds a lot to the flavor and texture of this curry.
In our house, I usually make this curry for a weekday dinner. So we eat it with roti/parathas for dinner and the left-over dal goes very well with plain/jeera rice for next day lunch. It is one instant, healthy and tasty curry that is suitable for everyone in the family. Do try this and let us know if you enjoyed it or not. Also share with us any of your secret tricks/hacks that you use to make lentil based curries exciting and tasty.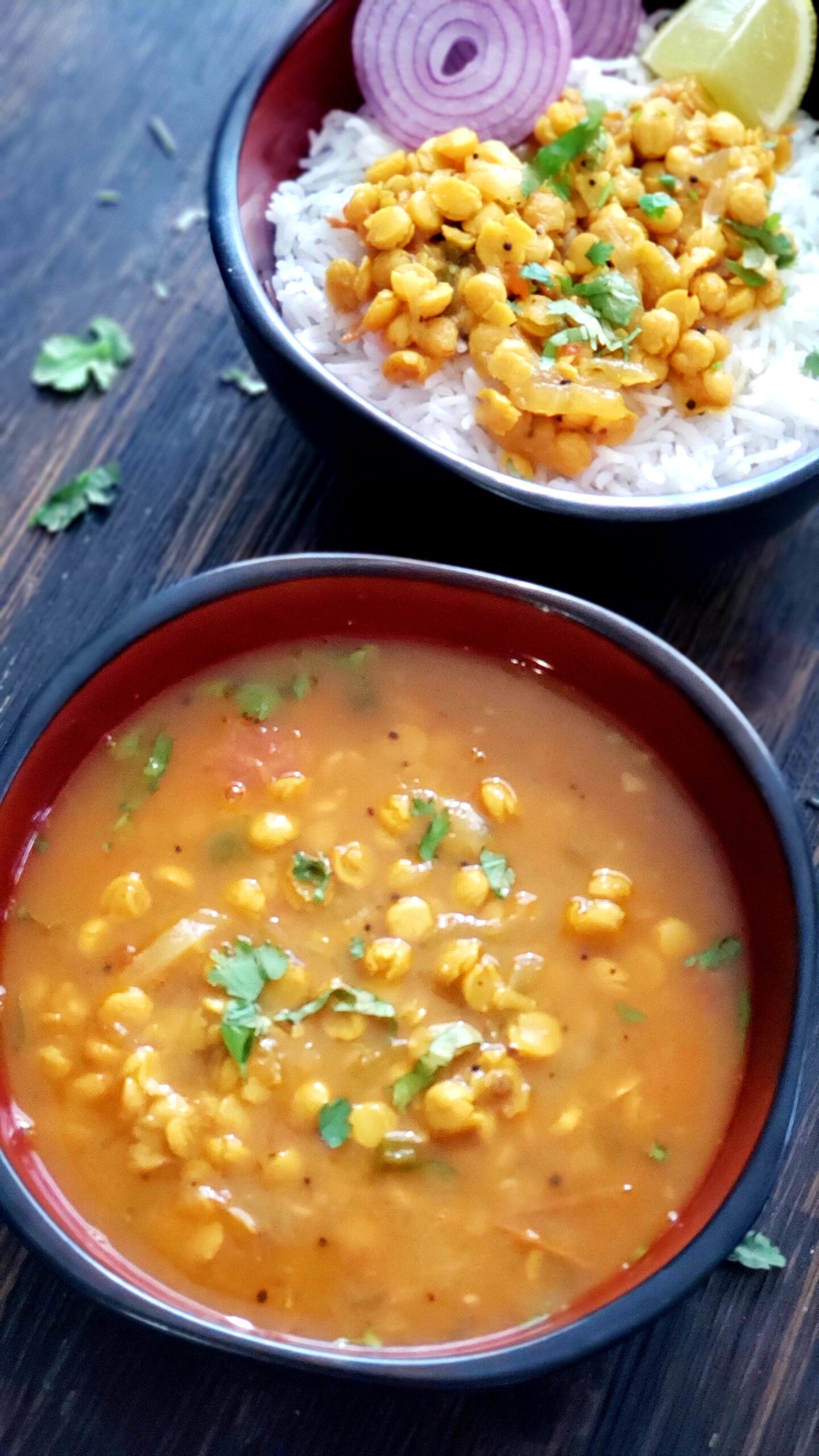 Serves 4 | Prep time: 5-7 minutes(2 hours for soaking chana dal) | Cooking Time: 15-20 minutes
Ingredients:
1 cup chana dal (split chickpeas or split bengal gram lentil)
1 onion – thinly sliced
2 tomatoes – thinly sliced
3-4 garlic cloves – thinly sliced
1 jalapeno – finely chopped
2 tbsp oil
½ tsp mustard seeds
¼ tsp hing (asafoetida)
1 tsp cumin coriander powder
½ tsp red chilli powder
½ tsp turmeric powder
½ tsp garam masala powder
1 tbsp jaggery
1 tbsp lime juice
Salt as per taste
Cilantro for garnish
Steps:
Wash and soak chana dal for 1-2 hours. After that drain the water.
Heat oil in a pressure cooker.
Add mustard seeds and let them crackle. Once the mustard seeds start to crackle, add hing (asafoetida), thinly sliced garlic cloves and onions. Saute everything for 2-3 minutes.
Now add green chillies. After about a minute, add sliced tomatoes. Mix everything well and cook for 3-4 minutes.
Next add all the spices (cumin coriander powder, red chilli powder, turmeric powder, garam masala) and jaggery. Mix everything properly and let the spice mix cook with the veggies for 1-2 minutes.
Now add soaked chana dal, water and salt (as per taste). Mix everything properly and pressure cook for 4 whistles.
After 4 whistles, switch off the heat. Let the pressure cooker cool down and make sure all the steam has been released before opening the lid.
Add lime juice and chopped cilantro to the chana dal. Chana dal is ready. Serve it with roti, paratha or plain/jeera rice.
We are sorry that this post was not useful for you!
Let us improve this post!
Tell us how we can improve this post?