Dry potato bhaji/batata ni sukhi bhaji is one of the perfect examples of bhajis that are so basic in nature and yet full of flavors. This bhaji is made with the simplest of ingredients and yet has a beautiful melody of flavors. It is made with just under 10 ingredients, of which most are pantry staples. And to top it off, it needs no pre-preparation, takes only 10-15 minutes to make. Yes, dry potato bhaji/ sukhi bhaji is absolutely blissful in terms of both taste and effort to make.
Dry potato bhaji/ sukhi bhaji is loaded with fresh flavors, contrasting textures and a hint of sweetness. It gets fresh flavors due to the use of green chillies, curry leaves and lemon juice. On the other hand, the use of peanut powder brings notorious crunch to the otherwise soft textured boiled potatoes. And finally a dash of sugar just brings all the flavors together and lifts this simple, basic curry to another taste level.
Typically, this version of sukhi bhaji or dry potato bhaji is reserved for fasting days in Gujarat. But I like it so much that I make it whenever I crave for it. During fasting days, this curry can be enjoyed with moriyo, ragi puri or just by itself with some farsan on top. On a regular day, you can serve this curry with puris, phulka rotis or parathas.
Do give this curry a try, it is definitely worth eating!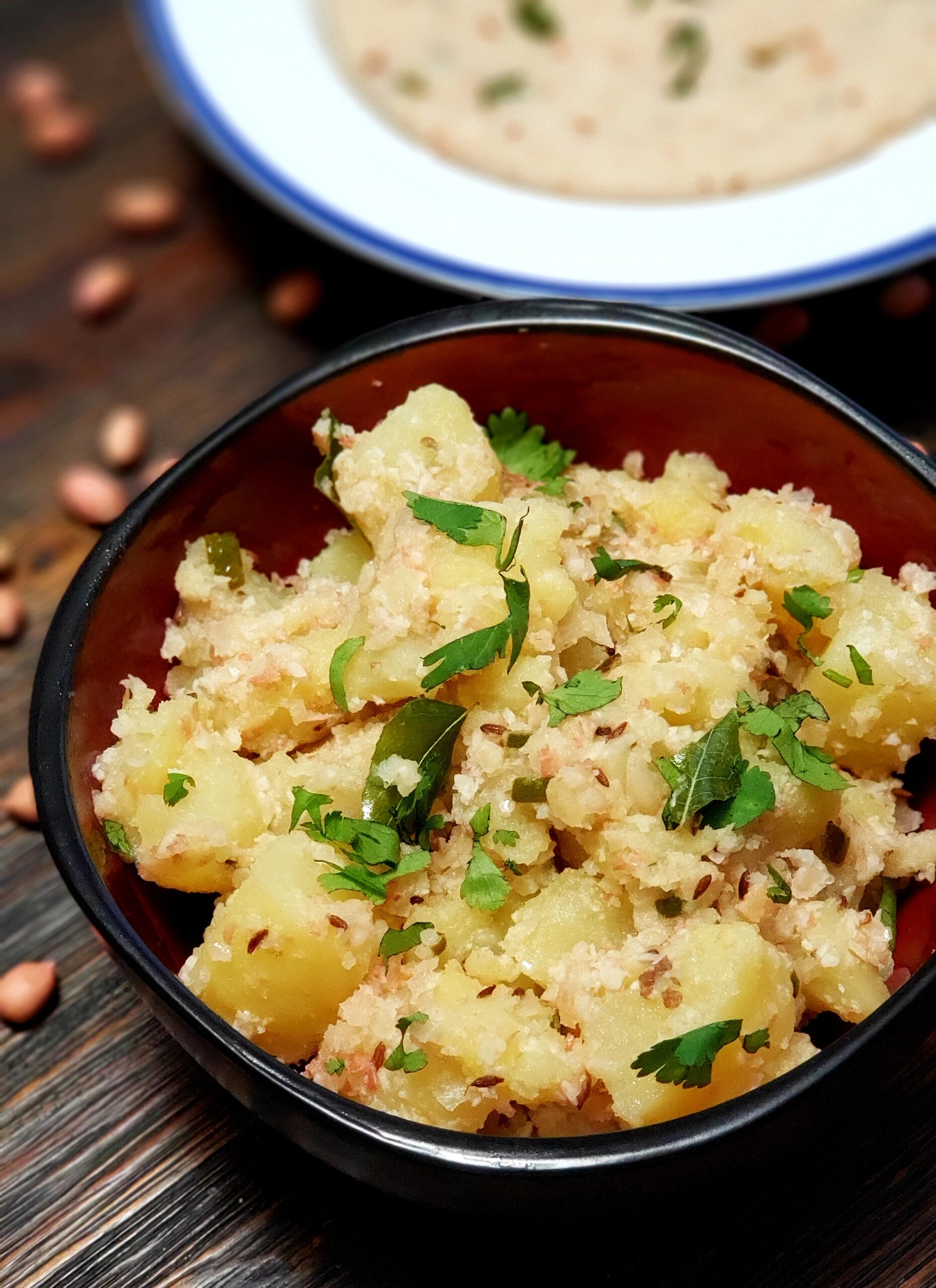 Serves 2 | Prep time: 5 minutes | Cooking Time: 5 minutes
Ingredients:
4 medium potatoes – boiled and chopped coarsely
2 tbsp oil
¼ cup coarse peanut powder
1.5 tbsp finely chopped green chillies
5-6 curry leaves
1 tsp cumin seeds (jeera)
1.5 tbsp lime juice
1 tbsp Sugar
Rock salt as per taste (or regular salt if not practicing fasting)
Finely chopped cilantro/coriander leaves for garnishing
Steps:
Heat oil in a pan. Once it is heated, add cumin seeds (jeera) and curry leaves.
When the jeera starts to crackle, add green chillies and peanut powder. Saute them for 1-2 minutes.
Add boiled and coarsely chopped potatoes. Mix everything well.
Now add sugar, salt and lemon juice to the potatoes.
Mix everything properly. Let the curry saute on medium heat for 3-5 minutes.
Dry potato bhaji/ sukhi bhaji is ready. Garnish with finely chopped cilantro.
We are sorry that this post was not useful for you!
Let us improve this post!
Tell us how we can improve this post?