Masala/Vaghareli khichdi is one of the most basic yet supreme comfort foods in indian cuisine. It is simple, filling, instant and just aptly spiced to make it taste delicious. Masala khichdi is made in several different ways all over India. While these variants are unique in their flavors, they are all soul satisfyingly good in their taste. So here I share one such variant of masala khichdi that has gujarati influence (of course!) but is also adapted as per my family's taste buds.
I always say masala khichdi does not require an occasion to be made. It is not just good for days when you are feeling sick but also for days you don't want to cook and yet craving for homemade food. It is such an easy and instant recipe that you can make it in no time and still enjoy homemade food without spending too much time in the kitchen. It is a great comfort dish to enjoy on an overcast or rainy evening or after a long tiring day. Masala khichdi really doesn't need an occasion to be made!
Masala Khichdi is one great option to make for kids, adults and elderly; basically for everyone. You can add/omit veggies, adjust the spices as per your choice. Regarding its texture and consistency, we prefer to have a khichdi that is neither too mushy nor too dry. But you can easily adjust the texture based on your preference. If you like your khichdi more on the mushy side then slightly increase the water content. Overall, masala khichdi is one versatile dish that is very easy to adapt to your taste palette.
We like to eat masala khichdi with masala chaas (buttermilk), but you can enjoy it with kadhi or plain yogurt or just by itself. Do give it a try and let me know if you like my version of masala khichdi or not. Also let me know how you like to eat your khichdi.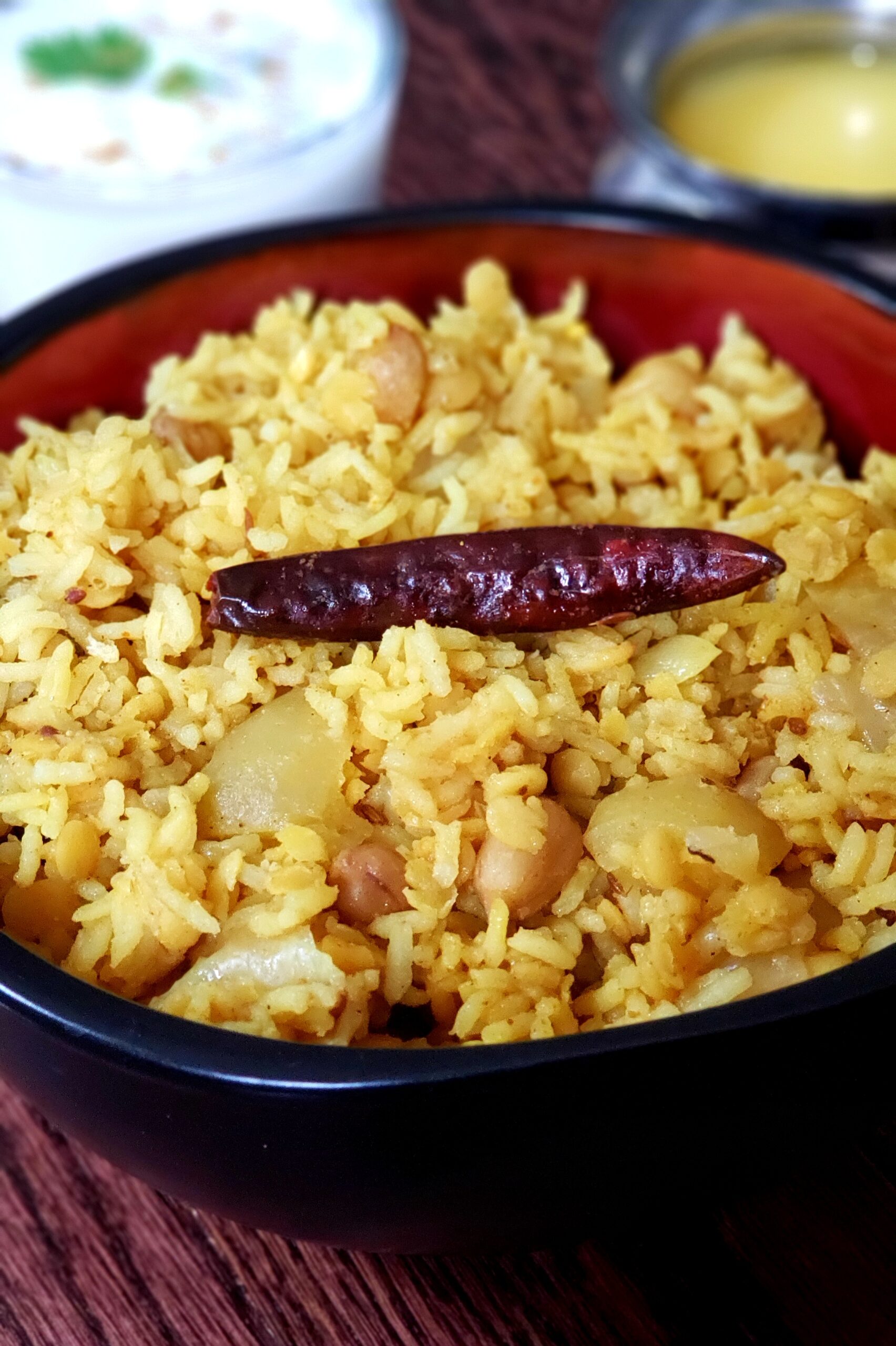 Serves 2 | Prep time: 30 minutes | Cooking Time: 15-20 minutes
Ingredients:
1 cup thick rice or khichdi rice
⅓ cup toor dal/tuvar dal (yellow split pigeon peas)
1 large size potato – medium diced
1 medium size onion – medium diced
3-4 garlic cloves – thinly sliced
2 green chiles – slit in the middle
2 tbsp ghee or oil
1 bayleaf
1 dry red chili
½ inch cinnamon stick
3-4 cloves
½ tsp jeera (cumin seeds)
¼ tsp hing (asafoetida)
⅓ cup raw peanuts
½ tbsp cumin-coriander powder
½ tbsp red chili powder
½ tsp turmeric powder
½ tsp garam masala powder
3 cups water
½ tsp salt or as per taste
Steps:
Wash and drain rice and dal. Soak them in water for 20-25 minutes.
In a pressure cooker, heat ghee/oil. Once it is heated, add spices (dry red chili, bayleaf, cinnamon stick, clove and jeera).
Once jeera (cumin seeds) starts to crackle, add hing (asafoetida).
Now add green chilies and garlic. Saute for 1-2 minutes.
Once garlic is lightly sauteed, add cubed potatoes, onions. Mix everything well and let them saute for another 3-4 minutes.
After 3-4 minutes, add peanuts and dry spices (cumin-coriander powder, chili powder, turmeric powder and garam masala). Mix everything well and let the spices cook for 1-2 minutes.
Now add soaked rice and dal. Mix everything properly to ensure that rice and dal are properly coated with spices.
Now add water and salt. Give it a good stir.
Close the pressure cooker with the lid and let khichdi cook for 4-5 whistles.
After 4-5 whistles, switch off the heat and let the pressure cooker cool down on its own. Once all the air is released and the cooker has cooled down, open the pressure cooker. Khichdi is ready to serve. Serve it warm with masala chaas and a generous spoon of ghee.
We are sorry that this post was not useful for you!
Let us improve this post!
Tell us how we can improve this post?