Milkshakes are an absolute delight to everyone. Be it a kid or an elderly, I doubt there is anyone who would not enjoy a heartful glass of milkshake. Right?! Now what if a milkshake is wholesome in addition to being delicious? You"ll think it's too good to be true. Well it's not. Yes, my date and fig milkshake is one such hearty milkshake that is nutritious yet scrumptious in taste.
Health benefits of dates and figs are not new to us. Dates and figs are not just natural sweeteners but also rich sources of micronutrients such as potassium, magnesium, iron, copper, etc. These are good sources of fibre and antioxidants as well. There is substantial evidence on a lot of other health benefits of dates and figs. So having (enjoying!) a date and fig milkshake definitely lifts some guilt off of my shoulders.
Since dates and figs are loaded with natural sweetness, this milkshake requires no additional sugar. One important step in this milkshake is soaking dates and figs in milk for a couple hours. This is important since soaking not just makes it easy to blend but also increases its nutritional value. Moreover, soaking also results in a thick consistency of the milkshake which otherwise requires addition of ice or ice cream.
I also like to add nuts to this milkshake because they further add to its overall taste, texture and nutritional value. But you can totally skip them if you think it is getting too high in calories for you. Again I prefer whole milk because of my indian roots, but you can use any dairy/non dairy milk of your choice for this milkshake.
Date and fig milkshake is great for kids as well as adults. It can be a quick breakfast or a workout snack or snack between meals for kids. Since this milkshake is filling in nature and provides instant energy, it is a perfect fasting food. Do give this milkshake a try and tell me if you like it or not.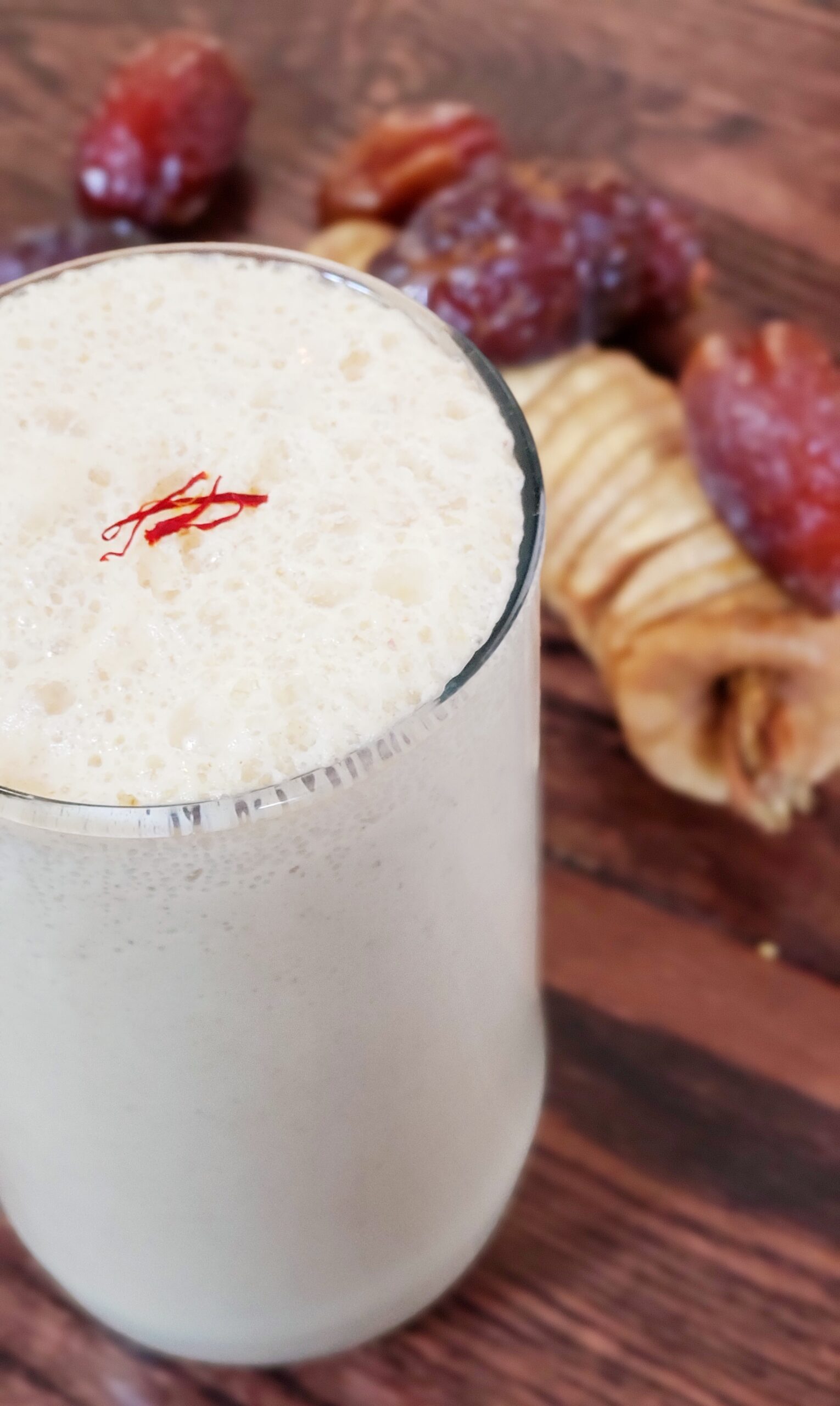 Serves 2 | Prep time: 4-5 hours | Total Time: 5 minutes
Ingredients:
3 cups whole milk (or any dairy/non-dairy milk of your choice)
3-4 dried figs (anjeer)
3-4 medjool pitted dates (khajur)
5-6 raw almonds
5-6 raw cashews
3-4 pistachios
1 tsp cardamom powder (optional)
Few strands of saffron (kesar)
Steps:
Warm 1 cup milk either by heating in a pan or in a microwave.
Now add dates, dry figs, almonds, cashews, pistachios and saffron strands to this warm milk and mix everything well.
Let them soak in the milk for at least for 4-5 hrs, preferably overnight.
After a few hours of soaking, blend the milk mixture using a blender to get a smooth paste.
Now add 2 cups of cold milk and cardamom powder (optional) to this milk, paste. Blend everything until it is nice and frothy.
Milkshake is ready. Garnish with some saffron or chopped nuts.
Drink immediately or after chilling it in the refrigerator for some time.
We are sorry that this post was not useful for you!
Let us improve this post!
Tell us how we can improve this post?