Sukhadi or Gur/Gol papdi is a traditional gujarati sweet made in almost every gujarati home round the year. Growing up, I remember this was the one sweet that we almost always had in the kitchen and my mom never stopped us from eating it. And now I do the same with my kid. You must be wondering why? Well the reason is simple- sukhadi is a sweet but a lot healthier than most other sweets. Yes, you read that right.
Sukhadi is made with the most basic ingredients- wheat flour, jaggery and ghee, all of which are highly spoken for their health benefits. We know whole wheat flour is any day better than refined flour/maida due to its fibre content and certain micronutrients. On the other hand, jaggery is better than sugar mainly for its calorific value and providing energy for extended periods. While sugar is considered to have "empty calories", jaggery provides calories with micronutrients (zinc and iron) vital to our body. And finally we have ghee that is definitely better than butter and most other oils when consumed in moderation.
I am sharing my mother's sukhadi recipe here. I love her recipe not just because I grew up eating her sukhadi, but as it is a simple, easy and foolproof way to get a soft texture sukhadi every time. For those who already know what sukhadi is and how it is made, must be knowing that making soft sukhadi can be tricky. If the jaggery in it is overcooked even for a small amount of time then the sukhadi will become chewy and hard. So here is a simple trick from my mom where you add jaggery at the end after turning off the heat. Since the heat is turned off there is no way you can overcook the jaggery, while it still melts and mixes properly from the residual heat in the sukhadi mixture. This is a foolproof trick that will lend you a soft texture sukhadi almost every time.
Sukhadi is a regular sweet in my kitchen just as it was in my mom's kitchen. Both- my kiddo and hubby love to devour sukhadi anytime of the day. I just made two modifications in my mom's recipe. First, I use multigrain flour but you can make it simply with wheat flour. Second, I add my homemade nuts powder to it because why not?! I usually add nuts powder to all the dishes that my kiddo is going to eat, so his daily nut intake is taken care of. Honestly this nut powder also adds to the overall taste and texture of sukhadi, but you can totally skip it if you don't like or don't have it on hand. I highly recommend you to try this sukhadi recipe and let me know if you enjoyed it or not.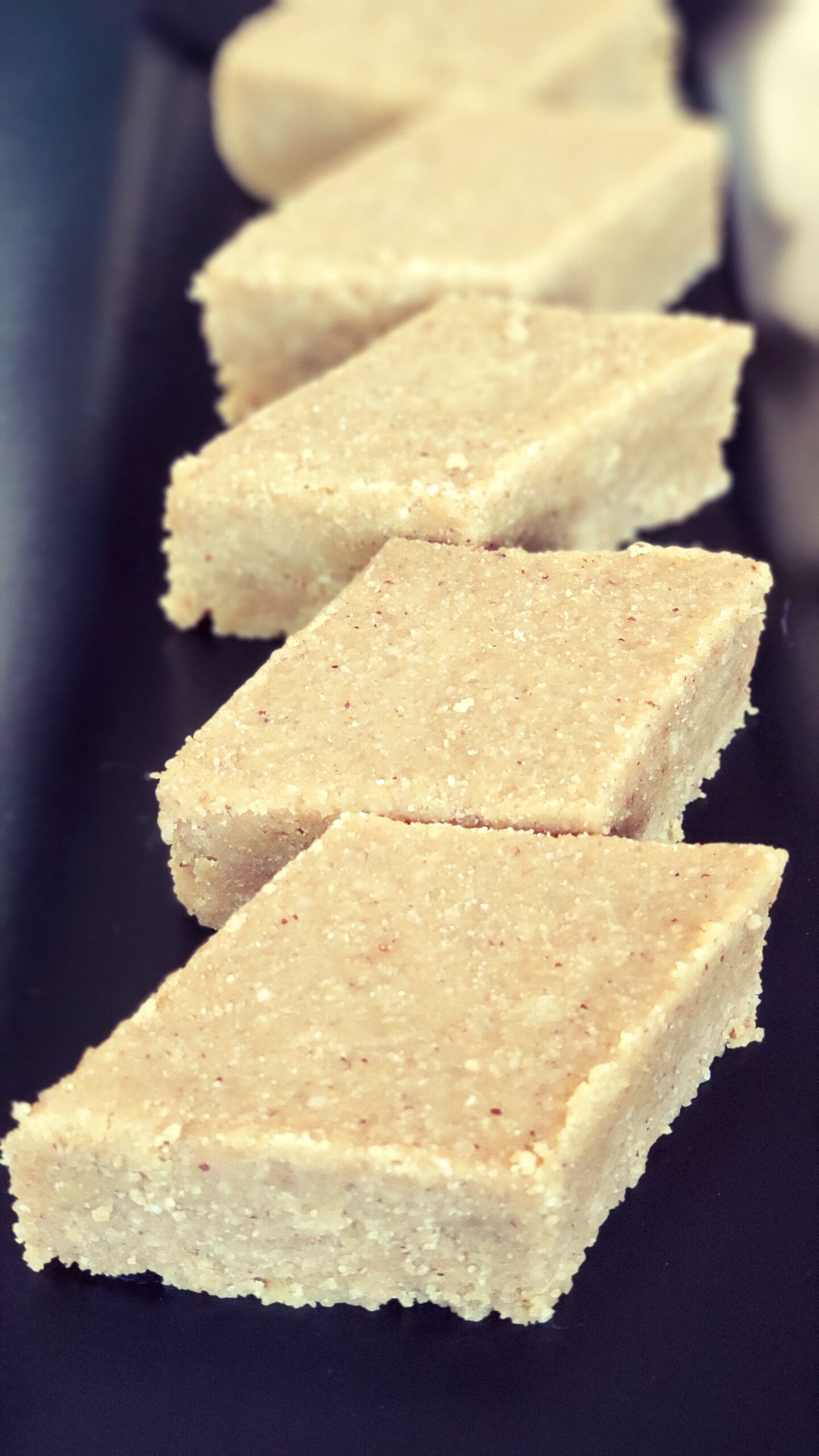 Prep time: 2-3 minutes | Cooking Time: 8-10 minutes
Ingredients:
1/2 cup ghee(clarified butter)
1 cup wheat or multigrain flour
1/4 cup jaggery
1 tbsp milk
2 tbsp nuts powder(Optional)
(Recipe Here)
Steps:
In a non stick pan, heat ghee on low heat for about a minute.
Once ghee is slightly hot, add wheat flour or multigrain flour to it.
Mix the flour properly with the ghee to get a thick paste like consistency.
Now roast this flour paste for about 4-5 minutes by constantly stirring it.
As the flour starts to get roasted, it will turn darker. You will start smelling toasted nutty aroma which is typical of a roasted flour.
At this point, add milk and nuts powder. While nut powder is optional, milk is a must to add at this point. Milk helps to keep sukhadi soft and prevents it from turning chewy and hard.
Bubbles will start to pop up as soon as you add milk. This is fine, don't get scared. Just keep stirring it carefully. Once everything is mixed properly, turn off the heat.
Now add jaggery to the sukhadi mixture. Jaggery must be added only after turning off the heat, otherwise sukhadi becomes chewy and crumbly. Mix everything properly. Since the sukhadi mixture is still warm, jaggery will melt into it without any problems.
Now take a sheet pan/ baking dish/ thali and grease with ghee. Transfer the sukhadi mixture to the greased dish and even out the surface using the back of a spatula.
Let this sukhadi cool down slightly. While it is still warm, slice it into desired shapes (diamond/square). It is difficult to cut the sukhadi properly once it has cooled down completely.
Sukhadi can be served warm or at room temperature. I prefer eating it warm but it tastes delicious either way.
We are sorry that this post was not useful for you!
Let us improve this post!
Tell us how we can improve this post?