Moriyo/ sama khichdi is one of the famous foods made on fasting days in Gujarat and several other regions across India. It is made using moriyo/ sama/ barnyard millet which is a grain from the millet family. Apart from festive fasting days, this recipe is just as good for any regular day. This moriyo khichdi is made with pantry staples, is super simple to cook and does not require much of the prep. It is one excellent gluten free alternative, instant and utterly delicious and comforting in taste.
Personally, I like to include grains other than wheat and rice in our regular diet. This helps to bring a variety in flavors and nutrients in the regular diet. Oftentimes these grains are not just healthier but more fun to eat. Moriyo/ sama/ barnyard millet is one such grain that is healthier than rice as well as a great gluten free alternative to wheat. Apart from these, moriyo has many other health benefits. It is low in calories, has a good amount of digestible protein and fibre, and contains few micro nutrients. It is definitely one excellent grain to include on a routine basis.
As I mentioned earlier, moriyo khichdi is not just for fasting days but can be eaten on a regular day. Afterall, if the festive food is healthy then why should we enjoy it only on special days? And so moriyo khichdi is a regular in my house. I often make it for weekend lunch or sometimes even for dinner. A bowl of moriyo with whipped curd and potato curry is one of my favourite things to eat after a long day. Trust me it is comforting, satisfying and definitely tasty. Do give it a try and tell me if you like it or not in the comments section.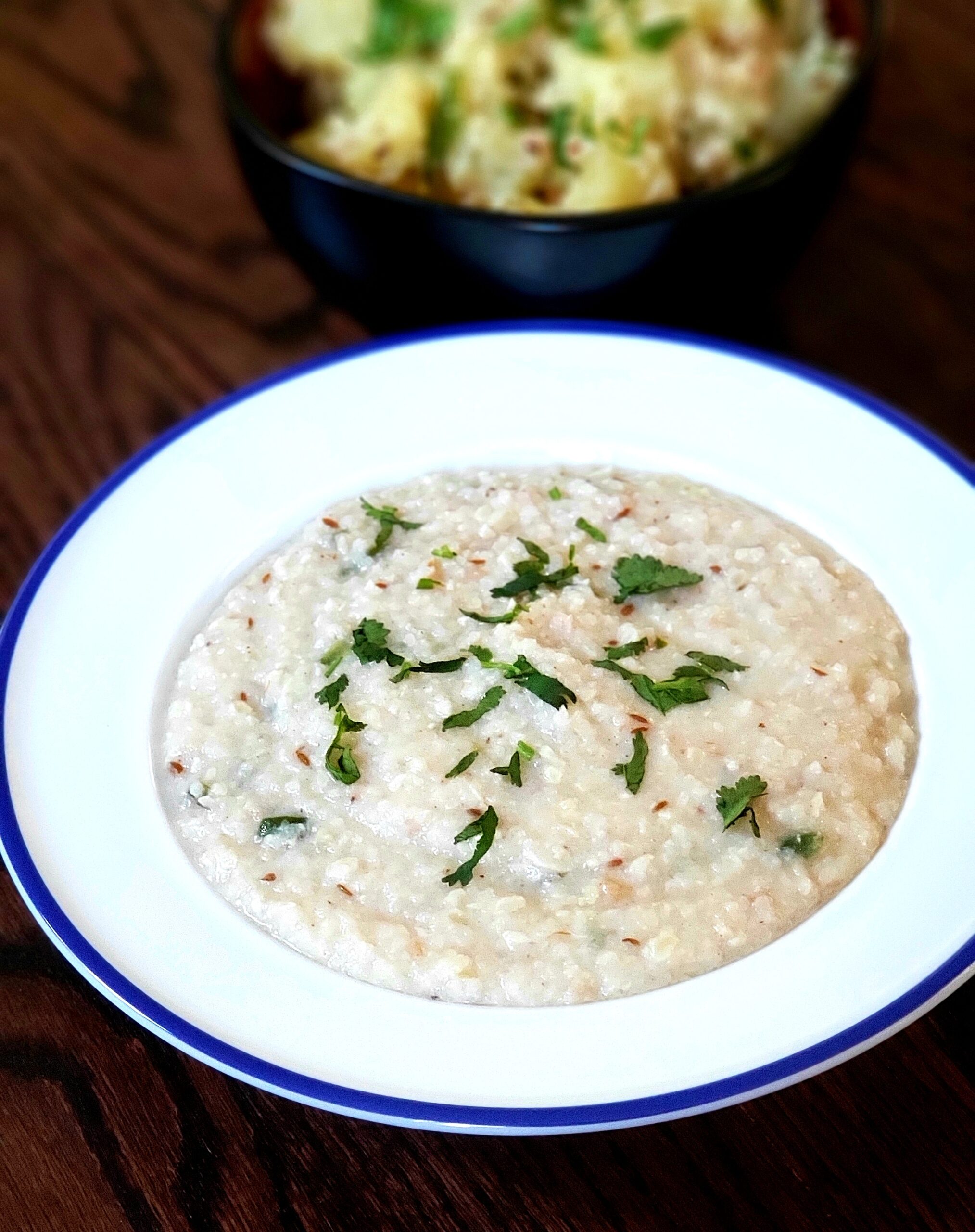 Serves 2 | Prep time: 5 minutes | Cooking Time: 15 minutes
Ingredients:
½ cup Moriyo/ sama/ barnyard millet
2 tbsp oil
2 cups water
¼ cup coarse peanut powder
1.5 tbsp green chillies – finely chopped
5-6 curry leaves
1 tsp cumin seeds
Rock Salt as per taste (or normal salt if not observing a fast)
Steps:
Wash and soak moriya/ sama/ barnyard millet for about 10 minutes, after which drain the water.
Now take some oil in a saucepan. Once the oil is heated, add jeera (cumin seeds) and curry leaves to it.
Once the jeera starts to crackle, add green chillies and peanut powder to it. Saute for 1-2 minutes.
Next add moriyo/ sama/ barnyard millet. Mix everything well.
Now add water and salt to the mixture. Mix everything properly, cover the vessel with a lid and cook the moriyo on medium heat for 10-15 minutes.
Stir the moriyo occasionally in between. You can add more water, if you think it needs more.
Moriyo is ready. Serve it warm with whipped curd and dry potato curry.
We are sorry that this post was not useful for you!
Let us improve this post!
Tell us how we can improve this post?