Growing up, puffs (with all sorts of different fillings!) were always my favorite snacks to eat during break time in school. BTW I wasn't the only one who liked them but they were a student favourite snack. And why wouldn't they be?! Puffs have this unique buttery and flaky texture due to the perfectly baked pastry sheets. This buttery flakiness is paired with a stuffing in the middle that is aptly spiced and made from different veggies or paneer or simply potatoes. I mean can you really resist eating such a snack? Not really! No doubt, puffs were one of the most common snacks served in school canteens in Gujarat.
Now I like puffs with almost all kinds of stuffings, but the paneer (cottage cheese) stuffed ones are my personal favourite for a reason. The paneer stuffing makes the puffs taste more exotic, rich, unique and royal. And so paneer puffs make up for great party appetizers apart from being an amazing mid-day snack. When I am hosting, I usually make the paneer stuffing, assemble the puffs and keep them in the freezer until the guests arrive. Right before serving time, I bake them and serve them hot with my favorite green cilantro chutney. Even if you are not hosting, it is a good idea to assemble puffs and store them in the freezer. Whenever you feel like having a warm snack, all you need to do is pop them in the oven, bake and enjoy them hot with a cup of tea or coffee.
Chilling assembled puffs is one extremely important tip/hack to getting those innumerable flaky layers, something I learned from my sister. Pastry sheets get the flakiness due to the butter present between the layers. During baking, water in the butter evaporates and the resultant steam is captured between these layers.This gives flaky texture to the pastry sheets. However, to get maximum of this effect, butter should be in solid state. But when the pastry sheets are thawed for assembling puffs, butter in them gets softened and this compromises the overall flaky texture. So chilling the assembled puffs in the freezer prior to baking helps to solidify the butter once again. Now when you bake these chilled puffs, it will yield maximum flaky texture as the evaporation reaction from the butter will be at its highest level.
Do try my little hack while making these puffs and tell me if it helped you get the most flaky textured puff or not. Also let me know in the comments section if puffs were your favorite snack while growing up and what type of puffs do you like the most.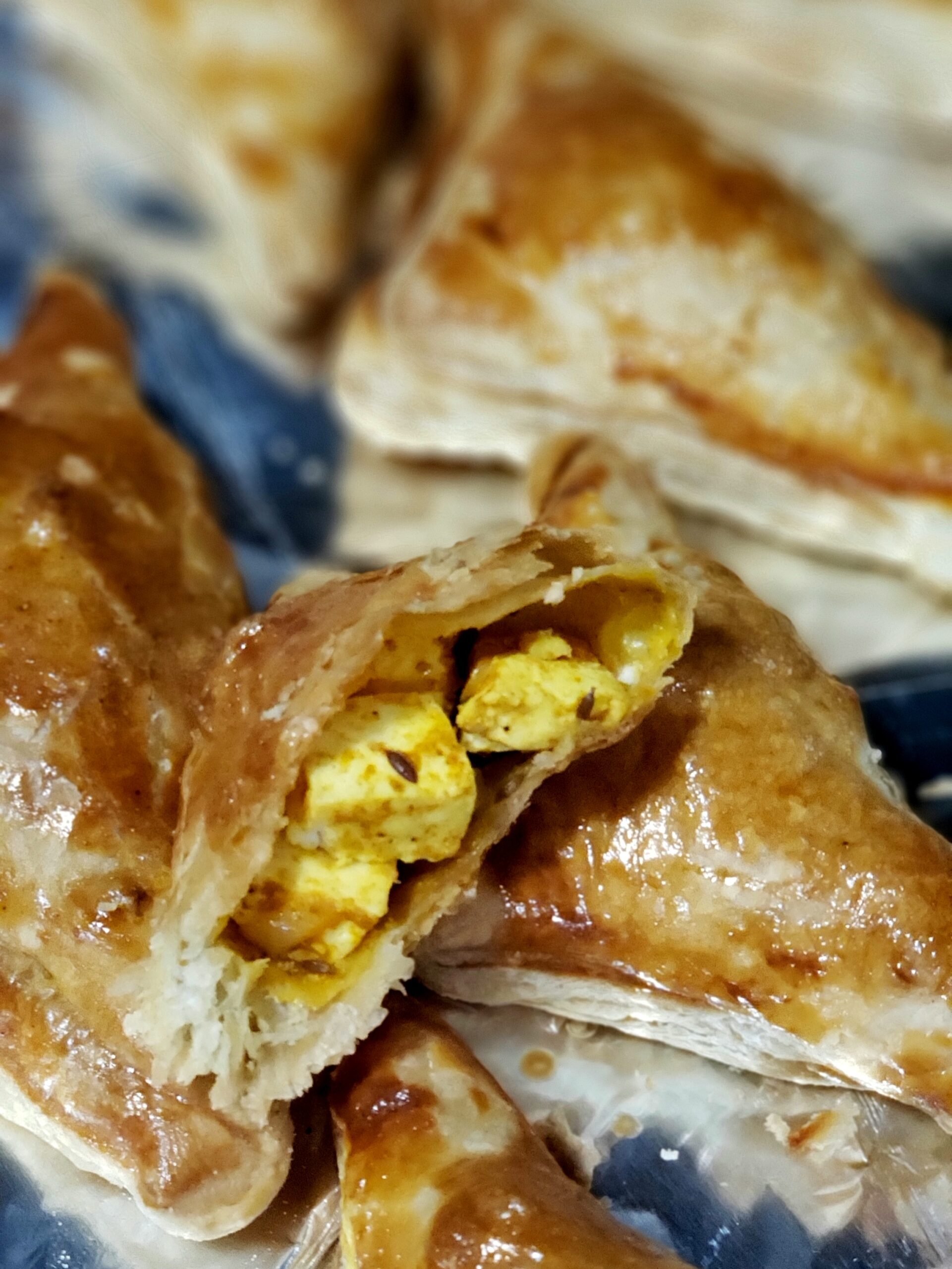 Makes: 9 puffs | Prep time: 20-25 minutes | Cooking Time: 20-25 minutes
Ingredients:
1 cup paneer (cottage cheese) – cut into small cubes
1 sheet of puff pastry (I use Pepperidge Farm Frozen Pastry Sheets, but any brand is fine)
1 small onion – finely chopped
1 tbsp green chillies – finely chopped
1 tbsp oil
1 tsp cumin seeds (jeera)
½ tbsp tomato paste
¼ tsp turmeric powder
½ tsp red chilli powder
½ tsp cumin coriander powder
½ tsp amchur (dry mango powder)
pinch of garam masala
Salt as per Taste
2 tbsp finely chopped cilantro
2 tbsp milk to moist the edges and brush the puff pastry
Steps:
Heat oil in a non-stick pan on low heat for a minute.
Once the oil is heated, add cumin seeds (jeera) and let them crackle.
Add finely chopped onions and chillies to oil and saute for 1-2 minutes.
Now add tomato paste. Mix everything well and let it cook for a couple of minutes.
Add all the spices (red chilli powder, turmeric, garam masala, amchur powder, cumin coriander powder) and salt as per taste. Cook this mixture for another minute or so.
Once the spices are lightly sauteed, add paneer cubes and chopped cilantro. Mix everything well and make sure masala or spice mixture is well coated to paneer cubes.
Let the puff stuffing cook for 1-2 minutes. Remove from heat and let it cool down.
Thaw the pastry sheet as per the instructions.
Cut the thawed pastry sheets into 3-4 inch squares and fill each square with 1-2 tbsp of paneer filling. Do not overfill the squares.
Lightly moist the edges of the pastry with milk and fold it diagonally to get a triangle shape. Press the edges gently with your hand or using a fork.
Place the puffs on a baking sheet, lightly brush them with milk and refrigerate for at least 30 minutes.
After about 30 minutes, bake these chilled puffs in a preheated oven at 400 ºF for about 20 minutes or until they are golden brown on both the sides.
Paneer puffs are ready. Enjoy with a cup of tea, tomato ketchup, chutney or just by itself.
We are sorry that this post was not useful for you!
Let us improve this post!
Tell us how we can improve this post?