We all know breakfast is the most important meal of the day. But as a mother of a toddler, I also know how hard it is to get your kiddo to eat that important meal. Not to mention breakfast needs to be different and interesting for these little humans to not give you any further hard time. And making something different almost everyday amidst the million morning chores?! I definitely feel you if you are in the same boat as I am. So I am always up for breakfast recipes that are eye appealing, instant, delicious and healthy. And this pancake cereal checks every single of these boxes.
Pancake cereal is a cute breakfast dish that your kiddo/s will enjoy eating first with their eyes and then with their mouth. It is full of colors and flavors at the same time which is why I bet your kids would not say no to it. And even though it looks fab, it is a super simple recipe, made with pantry staples and can be pulled off in less than 15 minutes. Not to forget it is one healthy breakfast option too. Needless to say, it is one perfect breakfast delight that is too hard to say no to.
So what really makes these pancake cereal a delightful treat? It is the vibrant colors and flavors that come from different fruit purees. So I make one common pancake batter, divide them into different portions and then simply add different fruit purees to each portion. Each fruit flavor brings that beautiful color, flavor and not to forget NOVELTY. Kids love their food when it has novelty in it. So every bite of that pancake cereal has a new color and flavor which helps my kiddo finish his cereal bowl. On some rare perfect days, we also practice our colors while eating breakfast. I wish I got to learn that way as a kid.
In this recipe, I use three fruit purees- strawberry, blueberry and mango. I prefer these fruits since they have a tart flavor which goes perfect with the sweet pancake. But you can absolutely use whatever fruit puree you have in handy.Since I became a mother, I have started to keep fruits and veggie purees in handy since they help me whip up a quick meal in no time. You can also sneak in some veggie purees like spinach and beetroot and the pancake cereal will still taste great. Such a fun way to add veggies and fruits to your kid's meal.
I use whole milk but you can replace it with almond milk to make it completely vegan. If you use gluten free oats then this recipe can also be a great option in case of gluten restrictions. Finally I am definitely going to sneak in my nuts powder in this recipe since I love to add it to almost anything that I make for my kiddo. It is optional but I highly recommend to make it and keep it handy just like fruit and veggie purees.
Here I share my pancake cereal recipe which is a fun and delightful treat for kids. I highly suggest trying this recipe. Also consider this recipe as a base and try adding different fruits and veggies to make different combo pancake cereal. If you try this recipe then do share with us if your kid/s liked it or not. Also share with use what are some of your favorite breakfast items to make for kids? I am always up for suggestions.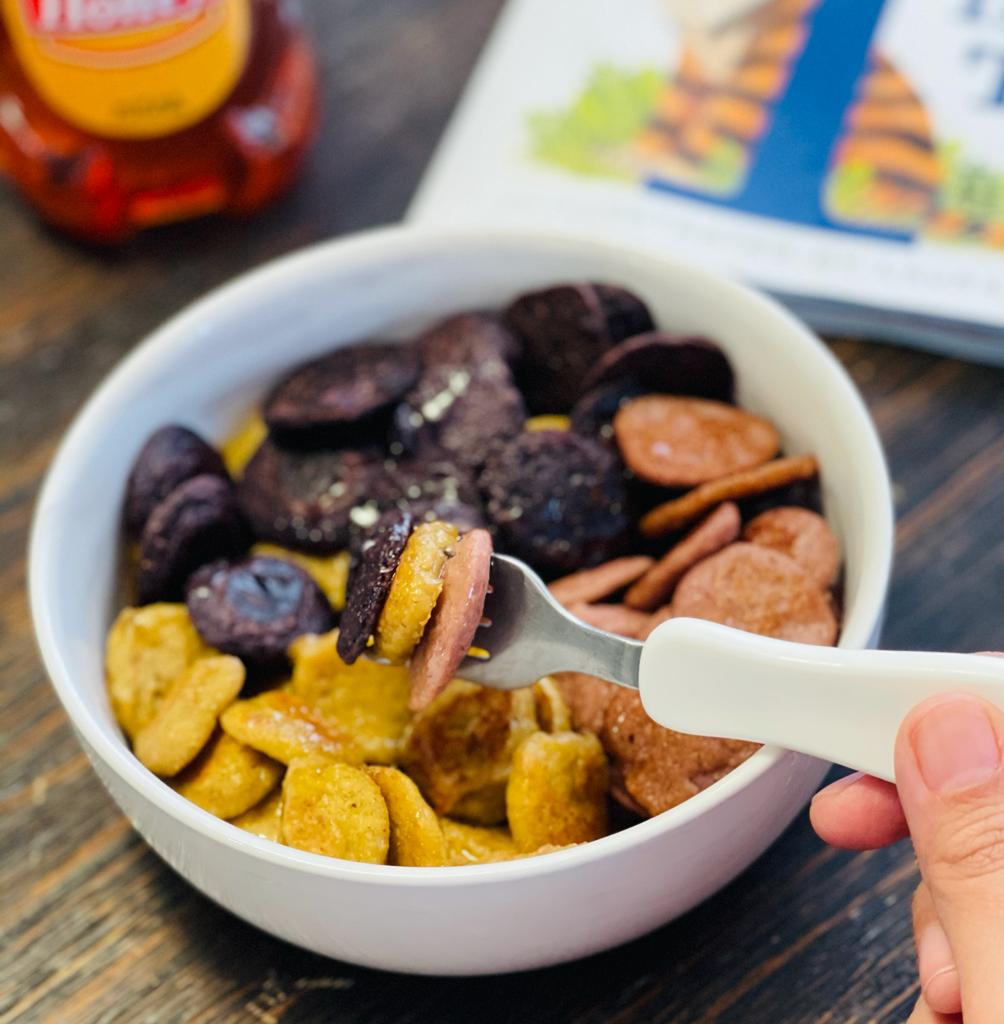 Serves : 2 | Prep Time : 4-5 minutes | Cooking Time: 4-5 minutes
Ingredients to make pancake cereal:
1 ripe banana (medium size)
1 cup oats
⅓ cup whole milk
2 tbsp nuts powder(Optional)
(Recipe Here)
2 tbsp strawberry puree
2 tbsp blueberry puree
2 tbsp mango puree
Steps to make pancake cereal:
In a blender, add oats, banana, nuts powder and milk. Blend everything and make a smooth batter.
Now separate batter into 3 equal portions. Add one fruit puree to each of the separated batter portions. This way you will have strawberry pancake batter, mango pancake batter and blueberry pancake batter.
Now pour pancake batter in a squeezable sauce bottle. You can also pour the batter using a teaspoon or a ziplock bag. Just cut a tiny hole on one of the bottom corners of the bag to pipe out the batter.
Squeeze small dots of batter onto a hot greased pan. Cook until the tops look set/dry. Flip with a spatula and cook until they turn golden for about 1-2 minutes.
Serve with a drizzle of honey, maple syrup or butter.
We are sorry that this post was not useful for you!
Let us improve this post!
Tell us how we can improve this post?