Paneer is like a silver bullet to most vegetarians in India. You can enjoy almost every indian non-vegetarian curry by substituting meat or eggs with paneer. Paneer bhurji is one such curry adapted from a famous indian egg curry- "anda bhurji".
Anda means eggs and bhurji means scramble, so anda bhurji is basically indianized scrambled eggs made with indian spices. Replacing eggs with paneer in this curry is an easy yet delicious alternative not just for vegetarians but anyone who is in the mood of eating scramble but without eggs.
Paneer is usually a pantry staple in my house. So paneer bhurji is my all time savior from days when I am short on time or unable to decide dinner meal or craving something "chatpata" yet instant. It hardly takes 30 minutes to make this curry. Once made, you can literally eat it in so many different ways contrary to other indian curries.
You can either keep it simple and serve paneer bhurji with bread/naan/roti/parathas or make a fancy toast, kathi rolls or fried rice using it. I usually make enough for two meals. We eat it with naan or parathas for the first meal and use the leftovers to quickly make paneer bhurji toast or fried rice the next day.
So here I provide my version of paneer bhurji. I also provide two different ways in which leftover paneer bhurji can be used to quickly whip up a meal. Do try them and let me know in the comments section what you think about it or if you have a different way of eating paneer bhurji.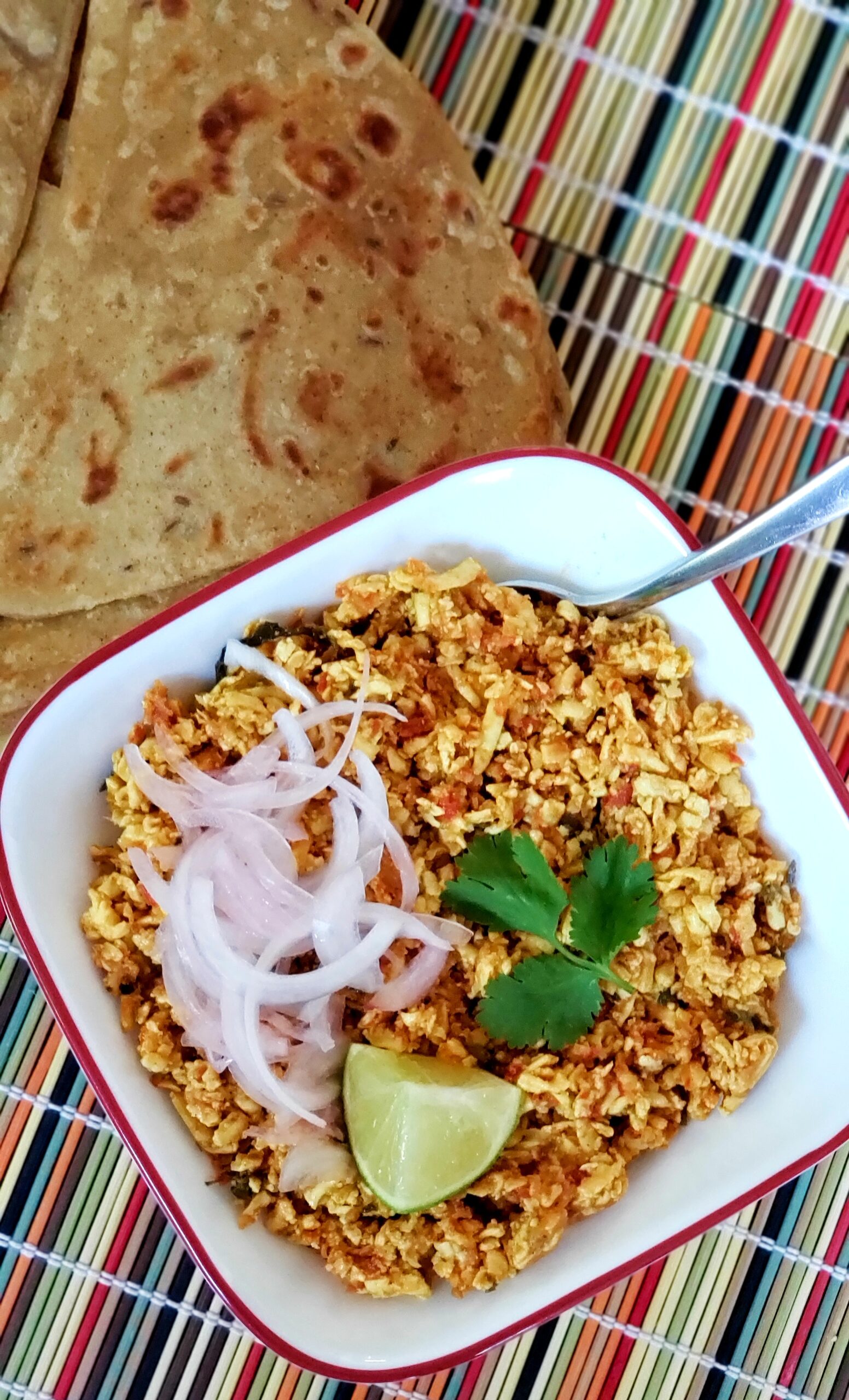 Serves 4 | Prep time: 5 minutes | Cooking Time: 10-15 minutes
Ingredients:
2 medium onions – finely chopped
4 tomatoes – finely chopped
4 chillies finely chopped
2 tbsp oil
¼ tsp hing (asafoetida)
1 tsp jeera (cumin seeds)
½ tsp garam masala
¼ tsp turmeric powder
½ tsp cumin-coriander powder
½ tsp chilli powder(optional)
½ tsp amchur powder (dry mango powder or chaat masala)
1 tbsp hot and sweet tomato sauce (I use Maggi hot and sweet sauce)
1 tbsp crushed kasuri methi (dried fenugreek leaves)
400 gms grated paneer (14 oz approximately)
1 tbsp lime juice
Salt as per taste
Steps:
Heat oil in a pan. Once the oil is heated, add jeera (cumin seeds).
When the cumin seeds start to crackle, add hing (asafoetida).
Now add finely chopped onions and chillies. Saute until onions turn translucent.
Now add chopped tomatoes. Mix everything properly, cover it with a lid and let them cook on medium heat.
After about 10 minutes, tomatoes should be soft and mushy. At this point, tomatoes and onions are fully cooked, so add spices (garam masala powder, turmeric powder, cumin-coriander powder, chili powder for extra kick, amchur powder), hot & sweet tomato sauce and salt.
Add a splash of water to mix all the spices properly and avoid them from getting burned. Cook this curry mix on medium heat.
After 5 minutes, add grated paneer and add crushed kasuri methi.
Once again mix everything, cover with a lid and let it cook for 10 minutes.
Do not cook the paneer for too long otherwise it gets hard and chewy. We want to cook the curry only until all the spices are well incorporated in the paneer.
Take the bhurji off the heat. Add lime juice and mix well.
Paneer bhurji is ready. Garnish it with fresh cilantro and serve hot with parathas.
Paneer Bhurji Fried Rice
I use paneer bhurji to make fried rice. For this, heat some oil in a pan. Once oil is heated, add hing (asafoetida), finely chopped onions and chillies. Add chillies according to your spice preference since adding rice will reduce overall spice level. Now add a cup of bhurji and 1.5 cups of cooked rice. Season the rice with salt and lime juice. Mix everything and cook for 5 minutes just to bring all the flavors together and infuse in the rice. Serve this fried rice hot and enjoy!
Paneer Bhurji Toast
I also make an open toast sandwich using leftover paneer bhurji. It is a perfect sunday brunch in our house. For this, use any bread of your choice. I prefer sour dough bread for my toast. First, toast the bread. Top the toast with a spoonful of bhurji, pickled onions and jalapenos. Sprinkle some chaat masala and maybe a dash of hot sauce. Paneer bhurji toast is ready to eat, ENJOY!
We are sorry that this post was not useful for you!
Let us improve this post!
Tell us how we can improve this post?