Roasted root vegetables is one instant, healthy, delicious and KID FRIENDLY recipe. The best part of this dish is it's versatility. It is great for kids' meals, snacks and works even as a side dish. Leftovers can be easily added to kid's pasta or soup and they won't even know about it.
Now as the name of this recipe suggests, it calls for root vegetables. I use three root vegetables here but don't bind yourself with these ones. These are some of my favorites and you can use your favorite root veggies. Root vegetables are in general a healthy option and the method of making this dish further preserves their nutrition value. Baking them with some spices and a dash of olive oil, Voila!
One thing that I really like about root veggies is that they are naturally sweet. So when you bake them, they caramelize in their own sugars which brings out this subtle beautiful flavor. This slightly caramelized flavor pairs so well with roasted cumin powder and garam masala. This flavor combination may sound weird but it sure tastes AMAZING together.
This dish is already a hit with my kiddo. He loves his veggies. And not just him, me and my husband enjoy this dish too. Yes, it is kid friendly yet full of flavors. I bet even adults will enjoy eating it. I highly recommend making this dish. Do share with us if you try this recipe and let us know how you liked it.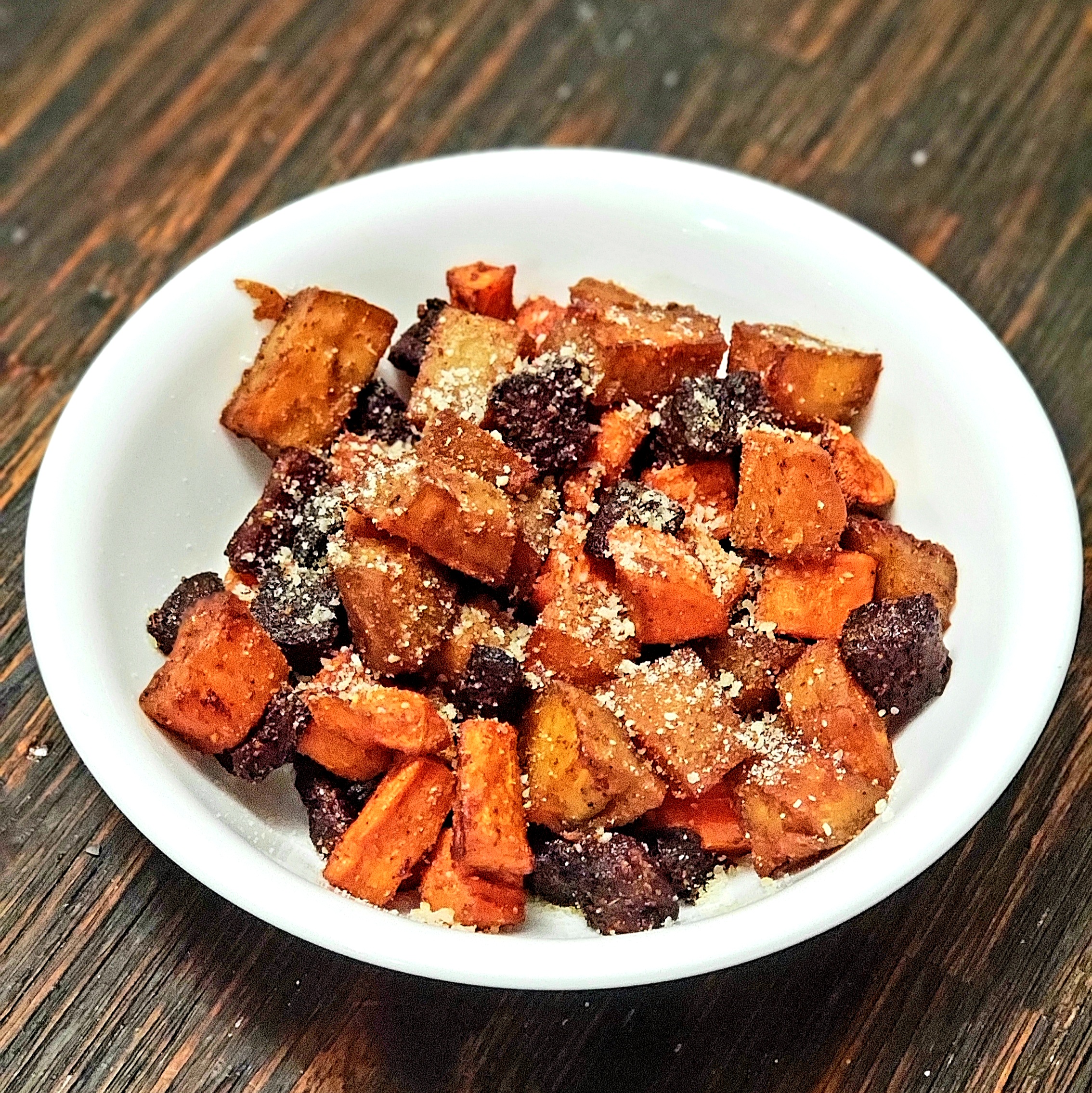 Serves: 2 | Prep Time : 3-4 minutes | Cooking Time: 20 minutes
Ingredients:
1 cup sweet potatoes – peeled and diced into small cubes (white & regular)
½ cup carrots- peeled and diced into small cubes
⅓ cup beetroot – peeled and diced into small cubes
1 tbsp olive oil
½ tbsp roasted cumin powder
¼ tsp garam masala
Salt as per taste
Grated Parmesan cheese to sprinkle
Steps to make roasted veggies:
Preheat the oven at 375°F.
In a bowl, add olive oil, roasted cumin powder and garam masala. Mix it well.
Now add all the diced veggies to this oil dressing. Mix everything properly in a way that veggies get properly coated with the spice mix.
Take a baking sheet and spread the veggies. Make sure that the veggies are properly spread out and not overlapping on each other, otherwise it can get soggy.
Bake the veggies for 12-15 minutes. After which broil or roast them for 2-3 minutes if your oven has that option.
Roasted root veggies are ready. Take them out, sprinkle grated parmesan cheese and enjoy!
We are sorry that this post was not useful for you!
Let us improve this post!
Tell us how we can improve this post?