Just like all you mamas, I am always looking for recipes and ideas that can make my kiddo's food healthier without compromising the taste. Afterall, you really don't want to deal with toddler tantrums when it comes to food. Nut powder is one such amazing trick that can make the simplest of toddler food healthy and tasty at the same time.
I am a huge advocate of consuming nuts on a daily routine. Nuts' benefits range from being great sources of healthy fats to micronutrients, fibre and so on. These little things are literally gems of food and yes, I am not exaggerating (there's plenty of scientific evidence to this). So naturally I wanted to add nuts to my kid's meals. But as nuts can be sometimes too hard for toddlers to chew or even have a risk of choking, they can't be given directly to them. So this nut powder was like a one shot two targets kind of thing where I can add nuts to my kid's meal and not have him to chew them either.
Yes, the nut powder requires some amount of dedication in terms of time and effort. But the best part is that it can be stored for upto 2-3 months in the refrigerator. So make a big batch and you are set for a few months. I have nut powder almost always on hand and I put a heapful of this goodness in almost everything that I make for my kiddo. I put it in his smoothies, pancakes, yogurt parfaits, sheera, kheer and many other similar things. Nut powder can also be added to a glass of milk for toddlers.
I use 4 different nuts for this powder based on my preferences, their availability and my kiddo's liking. But you can use any combination of nuts based on your choice, what's readily available nearby, or sometimes what's handy in the kitchen. Consider this recipe more like an idea or basis for your nut powder. And GO NUTS WITH YOUR CHOICE OF NUTS!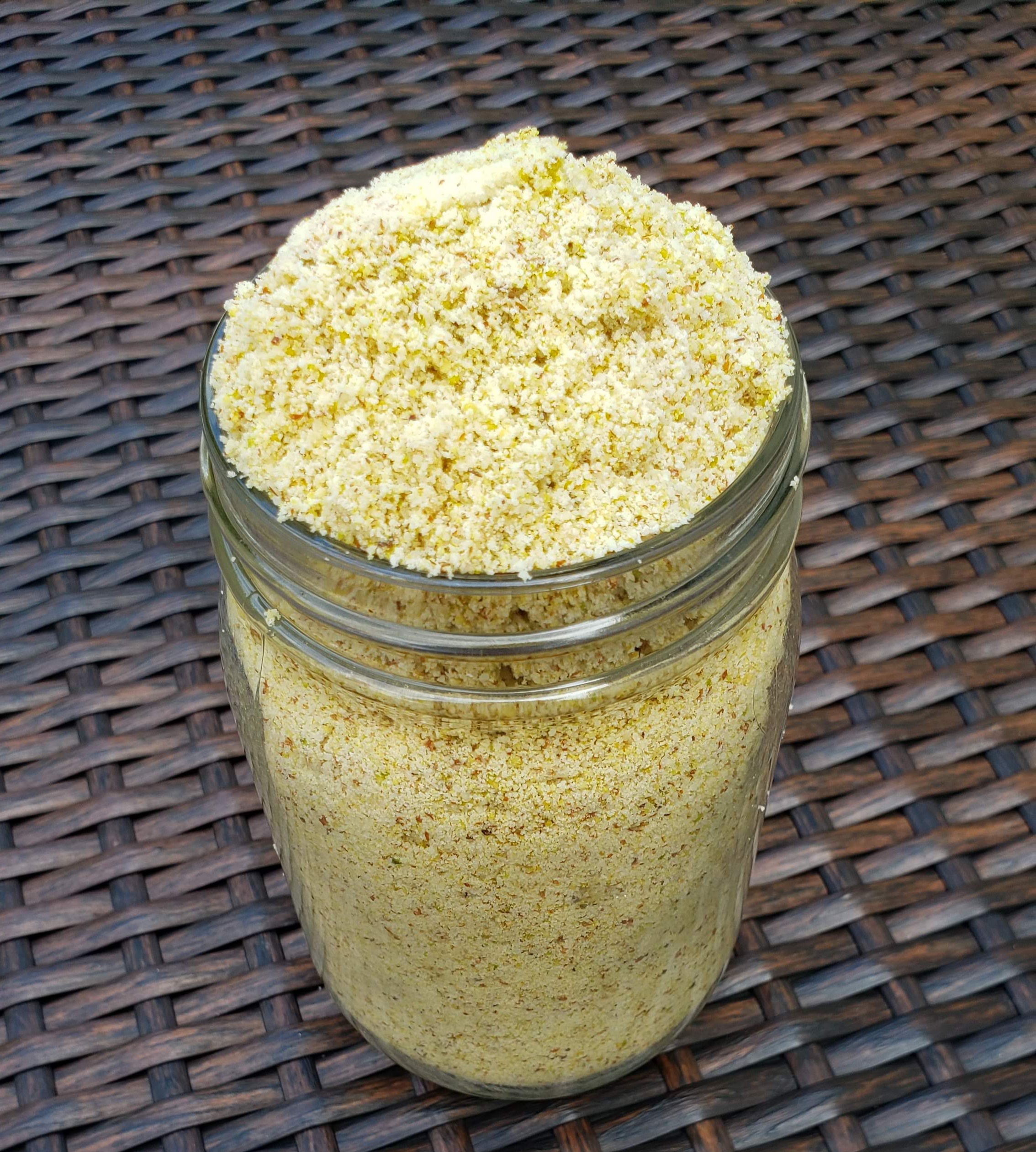 Prep time: 10 minutes | Cooking Time: 15 minutes
Ingredients:
1 cup raw unsalted almonds
1 cup raw unsalted cashews
½ cup raw unsalted pistachios
½ cup raw walnuts
Steps:
Dry roast all the nuts separately on low heat. We roast them separately since all the nuts are different sizes and shapes. So some roast faster than others which may lead to their burning.
Stir them every once a while to make sure they don't burn.
They are roasted when they get aromatic. Now let them cool down completely.
Once cooled, grind all the nuts separately using a spice grinder or a food processor. Make sure you grind the nuts by pulsing intervals instead of continuously. Grinding them continuously will result in separation of oil from the nuts and will make nut butter. We are aiming here for a powder like texture instead of butter, so use the pulse grinding method.
Once all the nuts are grinded to fine powder texture, mix them all. Strain the nuts powder mixture if you feel some nut pieces are too big for your toddler.
Nuts powder is ready. Refrigerate in a glass container and it can stay good for upto 2-3 months.
Notes:
Make sure your kid has had each of the nuts individually tried before to ensure they are not allergic to them.
If you are planning to give this nut powder to your baby then make sure they are at least 10 months old and not allergic to nuts.
I have not added saffron and cardamom to the nuts powder since the aroma of these spices is lost over time. I prefer adding them directly to the recipe in which I am using nuts powder in order to enhance flavor and aroma. But you can add them to the nuts powder also.
We are sorry that this post was not useful for you!
Let us improve this post!
Tell us how we can improve this post?